9/8/17
Rogers 3, Olympia 2
(Olympia, WA) Senior midfielder Brennah Llanos scored from long range in the 61st minute to keep Rogers unbeaten in 4A SPSL girls soccer with a 3-2 road win over Olympia on Thursday night.
The goal capped a scoring explosion over a 15-minute span of the second half after the teams had both stayed scoreless through 46 minutes.
Then, Lauren Forster sprinted open in the middle of the box, took a pass from Ruby Roedel and gave the Bears (0-1) their only lead of the night.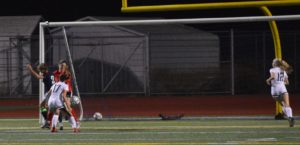 Bailey Tompkins countered with a pair of goals a minute apart to put the Rams ahead, 2-1.
Olympia junior Paulina Courter evened things briefly with the goal of the night, a left footed blast from 25 yards on on the left wing.
But just four minutes after that, Llanos connected to end the barrage and send the Rams (1-0-1) back to Puyallup with the victory.
The Pacific Sports Spa Players of the Game goes to Bailey Tompkins for the Rams and Paulina Courter for the Bears. The ProActive Physical Therapy Play of the Game was the winning goal from Brennah Llanos.
Photo Gallery
This slideshow requires JavaScript.