9/12/17
Curtis 3, Olympia 1
(Olympia, WA) — The Curtis Vikings continued their surprising dash to the front of the 4A SPSL
girls soccer race with a 3-1 road win over Olympia on Tuesday night at Ingersoll Stadium.
Curtis, which finished 3-10-3 a year ago, is now 3-0-1 in 2017 with a 12-4 goal differential.  Olympia fell to 0-3 despite out shooting Curtis, 12-11 , with more of those shots on goal, 9-8.
In a game of momentum swings, Curtis got on the board first 12 minutes in when senior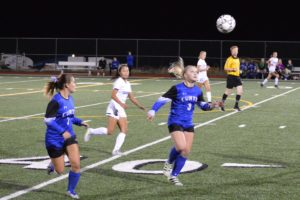 midfielder Sydney Williams connected from in front of the goal.  But nine minutes later, Olympia tied it when sophomore Lauren Forster converted Ruby Roedell's assist.
Early in the second half, the Vikings took the lead for good when Sydney Williams fed her younger sister Maya, a sophomore, for a goal.  Bekah Vaver concluded the scoring in the 56th minute after an assist from Ella Brubaker.
Vaver's goal was named the ProActive Physical Therapy Play of the Game.  Sydney Williams goal and assist earned her Pacific Sports Spa Player of the Game for Curtis while Forster claimed that honor for the Bears.
Photo Gallery