9/30/17
(Story was updated on 10/1 to include corrected information including memorial service details and a fund being set up for Zach which is at the bottom of the page. Updated information is in parenthesis.)
It is with great hesitation I write this story but an overwhelming feeling has pushed me to do it. So if I offend or upset you I am so sorry that is not the intent of what this is about, it is about celebrating a man and his son. It is celebrating what a brave and courageous performance a young man  just accomplished in the face of tremendous grief, shock and sadness. So again, I sincerely apologize if this is taken as crossing a line, that is not my intention.
I am writing this story with very little information which is usually not a smart thing to do but this story needs to be known and if some of the details are incorrect it is worth getting the overall message out than details in this case.
This is what I know, I got to talk with Aberdeen Head Football Coach Kevin Ridout prior to the game and to some of the mothers in the stands before we went on the air at last night's Aberdeen at WF West football game. We were told one of the Bobcat players had suffered a tremendous loss just 3 days prior when his father suddenly and without expectation passed away. So as I write this story the information is from a very outside perspective and observations. I have never met or talked with anyone from the family it is all from an outside view of this situation.
(It is at this point family members responded to me with correct information about Wade. I thank them for the information but more for their kind words. They are an amazing family and their love for Wade and Zach is unending.)
44-year-old Wade Allen Carpenter was a born and raised Grays Harbor native living in Hoquiam. He graduated  from Hoquiam High school and South Puget Sound CC. Carpenter worked at the Westport Shipyards and was a huge Seahawks and Mariners fan and apparently Marvel comics.
I know Facebook is disliked by many but it was not by Wade and his twin brother William. I got some of the information from their pages and this is the beauty of Facebook. Just looking at what they liked and did you get a general sense of who Wade and William are and what they are about. Again, without talking to any family members and I apologize for not confirming these facts but I believe Wade was married and had 2 kids his 18-year-old son Zachary and looks like a young daughter that he adored. I get this from simply looking at his Facebook photos and that is the impression I get.
(I now know that Wade was married to Cindy and together they had 6 kids. Wade and Cindy would have celebrated their 20th wedding anniversary on Thuesday, Sept 28, 2 days after he passed. The young girl on his facebook page they called Squeeks is his Granddaughter. I believe if I got the communication correct 5 of Wade's kids were from his wife and Zach is their youngest.)
Both Wade and William (twins) look like quite the pair, in my mind there is a lot of joking and good times maybe even an adult beverage now and again. They looked to be the best of friends and reading some of William's posts he is what you would expect, heartbroken.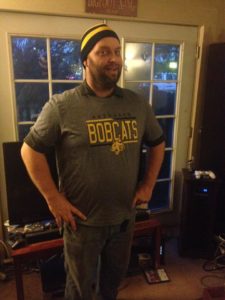 Wade was no doubt looking forward to this football season as his son Zachary Carpenter is a Senior and the starting center for the Aberdeen Bobcat offense. I was told by the mothers how much Wade was involved and how much he contributed to the football team. Wade did so by opening his wallet and getting his hands dirty. He hosted regular team dinners and helped the team in as many ways as possible. He posted on Zach's performances on the field and was a huge supporter of all the players on the Bobcat squad.
You would think losing your father just 3 days before having to play a game and an important one at that you would not be in any condition to play that game. Coach Ridout said he was preparing to have a replacement in the starting line-up when Zach told him he was going to play. Ridout said he left the door open for Zach to change his mind but Zach was not going to let down his team, his Dad or family.
Without knowing any of the Carpenters you just get the feeling from looking at these folks that some of their beliefs are work ethic, commitment and loyalty. I have nothing to base my feeling of this other than a brief outside observation and the feeling in my gut.
(I was told at least 20 of Zach's family were at the game Friday night and they tried to make this night like every other football Friday night. His uncle even used the same camera to record the game that his Dad used.)
To watch this young man perform was simply awe-inspiring. Remember Zach is the center, not a back-up defensive tackle. The center who has to make the snap dead on to the QB when he is in the shot-gun, know everything of every play and make sure the line has their correct blocking assignments. This is a position that requires focus and attention and to be able to do that while still in shock and overwhelming grief is an unbelievable achievement.
The Aberdeen Football team also was hit hard with the passing of Wade. Think about being a High School Senior, this is your year, you've work hard to get to this point and out of nowhere your Dad is gone. I think many if not all of the other players stopped at some point and thought what if that had happened to me? The team has rallied and Coach Ridout told me that Zach told him he was surprised at how much his friends and team cared about him, his Dad and his family. The team dedicated last night's game to Wade Carpenter  but sometimes intentions are bigger than outcomes. Aberdeen got beat by 31 points. No doubt everyone wanted to see the fairytale ending with the Bobcats upsetting one of the favorites in the league but it was not to be. (Was told the family was touched by the dedication and didn't care about the outcome and were so thankful for the effort the Bobcats put out in such a difficult time.)
However, I think Wade was super proud of his son and all the Bobcats for giving it their all under extreme circumstances. I think Wade is not happy about being a distraction to the team. I think Wade is the kind of man who believes in team, unity and working together. Wade stands up for what's right and a defender of his family and ideals. He also is a man who appreciates other perspectives and views. He has a huge heart and would be a friend to anyone. He would be the first to help someone in need and more likely to volunteer to go help rather than give a donation to a relief fund. He would be the first to offer his time and skill to any project benefitting the good and loves his home and proud of his community.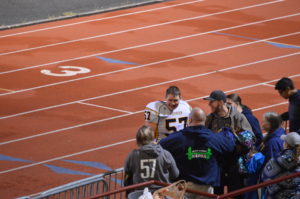 I don't know if I am right, so why do I think this? The answer to me wore #57 for the Aberdeen Bobcats. Just watching Zach play, he never gave up, helped his team mates and Bearcats up off the field. He was focused and he played a good game despite a heavy heart. Why would he do this? Many would be so stricken they would not be able to even think of playing a game. I know some professional athletes have done this and no doubt some other High School players but it doesn't happen often. The courage and bravery for Zach Carpenter to perform like he did friday night came from his Dad. You just know it.
One of the lesson's from all this is that you think you live your life without much attention. You raise a family, work hard at a job and you involve yourself in your community with things that you like and 99.9% of the time you think it all goes unnoticed or unappreciated. This should show it is not unnoticed or unappreciated. If I can see such goodness in a man I have never met and only became aware of in the last 24 hours then think of his impact on his family, friends and neighbors. It does matter how you live and what you do. Wade Carpenter is a shining example of working hard and living to your ideals. I can say this with 100% complete confidence that Wade Carpenter did indeed live his life this way and that's because I was lucky enough to see #57 play a football game on a Friday night.
My heart hurts for Zach and his family, they are people I know I could have been friends with and had good times. Wade's death does not impact me like it does his loved ones but it saddens me we didn't get to meet. It saddens me to know there are thousands of more Wade's in our lives and we havn't stopped to get to know them more. It saddens me Zach and his family are hurting and missing him. My thoughts and all of us at Eli Sports are thinking of Zach and Wade and his family. We hope over time the impact of his life will continue to be felt by all. Rest in peace Wade Carpenter you did it right!
Here is the Memorial Service Information from his oldest daughter Angela:
Emmanuel Baptist Church
Hoquiam, WA
Monday October 16, 2017 @ 3 pm
Potluck reception.
Instead of flowers, I'll be setting up a trust for Zachary. Details will be available at the service. I'll also be posting it to Wade's Facebook page next week
By Paul Beattie
If you'd like to send me a comment about Wade I would be happy to add your thoughts to this story please do at paulbelisportsnetwork@gmail.com