10/3/17
Black Hills 6, Centralia 1
(Centralia, WA) Senior midfielder Bella Brown scored two goals and assisted on two others as Black Hills remained undefeated in 2A Evergreen Conference play with a 6-1 victory over host Centralia on Tuesday night.
The Tigers did become the first EvCo team to score on Black Hills (7-1-1, 4-0 in league play), when Alayna Miller tapped in her own rebound, breaking a 263-minute shutout streak for the Wolves.
Sydney Lowe scored the game's first goal in the seventh minute on a solo run up the middle and Megan Lowe made in 2-0 in the 16th minute off a crossing pass from Brown.
Miller's tally in the 23rd minute kept the game close until midway through the second half when Black Hills, which outshot the Tigers 33-5, erupted for four goals in 15 minutes.
Two long range bombs by Brown out the game out of reach at 4-1.  Rachel Ruell and Megan Lowe added insurance goals.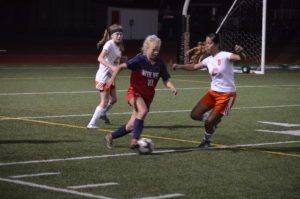 Brown was named Pacific Sports Spas Player of the Game for Black Hills while Centralia goalkeeper Courtney Leifer got the honor for Centralia (7-3, 2-2) after making a remarkable 16 saves in the face of the Wolves' barrage of shots.   Sydney Lowe's dazzling footwork in the opening goal earned ProActive Physical Therapy Play of the Game.
Photo Gallery