10/11/17
CC Blazers 3, SPSCC Clippers 0 (25-23, 25-21, 25-22)
(Centralia, WA) The Centralia College Blazers had a strong non-conference showing going 12-4 but then when conference play began they dropped 4 straight. Coming into this match the Blazers had righted themselves with 2 straight wins and looking to continue that turn-around.
Centralia was also raising money for breast cancer research at this match and wore pink socks and pink warm-up t-shirts with several ways for fans to contribute to the cause.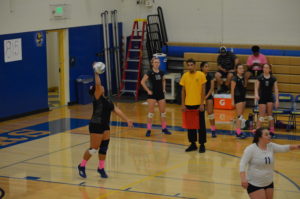 The 1st set was more of a ping-pong game with the set being tied 12 times before the Blazers took it 25-23. Skylah Kunihisa and Autumn Durand were strong in the middle with kills and at the service line. Clinching it though was Kendall Camoza at the service line and Kary Sathre pounded it through the defense with a booming kill and the Blazers led `1-0.
In the 2nd set once again the 2 teams volleyed back and forth with neither team scoring more than a couple of points at a time but a couple of the key plays in this set was another blistering kill this time from Alexus Howard-Johnson pushing the Blazers to a critical 17-14 lead. A few serves later Hayden Blaser came up with an incredible dig leading to another point followed by a beautiful drop shot from Taviana Keahey and the Centralia Blazers went up 2-0.
The 3rd set Centralia's Nicole Duryea served the Blazers up with an early lead and they never let it go. SPSCC tried to make a couple of runs but Payton Timmons  doused those flames with a great play off the net while Durand punched it over for another critical point. Durand would fire a kill shot for a game, set and match point and the Blazers completed the 3-0 sweep.
SPSCC got some solid play from Adrianna Eleton, Jaeya Reed, Leslie Sanchez-Arellano and Lydia Soto but not enough to withstand the Blazers surge. Both teams are now 3-4 with 7 conference matches to play.
Our Pacific Sports Spa Players of the Game went to Skylah Kunihisa for our offensive award and the defense went to Peyton Timmons.
Link to ESN You-Tube Broadcast
Blazer Autumn Durand talks about turning the season around
Photo Gallery