10/10/17
Tumwater 3, Black Hills 0 (25-22, 25-12, 25-14)
(Tumwater, WA) Every dynasty comes to an end and the Tumwater T-Birds Volleyball team has certainly been a dynasty so when they took on the 4-0 in Evco league play Black Hills Wolves who are also their crosstown rival. But the T-Birds were not ready to step off the top of the mountain just yet and blanked the Wolves on the T-Birds home floor.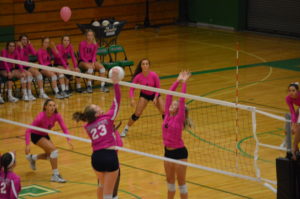 It didn't start off like the T-Birds were going to sweep as Black Hills pushed Tumwater to the limit in game 1. After trailing early 7-2 the Wolves battled back to tie the match at 12-12. Ainslee Eberle then gave Black Hills their 1st lead 13-12 and built it to a 15-12 lead. Hannah Rongen and Amber Fowler both had some big plays at the net for the Wolves to help push their lead to 20-17.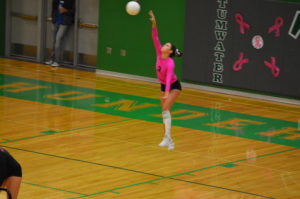 Tumwater's Kennedy Croft then stepped up and drilled 5 straight serves to quickly turn the tables and re-take the lead. Croft and Savannah Sleasman were killing and blocking all night finding holes in the Black Hills defense. The Wolves would not give in though and took the lead on the T-Birds 22-21 on a kill from Maisy Williams. Sara Schultz then stepped to the service line for Tumwater and closed it out giving the T-Birds a 25-22 win.
Tumwater then rolled in the next 2 games, led by Rose Foisy who came in to serve early in the 2nd game and fired off 7 straight point winners. Along the way she was helped with strong performances from Aliyah Wilms, Leah Cairns, Mia Basso, Rachel Schultz and Mikaeli Decker.
In the 3rd match Sophia Koelsch had the final say scoring 5 from the service line early in the game and then finishing with the final 2 points for a 3-0 game, set, match victory and the T-Bird dynasty is not yet ready to give up power. Tumwater is now 5-0 in Evco 2a League play and the Wolves still in sole possession of 2nd place at 4-1.
Our Pacific Sports Spa Players of the Game went to Tumwater's Savannah Sleasman and Black Hills' Hannah Rongen. The ProActive Physical Therapy Play of the Game was the 7-point run at the service line by the T-Birds Rose Poisy early in the 2nd game.
Both teams also took time to wear pink and raise money for breast cancer research. There was a raffle, donations and other ways to raise money and awareness for this important cause.
Photo Gallery