10/7/17
Hockinson 41, Washougal 7
By Dan O'Dell
(Washougal, WA) A game of two undefeated's had the hype, energy and pre-game excitement of both teams wanting to make their mark on this young season and leave an impression on their foe. Only one team left Fishback Staduim on Friday night feeling like the task at hand was accomplished. The Hockinson Hawks scored early and often taking advantage of a Panther offense that struggled to execute coach  Hajek's game plan with any kind of effectiveness and a defense looking that had difficulty slowing down the Hawks. It wasn't for the lack of effort as Washougal tried everything this Friday night however, Hockinson wanted none of it.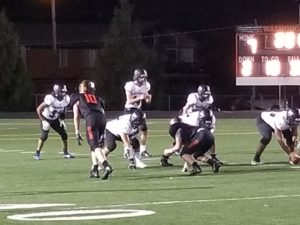 "The game plan coming in is to establish our physicality and ability to run the football", a coach was quoted as saying during the week of preparation. While that was the case early in the 1st quarter as the offensive line of Sleasman, Balderas, Johnson, Kondel & Veley opened plenty of holes to aid Colton Wheeler into the endzone on a 3 yard run to establish their will on the ground and put the Hawks up 7-0. The Panthers could only muster several three and out drives allowing the Hockinson offense to start clicking by quarters end with Canon Racanelli mixing several nice option sprint roll out passes along with several runs by Wheeler capped off with a 1-yard TD sneak by Racanelli to put Hockinson up 14-0 to end the 1st quarter.
The second quarter was all Hawks as Canon Racanelli had ample time to complete TD passes to Sawyer Racanelli and Kyle Brabec to take command by halftime 34-0. The home crowd was stunned and the excitement only seemed evident on one side of the field this night as it seemed no one was going to stand in the way of the Hawks. Early in the second half was more of the same as Racanelli completed his night with a 6 yard TD pass to Peyton Brammer to conclude the Hawks scoring. Washougal managed to execute on a late 3rd quarter drive lead by several runs by Kade Coons and the scrambling ability of Stevens to cap the drive with a 20 yard TD pass to Jake Davis who broke several Hawks tackles along the sideline to scamper in for the score.
On this night the Hawks blazed their trail through Fishback Stadium without looking back in defeat of the Panthers and now concentrate their efforts on Columbia River this week. The Panthers must regroup quickly as they are set to take on the Woodland Beavers in Woodland this week. The Pacific Sports Spa players of the game went to Hockinson's Canon Raconelli and Washougal's Ryan Stevens.
Photo Gallery