10/7/17
CC Blazers 4, GH Chokers 0
(Aberdeen, WA) The Centralia College Blazers kept their post-season hopes alive picking up a critical win at Grays Harbor. This is the 2nd time the Blazers handled the Chokers and by the identical score 4-0.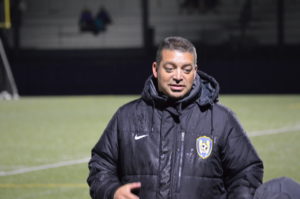 It would take the Blazers about 20 minutes to get things going as they looked a bit dull to begin with, we talked with Head Coach Horst Malunat who thought several players returning from injury were still working back into game shape and there may have been a bit of a hangover off their tie game with Lower Columbia last Wednesday, a game the Blazers felt they should have won.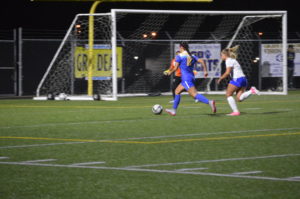 At the 22nd minute mark the Blazers were applying more offensive pressure and it paid off when LeAnn Phanakhone chip a shot up from the right side in front of the goal and Stefani Cifuentes headed it in off the post past Chokers keeper Jenna Dumont.
Despite having that one get past her Dumont was pretty solid in the box with a couple of big saves and held the Blazers in check to halftime where Centralia led just 1-0.
Malunat said he emphasized to his team at half to get off to a fast start and they did missing a couple of chances early with Joslin Lindsay driving the ball down deep several times and taking good shots but just could not get a ball to go in at Stewart field. The Blazers would get the insurance goal though just 11 minutes into the 2nd half on a goal from Phanakhone. Natalie Coleman got the assist on a slant pass from the top of the box and Phanakhone knocked it home.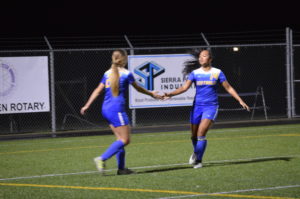 Phanakhone then picked up her 2nd goal of the match in the 78th minute on a beautiful assist pass from Lindsay and LeAnn did not waste the opportunity scoring the 3rd goal. Cifuentes then wrapped it up after a poor clearance the ball ended up right in front of her and she booted it from about 30-yards out to make it 4-0.
The Blazers were very solid on the backline led by Kelsey Aselton, Mary Richardson, Nereida Soto and keeper Emily Henderson. Aselton earned our Pacific Sports Spa defensive player of the game while Phanakhone edged out Cifuentes for the offensive honor.
Centralia is now 3-5-1 and remains in 6th place with 10 points, just a point behind Lower Columbia. The Blazers have 5 matches left and likely would have to win at least 3 of these and a draw or 2 to have a shot at climbing into the top 3 that move on to post-season.
Grays Harbor fell to 0-8-0 and are still looking for their first win of the season.
LeAnn Phanakhone talks about bouncing back after the tie match earlier this week.
Photo Gallery