Tumwater 4, Centralia 1 
(Tumwater, WA) Cassidy Colard scored two goals as Tumwater used its speed and depth to beat visiting Centralia in 2A Evergreen Conference girls soccer Tuesday night.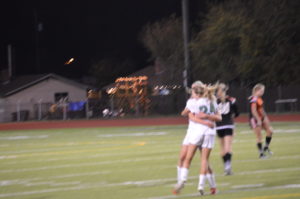 Tumwater (9-4, 6-2 EvCo) snapped a two-game losing streak and solidified its hold on second place in the league.  Centralia (7-6-1, 3-5) remains in contention for a District IV playoff berth.
Just as occurred when the teams met last month in Centralia, the Tigers scored first, this time on a header  by Ana Uhlrig after an assist from Alayna Miller in the 15th minute.
But Tunwater, which substituted in groups of as many as seven players throughout, countered and took the lead before halftime.

In the 18th minute, Trinity Bame took a short pass in the box from Hallie Bergford and tapped it in for the tie.  Five minutes later, Colard gave Tunwater the lead for good when she dribbled around Centralia goalkeeper Courtney Leifer and scored into an empty net.
In the second half, Brame led Colard with a perfect pass through the air over defenders to allow Colard to put the T-Birds up 3-1.  Kyla Clark made her Senior Night  memorable, scoring Tumwater's final goal on Riana Geathers' assist.
Tumwater outshot Centralia, 18-7, on the night and had all seven of the game's corner kicks.
Sophomore defender Kupria Lapierre was selected Pacific Sports Spas Player of the Game for Centralia with Colard getting the honor for Tunwater.  Clark's goal was the ProActive Physical Therapy Play of the Game.
Photo Gallery