11/4/17
RA Long 3, Black Hills 1
(Tumwater, WA) If she hadn't already, R.A. Long's freshman goalkeeper Maddie Barker came of age Saturday afternoon at Tumwater District Stadium, bouncing up from two serious collisions within five minutes, saving key shots down the stretch as the Lumberjills advanced to the 2A state soccer tournament with a 3-1 victory over Black Hills.
The loss was devastating for a talented corps of Wolves seniors, including Central Washington-bound Bella Brown, Emma Lindsay, Megan Lowe, Paiton Frazier, Rachell Ruell, Sydney Lowe, Rylee Flahaut, Chante Williams, Danica Marini and two injured players, Kiera Benavente and Julia Wojnar.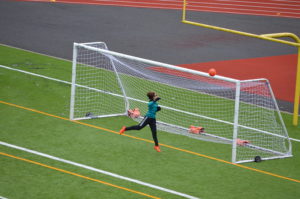 Barker's toughness went on display early in the second half, with her team leading 2-0.  Charging out to defend an attack, she slammed into Ruell, resulting in a penalty kick which was converted by Brown after Barker lay on the turf for several minutes.  Five minutes later she was attended to by coaches and trainer again after another collision with a pair of Black Hills players.
When Barker got up slowly rotating her shoulder, challenging her with high shots looked like a good bet for the Wolves.  But just minutes later, Sidney Lowe launched a powerful shot from 35 yards out that Barker flipped with both hands over the crossbar for one of her six saves on the afternoon.
For her efforts, Barker was honored as Pacific Sports Spas Player of the Game for R.A. Long while Lindsay's own tough defensive efforts got the nod for Black Hills.
R.A. Long, which had sent Black Hills into the loser's bracket of the District 4 tournament with a 2-1 win on the same Tumwater District Stadium field a week before, grabbed a 1-0 lead after just six minutes when Kelsey Bern got behind two defenders and fired a one-on-one shot over the shoulder of the Wolves' sophomore goalkeeper Devin Herbert.
Seven minutes later, Sadie Allen scored on a blast from the left wing to give the Lumberjills their first two-goal lead.
After Brown's penalty kick, Black Hills kept up the attack and came this close when Bella hit the crossbar with a long shot.  But moments after that, R.A. Long's junior midfielder Maddie Wolff headed a Maddie Reece corner kick in to finalize the score at 3-1.  Wolff's crucial insurance goal was selected as the ProActive Physical Therapy Play of the Game.
Black Hills, the 2A Evergreen Conference champion, had bounced back from its earlier loss to R.A. Long to earn a rematch with wins over W.F. West and Ridgefield, but  ends its season at 15-4.  R.A. Long (13-7) moves on to face the second seed from the Districts 1&2 tournament sometime next week.
Photo Gallery