11/3/17
Napavine 46, South Bend 7
(Napavine, WA) Scoring on every first half possession, Napavine coasted to a 46-7 win over visiting South Bend in a 2B crossover playoff game Friday night.
The Tigers (9-1) took a 40-0 lead one second before halftime to insure that the clock would run throughout the third and fourth quarters.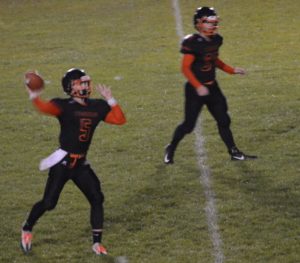 Junior quarterback Dawson Stanley accounted for 313 yards of total offense.  He completed 15 of 23 passes for 259 yards and four touchdowns while rushing eight times for 54 yards and a touchdown.  Stanley also intercepted a pass on defense and was named the Pacific Sports Spas Player of the Game for Napavine.
Senior running back Ben Boyington, who rushed 11 times for 63 yards and the Indians' only touchdown, got the honor for South Bend (7-3).  A brilliant reach-back touchdown catch by Napavine's Jordan Purvis was the ProActive Physical Therapy Play of the Game.  Purvis caught six passes for 128 yards.
Cole VanWyk had a strong night for Napavine, rushing seven times for 71 yards and two touchdowns, both from 14 yards out.
Napavine will meet Rainier — who they defeated 22-0 on the road during a downpour — in the first round of the state playoffs.