12/2/17
Saturday's Games
2A State Championship
Final: Hockinson 35, Tumwater 22
Hockinson wins battle of contrasts, takes first state title in any sport, 35-22 over Tumwater, for 2A crown
By Dave Weber
(Tacoma, WA)  It shaped up as a battle of contrasting styles and schools; Tumwater's potent running game against Hockinson's passing attack.  The fourth smallest school in Class 2A against one of the largest.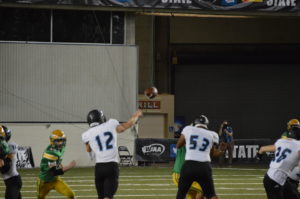 With senior quarterback Canon Racanelli passing for 316 yards, the Hawks rallied from an early deficit to defeat Tumwater, 35-22, Saturday morning to win the Washington 2A state championship undefeated at 14-0.  It was first title for Hockinson in any sport in the school's short 14-year history.
In contrast, Tumwater (11-3) gained only 36 yards net passing, most on a final desperation drive, but outgained Hockinson on the ground, 268-121.  Only four times did a Hawk other than Racanelli run the ball and many of his 16 carries were forced scrambles out of the passing pocket.
The Thunderbirds started out like a team seeking is sixth state championship, like a squad accustomed to playing in the December warmth and wide open spaces of the Tacoma Dome.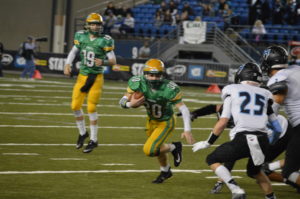 After the opening kickoff, Tumwater moved 64 yards in five plays to take a 7-0 lead.  Sophomore running back Dylan Paine, who finished the day with 112 yards rushing bringing him to 1.810 for the season, carried for 45 yards on the first play.  Zane Murphy got the score, cutting a sweep short into the end zone from 10 yards away.
Hockinson's Matt Henry fumbled the ensuing kickoff and Jacob Pati recovered for Tumwater at the Hawks' 19-yard line.  Hockinson showed its first signs of defensive resolve, though, limiting the T-Birds to a booming 44-yard Nathan Seaman field goal.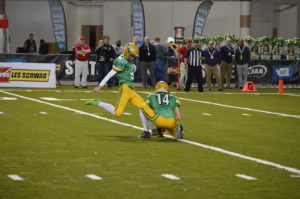 Seaman's eighth field goal of the state playoffs and longest of the season put Tumwater up 10-0, but it would be a long time before the T-Birds scored again.
After Tumwater was forced to punt out of its own end zone, Hockinson drove 44 yards on nine plays, scoring on a three-yard touchdown pass from Canon Racanelli to his brother Sawyer on the second play of the second quarter, cutting the lead to 10-7.
The Hawks defense stood strong in the second quarter, twice forcing the T-Birds to turn the ball over on downs in Hockinson territory.  On the first play of a possession, Murphy broke a sweep to the left for 53 yards and likely would have scored if not for a determined run-down tackle by Hawks senior linebacker Tony Richardson.
On the second stop, Hockinson took over on its own 28, piecing together an eight-play drive to take a 14-10 lead on a 17-yard screen pass from Canon Racanelli to Bailey Jones eight seconds before halftime.
A scoreless third quarter followed as Tumwater began having trouble moving the ball but benefitted from a strong pass coverage play on fourth down by Connor Clark to end one Hockinson threat and a 64-yard punt by Ty Gilliland to flip the field on a T-Bird fourth down.
The Hawks finally got some separation on a 10-play, 75-yard drive on which quarterback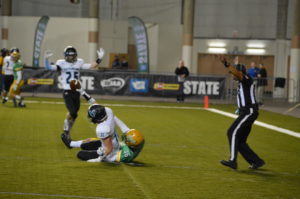 Racanelli completed passes to five different receivers, lofting the ball to brother Sawyer in the back corner of the end zone on the third play of the last period to make it 21-10.
Tumwater responded with its best sustained drive of the day, taking 16 plays to move 75 yards and score on a three-yard run by Jakob Holbrook.  In an effort to cut the lead to a field goal, Tumwater failed on a two-point conversion leaving the score 21-16 with 4:52 to play.
Hockinson wasted little time putting an insurance touchdown on the board as Sawyer Racanelli carried a double  reverse 48 yards into the end zone to make it 28-16 just two minutes later.  Tumwater's realistic hopes were dashed four plays after the kickoff when Aidan Mallory intercepted an Elias Polito pass and ran it back 45 yards for a touchdown and a 19-point edge.
To their credit, the T-Birds stayed on task despite the impending defeat. Polito, seldom called on to pass all season, opened the drive, delivering a 38-yard strike downfield to Holbrook, who scored four plays later on a sweep to the left corner of the end zone and the score was final at 35-22.
Photo Gallery
1A State Championship
Final: Royal 33,  Meridian 27
(Tacoma, WA) The Royal Knights came in with a 40-game winning streak and 2 straight State Championships and was the only defending Champion to make it back to the Tacoma Dome. Meridian came in flying high with a high scoring offense and ready to dethrone the 2-time champ.
Many thought this game might be the best of the tournament and although the 2B game certainly will give them a run this one was as advertised and no one could find fault in calling this the most exciting game of the weekend.
After 2 possessions each it would be the defending Champs who struck first. The Knights took over on their own 47 and methodically marched down the field and scored when Jr QB Sawyer Jenks connected with Corbin Christensen on a 10-yard strike. Osvaldo Guerrero hit the PAT and it was 7-0 Royal with 3:47 to go in the 1st.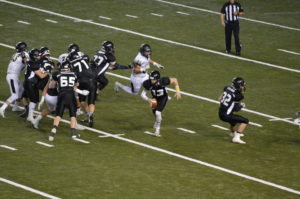 This was the only score of the 1st quarter but set in motion a game long tit for tat exchange of possessions and scoring. Meridian took the ball on their own 35 after an out of bounds kick and put together an impressive drive of their own going the 65 yards in 13 play in a little over 4 minutes and finishing it off with a TD pass from Simon Burkett to Bryce VandenHaak, Taylor Snook kicked the PAT and it was tied 7-7.
Royal would re-take the lead in the 2nd quarter on a halfback pass from Christensen to Angel Farias Ramos for a 44-yard connection to go up 14-7. The Trojans took less than a minute to answer when Burkett ran it in from the 15 but the point after failed and Royal led 14-13.
Royal used the final 63-seconds to extend their lead including a big run from Alonso Hernandez-Rangel of 33 yards and then he finished it with a 1 yard plunge and Royal led 21-13 at the break.
Meridian would answer the late 1st half score in less than a minute into the 3rd when Burkett hit Dawson Logan on a 55 yard catch and run they went for 2 and converted to tie the game at 21.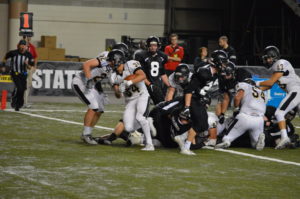 Royal answered with a score late in the 3rd on a Hernandez-Rangel 2 yard run but this time the extra point was blocked and it was a 6-point game 27-21. Meridian again answered with yet another Burkett run this time from 10 yards out but their PAT missed and the game was tied at 27.
Royal never trailed in this game but were tied several times and simply refused t0 all the Trojans to take any kind of lead. The pivotal drive for Royal came when they took over on a short field starting from the Meridian 36. 5 plays later Hernandez-Rangel rumbled in from the 7 to go up 33-27 as the extra point failed again.
Could Meridian used the final 2 and half minutes to tie or even win? The best they could do is a hail mary as time expired into the endzone and the ball batted away preserving the 3rd straight State Championship for the Royal Knights.
Photo Gallery
2B State Championship
Final: Kalama 28, Liberty (Spangle) 27
(Tacoma, WA)  A fateful second quarter decision made the difference as undefeated Kalama overcame a Liberty (Spangle) rally to claim the Washington Class 2B championship Saturday evening at the Tacoma Dome, 28-27.
After Liberty cut into an early 14-0 Chinooks lead with its first touchdown on a five-yard run by James Heer with 9:50 left in the second quarter, the Lancers lined up for a conversion kick but, when offsides was called against Kalama, chose to go for two.    Heer, who led the game in rushing with 113 yards on 29 carries, was tackled behind the line of scrimmage.
For the rest of the game, Liberty scrambled to make up the lost point with two-point conversion tries while kicker Justin King made his only one-point try.
Kalama's passing game, which accounted for the bulk of its 363 yards of total offense let the Chinooks (14-0) grab a two touchdown first quarter lead.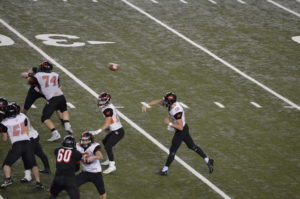 Quarterback Alex Dyer, who completed 11 of 23 passes for 188 yards on the day,  found Jacob Herz for an 11-yard scoring pass just four minutes in, then came right back with 3:26 to go in the opening period with a 30-yard touchdown to Tucker Wetmore. Logan Jones booted both extra points and Kalama was up 14-0.
But Liberty (13-1) rallied to within a point before halftime. First came Heer's touchdown, then  Jawuan Nave dashed 35 yards for a second Liberty touchdown, the Lancers settled for a conversion kick by Justin King that made it 14-13 at intermission.  Nave finished with 89 yards on 13 carries to give the Lancers a strong one-two punch in the running game.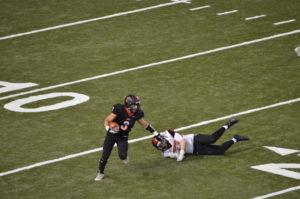 The lead changed hands four times during a see-saw second half. Liberty grabbed its first advantage with four minutes left in the third quarter on Nave's second touchdown of the night, from four yards away.  Attempting to make up for the lost point on the first score, Liberty again went for two and again failed, this time on a pass.
Before the period ended, Kalama had the lead back on Wetmore's second touchdown catch, this one from 37 yards out and a spectacular case of focus. The pass was nearly intercepted and went off a defenders hands and popped up in the air where Wetmore grabbed the ball and quickly headed north for the endzone. The stunned Lancers could not run him down and he cruised into the endzone.  Wetmore finished with five catches for 95 yards.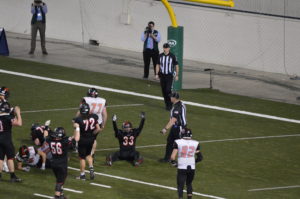 But Heer's second touchdown gave the Lancers the lead back with 5:37 left in the game and this time Heer's run attempt for the two-point conversion was good, putting Liberty in the driver's seat, 27-21 with just 5:37 left to play in the game.
This left plenty of time for Kalama and went right to work mixing runs and passes in its play calling and seemingly catching the Lancers a bit off balance as they were expecting a pass heavy dose of Dyer. The Nooks drove it down to the 16 and Dyer handed the ball off to Sophomore Elijah Haynes who crossed the line of scrimmage and darted to his right to open space and did not stop until the game was tied at 27.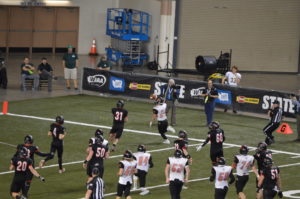 Jones fourth extra point kick of the night pushed the Chinooks to a 28-27 lead. Wetmore then doused any hopes of a Lancer comeback as he picked off a Fletcher pass with just 1:54 to play. The Nooks could pretty much kneel the game away as Liberty had just 1 time-out. With 3 kneels, a delay of game and a punt would have left the Lancers with about 5 seconds.
The Nooks made their fans a bit nervous as they ran the ball for a gain of 9 but Herz ran out off bounds. Haynes then got the 1st down on a 2-yard plunge and now they could kneel but the clock was stopped for the moving of the chains and the officials started the play clock which should have started the game clock as well but they were at least 13 seconds off now leading to confusion for the Kalama coaching staff if they had to run another play or just kneel.
Coach McDonald told us they thought they had to run another play and so they handed it off to Wetmore on a spectacular sweep he reversed course from the right side of the field where he was headed and came all the way back from where he started on the left side seemingly just to find a place to stay in bounds and keep the clock running. Instead Wetmore found a lane and took it to the house for an apparent touchdown with 1:03 left to play in the game. But a penalty flag actually was a gift to Kalama and brought the play back taking the points off the board.
Had the TD stood and the Nooks converted a 1 point PAT or missed the PAT it would have left more than a minute on the clock and a 1 score game for Liberty to have a chance to tie it. But with the penalty and only 63 seconds to go and it being 1st down even with the 1 time out remaining there was no way Liberty could stop the clock from running out and to the relief of many Nooks fans that's what Kalama did kneeled their way to their 1st State Championship since 1998 and 2nd Title in school history.
There were several defensive standouts in this game for both teams and so many times it is  difficult to get their names in written stories but in this case we want to at least recognize many of the efforts and leading Kalama were Matt Haynes, Colby Hutchinson, Corbin Byrnes, Parker Wood, Quentin Crews and Markus Rocha to name a few. Rocha also played injured for most of the game but kept coming back and contributing up front.
For Liberty, Heer was big in the middle with Brett Watson. Beau St John slapped down at least 3 passes, Charlie Harrington and Brandon Holling.
In addition to keying Kalama's passing game, Dyer also led the Chinooks in rushing with 76 yards on 10 carries.  Haynes ran for 54 yards on seven carries while Herz had 43 on five carries.  Liberty quarterback Alex Fletcher completed 13-of-21 passes for 99 yards.
Photo Gallery
4A State Championship
Final: Richland 28, Woodinville 21
(Tacoma, WA) Talk about a tale of 2 halves! The 4A Championship was being anticipated as one of the more closely played games but Richland ran up a 28-0 lead at halftime and it looked like the blow-out was on. But Woodinville, no matter the reason for the slow start re-grouped and their defense that just shut out a high powered Sumner offense in the Semi-Finals finally showed up and the scrappy offense made a run.
In the 1st half the Bombers were clearly more aggressive and dominated all 24 minutes. They got their 1st 7-points after a great punt return by Adam Weissenfels to the Woodinville 32. The Bombers then just pounded the ball down the throat of the Falcon defense with 4 and 5 yard gains until QB Cody Jensen got to the 9 where he stepped up with a strike to Weissenfels for the TD. Weissenfels would kick his 1st of 4 PATS on the night and Richland took a 7-0 lead.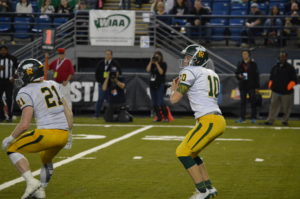 The Bombers then struck again early in the 2nd for the 1st of 3 2nd quarter touchdowns, little did they know at the time but they were going to need every one of them to hold on for the win. The 2nd TD was a Jared Whitby 3 yard run in less than a minute into the quarter. Richland scored again at the 3:05 mark when Parker McCary ran it in from 17 and they capped the 1st half scoring less than a minute later when Woodinville fumbled on their own 17 and the Bombers Jensen hit Sammy Cervantes for his 2nd TD pass of the game and the 4th different Bomber to score in Cervantes and ran into halftime pounding the Falcons 28-0.
Woodinville had a decision to make at the break, play their final 24 minutes like a Championship team or waive the white flag. There is no white flag on the Falcon's sideline and they came to play. The Falcon defense showed what most thought and shut out the Bombers in the 2nd half. In fact Woodinville would outgain the Bombers in the end offensively and put up 1 more 1st down.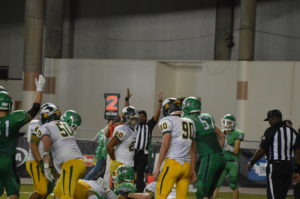 Woodinville got the turn-around started on their opening drive of the 3rd and marched 60 yards on 10 plays where Brett Accimus pounded it in from the 1. Blake Gessner hit the PAT and it was 28-7.
Woodinville then forced the Bombers to punt 3 straight times and took over on their own 18 late in the 3rd. QB Jaden Sheffey would get things started with a nifty 22 yard run. They would work the ball down to the Bomber 38 when time expired and on the 1st play of the 4th quarter Noah Stifle came in for the Falcons and tossed a 38-yard strike to Tyler Owens and it was 28-14 just 8 seconds into the 4th.
Richland's offensive woes would continue on the next drive and were forced to punt again when Josh Mendoza hit a doosey at the Falcon 11 but a holding call would force a re-punt. The ball then got away from Mendoza who ended up fumbling the ball and finally recoving it on the Bomber 10. But the Falcons let this golden opportunity get away with a 3rd and 9 and Sheffey's pass intercepted in the endzone by Weissenfels which probably ended up being the play of the game.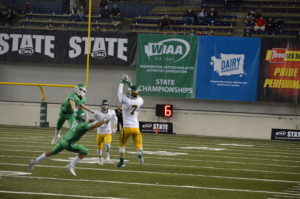 Woodinville would make it interesting and made it a 1-score game with more than 3 minutes to play when Sheffey took it upon himself to get it done running it in from the 9 and it was 28-21. The Falcons needed to get the ball back and and did just that forcing yet another 2nd half Bomber punt and the Falcons had it on their own 20 with 2:11 left to play. But Richland did not waste the huge 28 point lead they built and on a 4th and 11 it was that guy Weisenfels who came up big again with another pick to end the game.
Photo Gallery
12/1/17
Friday's Games
1B State Championship
Final: Almira-Coulee-Hartline 84, Sunnyside Christian 60
Scoring records shattered as Almira-Coulee-Hartline races past Sunnyside Christian for 1B title, 84-60
By Dave Weber
(Tacoma, WA)  Nobody saw it coming.  Not the outcome, not the details.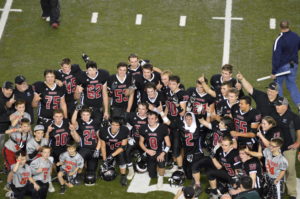 Maybe the so-called experts should have had an inkling something special could happen Friday night at the Tacoma Dome when Almira-Coulee-Hartline met Sunnyside Christian for the Washington 1B state championship.
After all, neither team had scored fewer than 60 points in either of their prior state playoff games.  ACH scored exactly 60 in routing Naselle and Lummi Nation.  Sunnyside put up 62 against both Cusick and Odessa.
On the other hand, Sunnyside had come from behind to win a tame, 34-20, game over ACH on the opening week of the non-league season back in August.  A least one newspaper picked the Knights to win the title game by 19, with their winning score in the 40s.
Instead, decades-old records came crashing down as ACH (12-2) pulled an upset, scoring on every possession but two to rout the Knights (13-1), 84-60 for its third state championship, the previous title coming in 2015.
The Warriors winning point total was an all-time record for the 1B state championship game, bettering Tri-Cities Prep's total in an 80-40 win over Lummi for the 2009 crown.  The teams' combined 144 points shattered the 134 in Napavine's 74-60 victory over Prescott in 1976.
Almira-Coulee-Hartline, which gained 3513 yards rushing coming into the game – twice as much as it had through the air – took better advantage of the wide-open spaces eight-man football can create for a passing game Friday.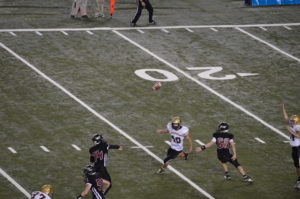 Junior quarterback Maguire Isaak completed 21 of 41 passes for 368 yards and eight touchdowns.  He also rushed 26 times for 243 yards, giving him a surrealistic 611 yards in total offense and 12 touchdowns participated in, both 1B final game records.
Four of his scoring passes went to senior running back Parker Zappone, who caught six total passes for a team-high 188 yards.  Senior wideout Payton Nielsen snagged 10 passes for 128 yards and three touchdowns.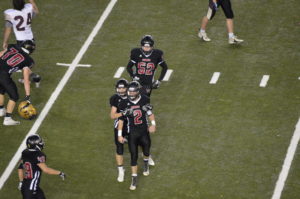 Zappone also rushed for 116 yards on 18 carries, giving him 304 yards of total offense on the night.
Sunnyside Christian was plagued by self-inflicted damage – four turnovers and two penalties on fourth downs that kept ACH scoring drives alive – or the Knights might have had a shot to win.  Sunnyside's offense was hardly stagnant.
Like his ACH counterpart Isaak, senior quarterback Chance Marsh had a big night, completing 21 of 29 passes – 72 percent – for 421 yards and seven touchdowns.  He rushed for 66 yards, giving him 487 yards in total offense.  He also excelled on defense – where the Knights spent more than two-thirds of the game's 48 minutes—making 14 solo tackles and assisting on 12 others.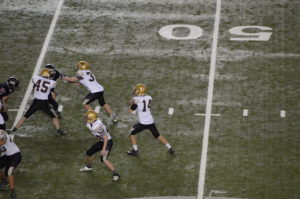 Lane Marsh was on the receiving end of 12 passes for 259 yards and four touchdowns.  Luke Wagenaar caught two touchdown passes and Kyler Marsh one.
The Warriors jumped out to a 12-0 lead after just five minutes, but a minute later, Chance Marsh scored Sunnyside's only rushing touchdown from a yard out and a two-point conversion pass to Wagenaar pulled the Knights within four.
Yet, a minute after that, Zappone pulled in a 54-yard touchdown pass from Isaak and the pattern was established – Sunnyside would hang around, but as ACH ground out those 12 touchdowns on 14 drives, the Knights would never pull even again.
The Warriors struck a telling blow, chewing up seven minutes of the second quarter on a marathon drive that featured 17 plays from scrimmage and four penalties to score from midfield after a Sunnyside onside kick.  Gage Burchill caught a six-yard pass from Isaak to put ACH up 34-14.  With most of its players going both ways, the lengthy stint on defense may have taken an emotional toll on the Knights, though they would go on to tally 46 more points of their own.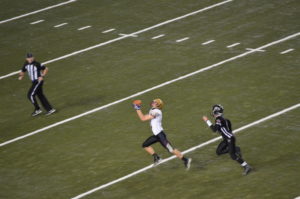 Interestingly, Sunnyside scored next, on a 14-yard pass from Chance Marsh to Wagenaar.  That made the score 34-22 with two minutes left until halftime.  The teams' had already exceeded the total on the entirety of their first matchup.
Isaak put a punctuation mark on the outcome late in the third quarter.  For the only time in a game featuring onside or squib kicks by both teams on every kickoff, ACH found itself backed up close to its own goal line after recovering an Chance Marsh fumble.  On the third play, Isaak kept and found a hole that let him sprint 91 yards for a touchdown and a 64-30 lead.
Almira-Coulee Hartline's final drive featured a rare appearance by a female player in the state finals.  With the Warriors subbing freely on a possession meant to simply run out the clock, one of the younger players coming in was junior guard Samantha McGuckin.
Photo Gallery
3A State Championship
Final: O'Dea 38, Rainier Beach 11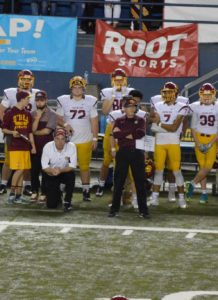 (Tacoma, WA) O'Dea Head Coach Monte Kohler is a familiar face to many when it comes to playing games in the Tacoma Dome, in fact his last appearance was just last year where the Irish fell short to Kamiakin and had to settle for 2nd place. What might really surprise some is that the last time the Irish raised the trophy over their heads was 22 years ago in 1995.
So Kohler and the Irish fanbase were more than ready for a return to the Winner's Circle but more importantly his team was looking for redemption and found it.
For Rainier Beach it would be the Vikings 1st trip to the Championship game and 1st play-off appearance in 11 years. The Vikings had twice before lost in the Semi-finals and have had a handful of other State Tourney appearances so the Beach community showed up in throngs looking to upset their crosstown private school rival.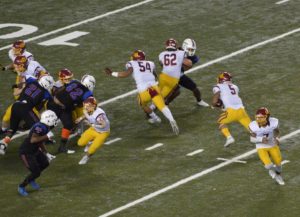 Beach may have had some of the jitters to begin with and fumbled away their 1st possession on the kick-off which O'Dea's Thomas Shorack recovered on the Beach 36. The Irish would take 10 plays to go just 36 yards but Jamyn Patu finished it off with a nice 16-yard run, Stephen Powell added the PAT and it was 7-0 mid-way through the 1st.
The Irish added to their lead with a TD early in the 2nd after Patu busted off a 55 yard run. Connor Gregoire finished off the drive with a 1-yard plunge and O'Dea was up 14-0.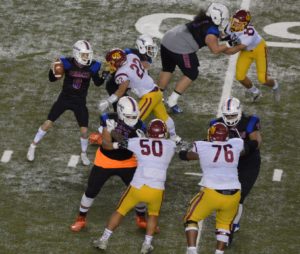 The Vikings best drive of the half began on their own 40 and was propelled on a great pass from QB Max Nall to Freddie Roberso on a 42-yard connection down to the O'Dea 11. However, the Irish defense stiffened and forced the Vikings to try a 24-yard field goal attempt which Mohamed Ibrahim connected on making it 14-3 with 6:30 to play in the half.
O'Dea's Powell countered with a field goal of his own with an impressive 44 yard strike to make 17-3 at the half.
Things did not get better for the Vikings in the 2nd half and in fact had a kick-off return for a TD and a long pass play for a score both called back due to penalties. O'Dea did not miss on the opening and reeled off 3 straight touchdowns to take a commanding 38-3 lead late in the 4th quarter.
O'Dea set it up with a 9-minute, 19-play 2nd half opening drive capped off Emonte Scott's 1-yard run to go up 24-3. Beach didn't get their hands on the ball in the 2nd half until the clock read 3:04.
O'Dea's Patu added a 2nd touchdown and Mark Tafia ran one in from 24 yards out before Rainier Beach found the endzone sans penalty flag. Max Nall ran it in from 38 yards out and Jarious Jones scored the 2-point conversion for the final 38-11 score.
Photo Gallery