11/30/17
2A State Championship Game Hockinson vs Tumwater Live Free Radio Broadcast on ESN.
         By Dave Weber
(Tumwater, WA)  Bill Beattie is a chapter away from a storybook ending to his first season as head coach at his alma mater.
Last weekend, his second-ranked Tumwater High School football team  knocked off top-ranked Archbishop Murphy, 10-6, in the 2A state semi-finals to earn a berth in Saturday's 10 a.m. championship game at the Tacoma Dome.  The Thunderbirds (11-2) turned in a generational defensive performance, holding the state's highest scoring 2A team without an offensive score, pushing the Wildcats two offensive superstars, Ray Pimentel and Kyler Gordon, into negative yardage on the day.
"I don't think we can play any better defensively than that," said Beattie, praising the work of defensive coordinator Tim Otton and his assistants.  "The kids executed the plan to perfection, flat out got after it.  From the standpoint of totally dominating an opponent that's among the best performances any of my teams have had."
But there's a big hurdle left for Beattie, who was hired at Tumwater this season to replace his own high school coach, Sid Otton, after a 22-year stint at Olympia.
Saturday, when the T-Birds meet third-ranked and undefeated Hockinson (13-0) for the title, they'll have to come close to replicating their stellar defensive performance.  The Hawks can also put up big numbers.  They're coming off a 53-30 romp over West Valley of Spokane in their own semi-final and have dreams of their own.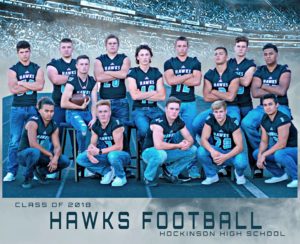 "It's huge for our football program," Hockinson coach Rick Steele told the Spokane Spokesman-Review.  "For a little tiny high school to get to this spot is huge."
Hockinson is just 14 years old, the fourth smallest school in 2A, but brings some big offensive weapons into the first state 2A final between two District 4 schools.
Senior quarterback Canon Racanelli has passed for 3,805 yards and is one of only eight high school quarterbacks in Washington history to pass for 50 or more touchdowns in a season, with 53.  He completes 72 percent of his passes in a potent short-passing game directed by his father, Josh, the Hawks offensive coordinator and a former Boise State and Portland State quarterback.
His brother, 6-foot-3 sophomore Sawyer Racanelli, has caught 79 of his brothers passes for 1,642 yards and 25 touchdowns.  Hockinson's air game doesn't stop with the family connection:  Sixteen players have caught at least one pass this season, nine for at least one touchdown.  Peyton Brammer gives the Hawks another tall sophomore target at 6-3.  He and senior slotback Matt Henry each average 13 yards per catch.
"It all starts with the quarterback," Beattie agrees.  "He can do more than throw.  It's impressive to me watching film and seeing how he can elude pressure in the pocket.  He has the ability to pull it down and run, too."
Indeed, Racanelli has 12 touchdowns rushing, averaging 6.2 yards per carry.  Senior running backs Bailey Jones and Colton Wheeler give the Hawks some variety, averaging 5.9 yards per carry between them.
"Their line does a great job of pass protection, they have a lot of experience with it," says Beattie.  "They have those big, tall horses at receiver."
Defensively, Hockinson will blitz and keep eight men up close to the line of scrimmage.  Linebacker Kyle Brabec has led the way with six sacks.
"Running the Wing-T we see a lot of that," said Beattie.
Tumwater will counter with a deep corps of running backs out of that Wing-T.  Compact sophomore Dylan Paine leads the T-Birds with 1,698 yards on 290 carries, good for 28 touchdowns.  Connor Clark, a senior transfer from Olympia who also excels in the defensive secondary and on special teams, is another up-the-middle back.
Jakob Holbrook and Zane Murphy run more to the outside and call the signals in Tumwater's Wildcat package.
Kicker Nathan Seaman has also been a consistent weapon for Tumwater, kicking seven field goals thus far during the state playoffs.
All of which leaves Beattie with the best chance of his coaching career to hoist a state championship trophy in his first season at Tumwater, after getting no closer than a 2004 semi-final loss during his years at Olympia.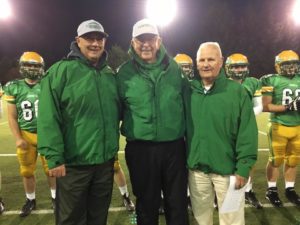 "We had three great coaches retire from this staff (Otton and long-time assistants Pat Alexander and Steve Schoun), but it's gratifying to have the coaches who stayed work so hard," he said.  "The kids have been fantastic.  They know the expectations are the same no matter who the coach is.
"Coach Otton (who won five state titles) got this program going 43 years ago and we want to keep it moving, maybe even raise it up a little bit, if that's even possible."