11/30/17
(Tacoma, WA) There is only 1 defending Champion back in the Tacoma Dome going for back-to-back titles and that is Royal in the 1A bracket. However, there are 3 runners up back for redemption including the Liberty (Spangle) Lancers who lost to Napavine last year 34-16. The Lancers will face the fast up and coming Kalama Chinooks who knocked off the defending Champs Napavine last Saturday in the Semi-Finals 20-13.
Listen live and free to this game on the Eli Sports Network.
Background and State History
Both teams come in with unblemished records at 13-0. Liberty (Spangle) won the Northeast 2B League while Kalama took the Central 2B River Division. The Lancers defeated league rival Asotin in the Semi-Finals 21-16 to earn the right to come back to the Tacoma Dome after defeating DeSales 51-7 in the quarters and Lyle/Wishram 57-14 in the opening round.
The Nooks opened with a tough fought 36-29 win over Adna then handled Pe Ell/Willapa Valley 50-15 before getting past Napavine in the Semi's.
Both teams have similar State Tournament experience:
Liberty (Spangle)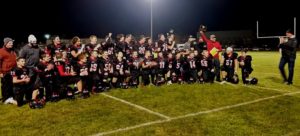 15 Trips to State
12 Quarterfinal appearances finishing 6-6
6 Semi-Final games 4-2
4 Championship Games 2-2 winning in 1982 against Mossyrock 10-7 and again in 1992 27-0 over Wahkiakum. The 2 losses were in 1986 to Onalaska 23-12 and last year, 2016, to Napavine 34-16.
Kalama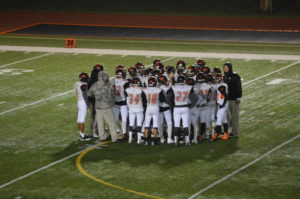 16 Trips to State
10 Quarterfinal games 4-6
4 Semi-Final games 2-2
2 Championship Games 1-1 winning in 1998 over Okanogan 14-6 and losing in 1999 to Okanogan 28-0.
The Details
Liberty (Spangle)
Athletic Director: Blaze Burnham
Head Coach: Mike Dewey (7th Season)
Assistant Coaches: : Mike Ganey, Ron Rogers, Jason Wedel, Brian Harrington, Alex Saywers
Offensive Preview:
The Lancers average almost 390 yards of offense a game but over 2-1 on the ground thanks to their workhorse James Heer who is averaging 144 yards per game and has racked up 1,874 rushing yards and can eclipse 2,000 by hitting his game average. He's also scored 28 touchdowns.
When Heer needs a break or for a change of pace look for starting receivers Jawuan Nave and Justin King to get a few totes. The 2 have combined for 180 carries and almost a thousand yards and 14 TD's of their own.
When the Lancers take to the air Sr QB Alec Fletcher is quite efficient completing 119 of 195 for 1,886 yards and a blistering 61% completion rate with 22 TD's and just 2 Int's. On the receiving end they count on the same trio of Heer (32/373 3 TD), Nave (30/490 7 TD) and King (27/492 3 TD) but it's Brandon Holling who leads all. Holling is the deep threat with 23 catches for 481 yards and 8 touchdowns.
The Lancers wouldn't have these gaudy numbers without the big boys up front of Beau St. John, Jon Denny, Charlie Harrington, Taz Porter, Tyson Schenk and tight end Brett Watson.
Defensive Preview:
The Lancers run a 4-3 front and have been very effective at keeping the opponents out of the endzone. Liberty has 1 shut out but have given up just 1 TD or less in 8 of their 13 games.
Beau St John leads the attack from his DT position with 79 tackles with 11 for losses. Heer is active from his linebacking position with 82 tackles and 10.5 for losses. Meantime in the deep back the Lancers have picked off their opponents 14 times led by Nave with 6 and King had 5.
Kalama
Athletic Director: Brynan Shipley
Head Coach: Sean McDonald (3rd Season)
Assistant Coaches: : Keoki Mawae, Errol Miller, Mike Phelps, Kyle Strum, Brandon Walker
Offensive Preview: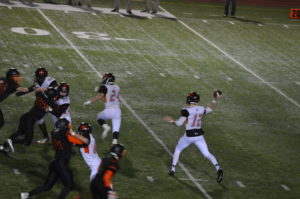 The Kalama season stats were not available but we can tell you the Chinooks are the 180-degree opposite style of offense from Liberty. The Nooks rely on their Jr QB Alex Dyer who can throw the ball all over the field and has some speedy targets to aim at. Last week in the Semi-final game against Napavine and in a driving rainstorm Dyer lit up the Tigers with 284 yards and 3 TD's including a 94-yard connection which proved to be the difference in the game early in the 4th quarter.
The receiver on that huge catch was Jacob Herz who grabbed the ball with 1 hand and then split defenders and showed his sprinter speed pulling away from the defense for the score. That was 1 of 7 catches for Herz who also can run the ball on sweep actions at times. Dyer's other targets are Tucker Wetmore who is an all-around player for Kalama and had 6 catches with 2 TD's in the Semi-final game.
Kalama will unlikely lean heavy on their running game but could be used if the Lancers sell out to stop the pass. When they do run it, its Dyer the most likely runner. Dyer kept the ball 11 times and ran for 50 yards. Some were called run plays but many were scrambles by Dyer who is an elusive runner when he gets into open field.
The O-line of Jack Spiess, Hunter Griggs, Sutton Moon, Abe Bah and KC Larranaga that is more than skilled in pass blocking will likely face their stiffest test against the Lancers.
Defensive Preview:
Kalama also runs a 4-3 look defense and one of their line-men also was huge in the semi's, Matt Haynes. He put tons of pressure on the Napavine QB and came up with several big tackles. The big tackles of Quentin Crews and Markus Rocha will be called on to slow down the fierce running attack of the Lancers.
Corbin Byrnes is the defensive quarterback from his middle linebacking position and is capable of filling a hole and taking on a big back as well as dropping back into pass coverage. Byrnes may be the key for Kalama if they can slow down the Liberty run game.
When Liberty drops back to pass they will be facing a talented deep 4 led by Wetmore and Herz.
A Deeper Look
Liberty:
We had a chance to talk with Liberty AD Blaze Burnham who hired Mike Dewey as his head football coach in his 2nd year as AD. Burnham hired Dewey who works as an English teacher at Rogers High School in Spokane. It was Dewey's teaching credentials, style and reputation that caught Burnham's attention.
Burnham says Dewey runs the English department and teaches highly at risk kids. Burnham says despite a rather successful history of football it had been quite some time before Dewey literally re-built the program from the ground-up. Burnham says a lot of credit also has to go to the administration and school board when they made a concerted effort to change the culture not just of the program but the school.
Coach Dewey tells us he is so proud of this team who were picked to finish 4th in their league. Dewey says the kids simply rallied together and took an us against the world attitude. Dewey says as the season progressed and the Lancers simply got better and better and the season became about finishing the job they began last year. Dewey admitted watching Napavine celebrate the 2B Championship after beating them stung and has fueled this team's mission.
Dewey heaped tons of praise on his assistant coaches, players, student body, administration, parents and community. He says this truly is one big team effort and they are looking forward to the challenge on Saturday.
Kalama: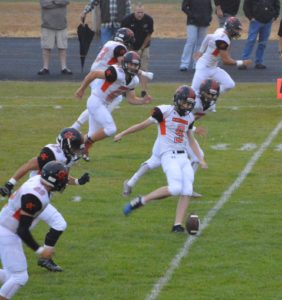 The Nooks Coach Sean McDonald is more than just the 3-year head coach but has deeper connections as an alumni and former player. McDonald graduated in 2009 and was part of 2 Kalama teams that advanced as far as the quarterfinals and the last team since this current squad to reach the Semi-Finals back in 2005.
McDonald's connection to the team goes back even further to the State Championship team in 1998 where he was the ball boy so his understanding of the history and importance the program has to the Kalama community is first hand. McDonald says this is the job he wanted and its personal to him to turn this program back into a consistent winner.
AD Brynan Shipley also wanted to connect this team with the history of the football program and surprised the team with a special luncheon on Thursday. Shipley says she contacted 6 former players from the 1950's where Kalama had won an unofficial State Championship. The Title back then was determined only by media polls. Shipley invited the former players to have lunch with the team and share memories of their time with the Nooks and what it meant to them then and how it still is important to them now.
Shipley also praised the entire coaching staff, administration and community. Shipley says the police and fire departments are set to send the team off in style and appreciates how the business community have all decorated their storefronts in downtown supporting the team.
Final Thoughts
Small town friday night football is alive and well in Washington State and both of these teams are great representations of why high school sports are far more than just about wins and losses.
For the game itself it looks like a text book run offense against a passing offense both capable of putting up lots of points and racking up tons of yardage. Final score of a 35-34 area would not be surprising to many but why do so many games rarely end as they scratch out on paper? This is why a 14-13 score may surprise some but not ton us. There may be plenty of offensive yardage but finishing is going to be a challenge for each of these offenses. Either way this may be the best match-up of all 6 Title Games and if you are a football fan it is a game you do not want to miss.