12/5/17
Kelso 59, WF West 44
(Chehalis, WA) Both teams have been working the past few years trying to turn aro9und programs that had been struggling. Kelso Head Coach Joe Kinch and WF West Head Coach Chris White have several things in common such as former team mates on the Lower Columbia College Basketball team, they both had projects turning around former solid programs and both have sons playing for them.
Both teams have a lot of senior leadership coming into this season as well and combined they were off to a 3-0 start which meant obviously one of them would suffer their first loss.
Both teams have similar styles on top of it all they like a fast moving, up and down pace and rely on break-away's and outside shooting. It no doubt would be imperative to get off to a fast start if at all possible. It turned out that wasn't possible as Kelso held a slight advantage after the 1st 8 minutes leading 10-5.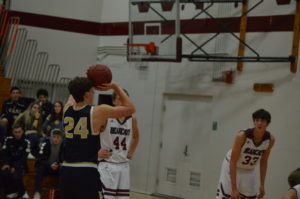 It would be the 2nd quarter when the Hilanders caught fire and were aided with several trips to the free throw line that they took advantage of shooting 9-13. Shaw Anderson worked the inside for Kelso and had 4 points from the floor but knocked down 8 of 9 from the free throw line to lead all scorers at the break with 12.
Emmit Kinch hit a 3 ball and finished with 5 while Riley Noah also drained a long ball and had 7 but it was a combination of stingy defense by Kelso's starters including Anders Gamble and Peyton Noah off the bench that frustrated the Bearcats. Chehalis also shot poorly missing several close up opportunities.
Five players would score for the Cats but they finished with just a combined 13 and trailed Kelso at the break 29-13 a deficit they would never overcome.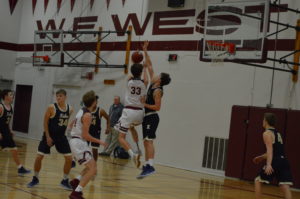 The Cats would finally find some offense and started to make a run about midway through the 3rd and pulled within 13 when Brandon White lined up a half court shot with 2 seconds to play in the 3rd and drained it. White led the comeback scoring 13 of his 14 points in the final 12 minutes of the game. He finished with 3 3's and a pair of 2 point shots to go with his 1 1st half free throw. Jordan Thomas also finally got going after playing in foul trouble for nearly the whole game he would pump in 6 before fouling out.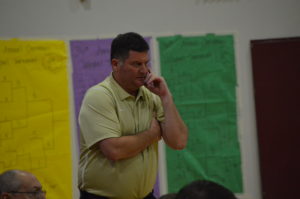 Kelso Coach Joe Kinch says he was pleased overall with his team's performance but felt they got a bit sloppy when they took a big lead and settled for several 3-point shots that were missing. When WF West pulled within 11 with 3:30 to play the Hilanders went back inside to the money shot with Anderson and he quickly hit a pair to push the lead back to 15 and the Cats would never get closer.
Kelso improves to 2-0 while WF West falls to 2-1. Our Pacific Sports Spa Players of the Game went to Kelso's Shaw Anderson and the Bearcats Brandon White.
Scoring
Kelso: Anderson 19, Kinch 13, R Noah 12, Gamble 7, P Noah 4, Bowlby 4,
WF West: B White 14, Thomas 6, Cooper 6, Speck 5, Wollan 4, C White 4, Baker 3, Dobyns 2
Photo Gallery