12/7/17
WF West 85, Skyview 58
(Chehalis, WA) The Storm was in town but it was the Bearcats raining 3's, 14 to be exact. WF West was throwing down long balls from every corner and from half the team, literally as 7 different Bearcat players knocked down a 3-ball. Leasing the way was Maggie Valdala who came out on fire scoring 15 of her game high 18 in the 1st half including 4 3-pointers.
The Cats put up 19 in the 1st quarter but the Storm led by Emily Norton stayed within reach trailing by 6 heading into the 2nd quarter. As the 2nd quarter began the Cats hit several 3's in a row including a big back-to-back by Vadala. Kiara Steen was big as well in the 1st half and she scored all of her 11 points in the 1st half with 3 3-balls. Julia Johnson had 6 in the 1st half to help push their lead to 18 with a 46-28 halftime lead. Norton had 11 of her Storm team high 17 in the 1st half while Maddie Hendricks scored her 5 in the 1st half.
In the 2nd half Valdala picked up her 4th foul very early in the 3rd and played sparingly. In the short time she played she did drill her 4th 3 to finish with 18. The Cats did not have to worry about offensive production especially 3-point shots as Julia Johnson, Courtney Bennett, Madi Haakenson and Taya McCallum all hit from behind the arc and combining for another 7 deep shots led by Bennett with 3.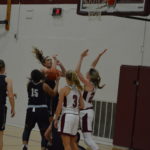 The Cats defense was also at it's usual full tilt but the Storm switched up and really attacked the inside and although they did not hit a lot of field goals they were sent to the line 19 times hitting 15 led by Nicole Christensen going 6-8 for her 6 points. Kazee Parks had 2 along with a 2 and 3 point field goal while Norton was held to 2 long balls. Chehalis finished with 4 players in double figures. That did not surprise Cats Coach Tom Kelly who told us they all have the green light to shoot and he expects them to put up plenty of shots from behind the arc.
Chehalis' Madi Haakenson was our Pacific Sports Spa Player of the Game for the Bearcats for her overall 10 points and 6 rebounds but also for several hustle plays and she played tough defense. We chose Emily Norton as the Storm player of the game for her 17 points.
WF West is now 3-0 on the year while Skyview dropped to 1-2. The Bearcats will next take on Mark Morris while Skyview faces Prairie.
Scoring
WF West: Valdala 18, Bennett 11, Johnson 10, Haakenson 10, Waring 8, McCallum 8, Brumfield 7, Akins 2
Skyview: Norton 17, Parks 10, Houk 6, Christensen 6, Macpherson 5, Hendricks 5, Riley 5, Hogan 2, Campbell 2
Photo Gallery