12/15/17
(Centralia, WA) The Centralia College Men's Basketball team is on a mission this year and that's to turn the Blazer program around. Last year they finished 6-22 and 3-11 in conference play and 2nd to last in their division. So far the Blazers are off to a 2-6 start this season but 4 of those losses were by 5 or less including their opener where they put up 101 points but dropped to Olympic 105-101 and again to Olympic on Friday in the opening round of the Clark Crossover Tournament dropping 88-83.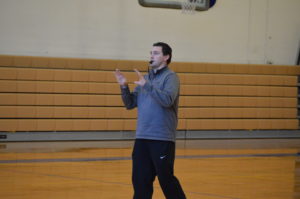 Head Coach Jason Moir decided to clean house this season and has only 1 returning player in Austin Curry from Timberline High School. Moir has been with the Centralia College program for more than 13 years if you count the 2 years he played after graduating from Washington High School. Moir guided the Blazers to the NWAC Tournament in 2013 where they finished 7th as an assistant in 2005 the Blazers were 5th.
The Blazers are headed to Clark College this weekend and in practice on Thursday Moir was stressing to his young team the importance of defense. Moir said they know they can score the points needed to win but it's the defense that needs to improve.
We talked with Curry the only sophomore and freshman Marqus Gilson from Westlake, Utah. Gilson is one of 4 Utah players to come to Centralia this year and said assistant coach Jonathan McMillan convinced him to be part of the youth movement.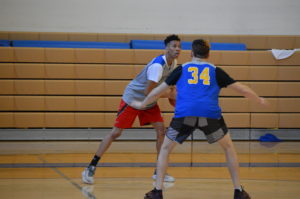 Despite being young Curry says he was excited to be part of this team. He says there is a different vibe from a year ago and that they have really come together as a family. Curry and Gilson both said without a doubt making it to the NWAC Tourney is their top goal.
Curry says they know they have a lot of work in front of them but feels this team has the character to get better and reach their goals. The good thing for this team is all these games they are playing now do not count and gives time to allow 11 guys who have never played together the time to work out issues and blend together as one.
Curry says he wants to be part of the team that returned winning to the Blazer program. Curry experienced lots of winning when he played for the Timberline Blazers. Gilson says everyone else on the team don't want to waste a year and want to win now and naturally look to Curry for leadership.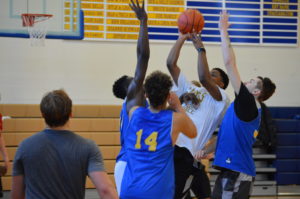 The NWAC conference schedule begins January 10th against Grays Harbor. That is when it starts to count so the Blazers have 7 more non-conference games to put it together to make a run. This is an exciting year for the Blazers and are going to be a fun team to watch and likely one of those teams that you will literally see improvement every time they hit the floor. The big question is will it be enough this year to get to the NWAC? We won't be surprised if they reach their goal.
Now let's meet the team!
Centralia College Blazers Men's Basketball team:
00    Austin Curry 6'4 Guard from Lacey, Washington
Austin is the only sophomore on this young team and is the leader on and off the floor. Right now Curry is averaging 22 points a game 4th in the NWAC and is a work horse playing more than 36 minutes a game, 2nd in the NWAC. On defense he has 50 rebounds good for 8th overall and 27 steals also 4th overall.
1     Jaxson Clarke 6'2 Guard from Ogden, Utah
Jaxson comes off the bench and is averaging 20 minutes a game and averages nearly 4 points a game with 8 rebounds and 10 assists through 8 games.
2     Saxon Stringham 5'10 Guard from Stansbury Park, Utah
Saxon is also a reserve in his 1st year and is playing about 4 minutes per game but when he shoots he is nearly perfect going 4-5 from the floor on the year.
3     Michael Brown 5'8 Guard from Tacoma, Washington
Michael has been limited to just a few minutes per game and has contributed by rebounding, assisting and a steal.
4     Collin Prangley 6'3 Guard from Washougal, Washington
Collin averages more than 8 points a game and has come up big on defense with 7 steals and 2 blocks with 19 defensive boards.
5     Taylor Peppinger 6'1 Guard from Murray, Utah
Taylor averages more than 25 minutes per game and while in the action scores nearly 10 points per game. Taylor also has 7 assists and 8 steals for the year. He is a 34% 3-point shooter going 23-67 so far on the season.
20    Austin Filley 6′ Guard from Napavine, Washington
Austin plays a limited role so far but when he is in the game he makes the best of it going 6-10 from the floor including 2 long balls. He also rebounds well and has 5 assists.
22    Tyler Meadows 6'3 Guard from White River, Washington
Plays more than 32 minutes a game and scores 8 points a game. He has 29 rebounds on the year so far and 29 assists as he distributes like crazy. He is shooting 44% and 38% from behind the arc.
24    Jephthah Donkor 6'5 Forward from Fife, Washington
Jephthah comes off the bench and plays significant time averaging 18 minutes a game. His work is inside as he shoots 53% from the floor for more than 8 points a game and no attempts from behind the 3-point line. He has 27 rebounds and 8 blocks on the defensive side of the game.
32    Donovan Eiman 6'8 Forward from Palmer, Alaska
Donovan is a starter and plays more than 23 minutes a game averaging nearly 6 points per game. For a big man he does well at the free throw line hitting 14 of 17 for 82% and cleans the boards with 35 rebounds. Also add 9 blocks and 2 steals to his defensive numbers.
34    Marqus Gilson 6'5 Forward from Westlake, Utah
Marqus is the other player scoring in double figures averaging 15 a game. He is hitting 53% from the floor going 48-90. He is 24-30 from the line shooting 80% from the charity stripe. His inside play may surprise and he leads the team in boards with 65 that's 12th in the conference including 29 offensive boards which is 5th overall. Add 8 assists, 7 steals and 5 blocks for a well rounded presence for the Blazers.
Photo Gallery