1/10/18
Black Hills 50, Centralia 31
(Tumwater, WA) The Black Hills Wolves were expected to challenge WF West for the league Championship but after losing big to the Bearcats in the league opener they are now focused on running the table until they get to host Chehalis in the 2nd go-round of league play. They made quick work of Centralia who was undefeated in league play when the night began.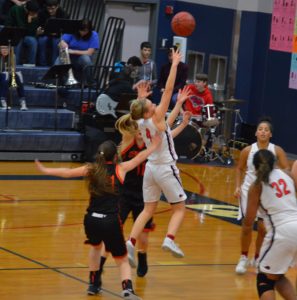 The Wolves went on a 10-4 run to start the game with each starter, Megan River, Lindsey Nurmi, Alexa Bovencamp, Natania Serhan and Jordyn Bender all scoring a 2-point shot. Now it was a question if one of the starters would take control of the offense and there would be 2 to hit double figures in the end with River leading the Wolves with 17 and Nurmi chipping in 10.
Black Hills ran out to a 19-5 lead after the 1st quarter then extended the lead to 30-10 holding Centralia to just 5 points in both the 1st and 2nd quarters. Carissa Kaut led the Tigers with half of the points scored at the break.
After halftime the Tigers came to play and actually outscored the Wolves by 1 to lose by 19. Centralia got more production from Kaut who finished with 13 and Ellie Corwin with 7. For the Wolves they also had help off the bench with a total of 9 players getting in the scorebook.
Black Hills improves to 2-1 in league play and 10-3 overall while Centralia dropped to 2-1 and 9-4. Our Pacific Sports Spa Players of the Game went to the Wolves' Megan River and the Tigers' Carissa Kaut.
Scoring
Black Hills: River 17, Nurmi 10, Bovencamp 6, Serhan 5, Bender 4, M Lee 3, S Lee 2, Greenfield 2, Sayhod 1
Centralia: Kaut 13, Corwin 7, Wilkerson 5, Erickson 3, Strophy 2, Sharp 1
Photo Gallery