1/17/18
Below are both stories on the Blazers Womens and Mens games at SPSCC Wednesday night and at the bottom  is a photo gallery from both games.
Womens Game
Centralia 55, SPSCC 48
(Olympia, WA) The Blazers were looking to quickly bounce back from a tough loss last weekend against LCC. In that game they fell behind 25-8 in the 1st half and simply dug such a massive hole they never really got close to digging themselves out. Blazer coach Caleb Sells was determined to get his team off to a fast start and they did just that in this game on the road.
By no means was the offense on fire and ran u[ a huge lead in a short period of time but rather a smothering defense combined with a stead and grind away offense did see the Blazers jump out to a 19-7 1st quarter lead and maintained a double digit advantage to the half leading 34-23.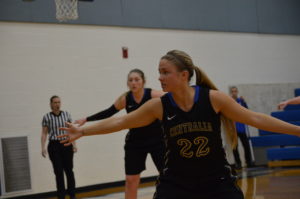 Devanie Kleemeyer was the driving force in the 1st half on the offense scoring all 12 of her points in the 1st 20 minutes. Majesty Claybrooks and Kylie Smith chipped in a combined 17. But again it was the pressing defense that was the big story in the 1st half led by Joni Lancaster who was a constant problem for the Clippers to deal with and severely limited their offense.
In the 2nd half the Blazers came out cold but so did the Clippers and although Centralia only scored 7 points in the quarter, SPSCC countered with just 9 to pull within 9 going into the final 10 minutes.
In the 4th quarter the Blazers came out firing and built a 51-35 lead with less than 4 minutes to play when the Clippers offense finally showed up as they hit for 13 with 3 longballs.  Katie Campana led SPSCC with 17 and hot for 6 in the final quarter. But the Blazers had too big a lead and although the Clippers pulled within 6 a late shot by Claybrooks and going 2-4 from the line sealed the win.
Centralia got their first NWAC Western Division win and are now 1-2 and 8-8 overall while SPSCC drops to 1-2 and 6-10. Our Awards West Printwares Blazer Player of the Game went to Joni Lancaster even though she only had 3 points she has been the glue to this year's team stepping in as the point guard and her overall team leadership.
Scoring
Centralia: Smith 15, Claybrooks 15, Kleemeyer 12, Connally 5, Howard 3, Lancaster 3, Elwood 2
SPSCC: Campana 17, Harn 8, Bergquist 7, Collins 6, Whitehead 5, Moloney 5
______________________________________________________________
Mens Game
SPSCC 87, Centralia 77
(Olympia, WA) Coach Jason Moir is hoping one of these game his Blazer squad can put in a full 40 minutes and get that elusive first conference win. Moir says every game there is usually a 4-8 minute stretch where the Blazers just lose it and has cost them some tight games.
In this one that lapse showed up in the 1st 10 minutes as they fell behind 25-8. The outside shooting of Hunter Sipe burned the Blazers all game and helped them get the big lead and then helped turn-away Centralia's late run. Sipe finished with 30 including 7 3-balls.
Centralia did make a run and got back in the game with a 16-5 run to pull within 6 with less than 4 minutes to play. This scoring attack led by Austin Curry who had 8 of his 17 total points during this run. However, the comeback would not last and SPSCC rallied to pull away for a 43-27 lead at the half.
The Blazer offense showed up in the 2nd half and but too little, too late. Trailing by 20 with 8 minutes to play the Blazers revved up and pulled within 6 again late in the game. Marqus Gilson led the Blazers with 23 and scored 18 of those in the 2nd half. Several others also chipped in Jephthah Donkor, Collin Prangley, Michael Brown and Jaxon Clarke. Clarke's handling the ball and defense also led to a solid all-around outing for the Freshman guard and with his 6 points from behind the arc led to us selecting him as the Awards West Printwares Player of the Game.
In the end the Clippers were able to stem the tide and maintain their start to finish lead for the win. SPSCC is now 3-0 in conference play and 12-6 overall while Centralia drops to 1-2 and 5-13.
Scoring
Centralia: Gilson 23, Curry 17, Prangley 11, Clarke 6, Meadows 6, Donkor 4, Eiman 4, Brown 3, Peppinger 3
SPSCC: Sipe 30, Hodges 20, Malloy 18, Reynolds 9, Dick 4, Black 4, Moore 2
Photo Gallery both Women's and Men's