1/16/18
Montesano 64, Hoquiam 40
(Montesano, WA) The Montesano Bulldogs were flying high coming into this game off a huge win last week over undefeated Elma and cruising past Forks and were 1 win away from a perfect 1st trip through the EVCO 1A league schedule with rival Hoquiam in town.
The Grizzlies had recently got on track and were a healthy 2-1 looking for a big win to likely create a 3-way tie for 1st thru the 1st half and it looked like Hoquiam meant business when the game began. Karlie Krohn and Rylee Vonhof put up the 1st 9 points for the Grizz's to lead 9-5 but it would be Vonhof who continued to play big inside and eventually gave Hoquiam a surprising 16-8 lead over the favored Bulldogs after the 1st quarter. Hoquiam could have added more but went 2-4 from the line a trend that was actually far better for both teams from the line in the end.
Monte did not panic and got their own big sophomore Zoe Hutchings going in the 2nd quarter and pounded the paint over and over again and Hutchings played huge. Hutchings would score 11 in the 2nd quarter and 14 for the 1st half as the Dogs cut the deficit to 1 trailing 27-26 at the break.Vonhof would score 6 and kept the lead for Hoquiam finishing with 15 1st half points.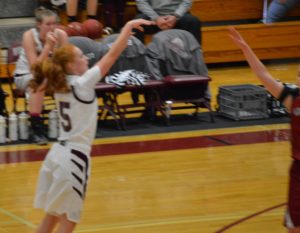 The 3rd quarter would prove to be huge for the Bulldogs especially on defense where they held the Grizzlies to just 2 points. Meantime, Hutchings along with Katie Granstrom and Glory Grubb cranked up the offense as they knocked down 18 to pull ahead comfortably 44-29 Granstrom scored 7 of her 11 in the 2nd half while Grubb tallied all 10 of her points including a pair of 3-pointers. Hutchings added another 10 to her total as Montesano finished strong with 20 in the 4th for the going away win.
Hutchings no doubt had a double-double with points and rebounds and that effort earned our Pacific Sports Spa Player of the Game for Montesano. The Bulldogs also got some points from Lexi Lovell, Zoee Lisherness, Haylee Perkinson, Samantha Stanfield and Kaydee Mittleider. Stanfield also played tremendous defense and was owning the paint in her own right with multiple rebounds.
Rylee Vonhof finished with 19 and was clearly the PSS Player of the Game for Hoquiam. Maya Jump was 2nd high scorer and played tough in the 2nd half. Maddie German's effort was also notable with her hustle effort.
No doubt both teams will spend time at the free throw line in the most glaring negative of the game they were a combined 17-45 from the line, Monte 9-24 and Hoquiam 8-21. Montesano is now 4-0 in league and 11-4 overall while Hoquiam falls to 2-2 and 8-8.
Scoring
Montesano: Hutchings 24, Granstrom 11, Grubb 10, Lovell 6, Lisherness 5, Perkinson 5, Stanfield 2, Mittleider 2
Hoquiam: Vonhof 19, Jump 8, Krohn 6, Cox 4, Bagwell 2, German 1
Photo Gallery