1/12/18
WF West 67, Centralia 44
(Chehalis, WA) Head WF West Coach Chris White has been pushing his team to get more physical and start being the team pushing around the other team and start dominating the paint. It appears White's pushing is paying off along with some extra adrenaline playing their crosstown rival. The Bearcats pressed on defense and were monsters in the paint.
Bailey Cooper was constantly driving the lane and scoring for the Cats scoring 10 in the 1st half and matching that in the 2nd half to lead all-scorers with 20. Nole Wollan was aggressive both on the defense and offense. Wollan usually specializes in bringing up the ball and distributing and playing solid D but had one of his best offensive games against the Tigers scoring 13.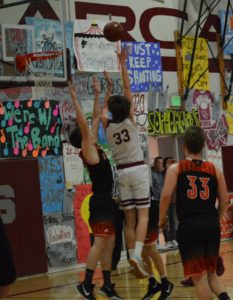 The biggest improvement came from Brandon White who is know for playing the perimeter and shooting from the outside despite his 6'8 stature. White went inside and was a beast slapping away shots and initiating hard drives to the bucket while dishing several assists.
Jordan Thomas was yet another attacker bringing the ball up and driving the lane to finish or kick out for an intermediate jumper. The were so focused on taking the ball to the hoop and being physical the only 3-point bucket they scored was late in the game from Jordan Waring from off the bench.
The Tigers could never get going with their top scoring duo of Tyler Ashmore and Dan Janssan going in this game. The pair averages 34 points a game and the Cats defense limited them to half that, 17. Michael Ajoge and Connor Wasson were the 2 players that seemed they were ready for the crosstown showdown. Ajoge scored 11 to lead the team with Janssan and Wasson had 7 all in the 3rd quarter to keep the Tigers within striking range.
Wasson was aggressive on defense and maintained that aggressiveness in the 3rd quarter despite picking up a very questionable 3rd foul with just seconds to play in the 2nd quarter. He fouled out on another touch foul with about 12-seconds to play in the game. His effort did earn him our Pacific Sports Spa Player of the Game for the Tigers just edging out Ajoge.
The debate for player of the game for the Bearcats was even more difficult. We ended up with Brandon White who finished with 12 points, 6 in each quarter for a balanced attack but with at least 4 blocked shots, several assists and the more physical play we thought Brandon earned this one. Nole Wollan was one of the other who could not be ignored with his 13 points and strong defensive work was right there along with the leading scorer on the night Bailey Cooper. Each one of them were worthy of POG.
WF West is now 4-0 in league and 11-2 overall while Centralia suffered their 1st league loss dropping to 3-1 and 7-7 for the season.
Scoring
WF West: Cooper 20, Wollan 13, B White 12, Thomas 11, C White 6, Waring 3, Yarter 2
Centralia: Janssan 11, Ajoge 11, Wasson 7, Ashmore 6, Emmons 5, Grimm 4
Photo Gallery