1/25/18
Centralia 49, Black Hills 46
(Tumwater, WA) Coming into this game both teams were coming off tough losses and both needed a win to get back on track. The Wolves dropped one to Aberdeen and Centralia fell flat at Tumwater. Both teams were missing players but Black Hills has been decimated. Starter Joe Crumley is out with a broken hand, his brother Zach who comes off the bench for signifiant minutes was out with a sprained wrist and Sir Carter a sometimes starter was out with a bad ankle. They were getting back Kai Walker who had been in the concussion protocol for 2 games.
Centralia was missing inside presence Jackson Grimm whose been out due to illness but fortunately the 1-2 offensive punch of Tyler Ashmore and BenJanssan were healthy and ready to go. Janssan got things rolling quickly for the Tigers as they quickly built a 12-5 lead with Janssan and Ashmore scoring 10 of the 12.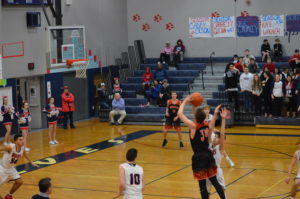 The Wolves caught fire and  pulled ahead to a 14-13 lead with Garrett Glenn pacing BH scoring 9 of the 14 plus a 3 from Jackson Bauer and 2 from Kai Walker. But the Tigers pulled ahead when Ashmore hit a 3-point shot at the buzzer and Centralia led 16-14 after 1.

The Tigers held the Wolves to just 9 in the 2nd and stretched their lead to 5 28-23. Centralia did not take full advantage of this opportunity and could have put the Wolves in a huge hole but still expanded their lead.
The 3rd quarter saw both teams again struggle to put the ball thru the hoop and both held to single digits. Heading into the 4th quarter the Tigers had allowed the scrappy Wolves to stay in the game and they made a run powered much by Walker who finally found his groove scoring 7 of his 9 in the final 8 minutes.
Glenn hit a 2-point shot with 4:42 to play to give the Wolves their 2nd lead in the game. Ashmore tied it on the next possession and neither team would score again until Glenn dropped a huge 3-point shot with 2:47 to play taking a 44-41 lead. Ashmore countered with a pair of free throws at the 1:48 mark and it was 44-43 Black Hills. Kai Walker then made it 46-43 with 1:32 to play for a 3-point lead.
30-seconds later Ashmore knocked down a huge 3-point shot to tie the game with 1:17 to go. After missed shots and a turnover Centralia had the ball and could run down the clock to about 2 seconds to try and take a close to last shot. Janssan had the ball and although cooled off since the hot beginning knew he was going to take this shot and got the defender to step inside when it looked like he was going to drive the lane but instead stepped back and nailed a 3-point fall-away shot from well behind the arc.
The officials put 2.5 seconds on the clock after Black Hills coach Jeff Gallagher had informed the officials during a time out if the shot goes in he wants an immediate time-out.  Centralia Coach Kyle Donohue then had to decide whether or not to try and foul instead of allowing the Wolves a last second 3-point shot. It looked like they tried to foul but Bauer got by the defender and launched a deep shot from the left side and the ball went off the front of the rim just missing the tying shot.
Centralia improved to 6-2 in league and 10-8 overall while the Wolves fell to 3-5 and 10-8. Our Pacific Sports Spa Players of the Game went to Centralia's Tyler Ashmore and Black Hills' Garrett Glenn.
Scoring
Centralia: Ashmore 24, Janssan 13, Ajoge 6, Wasson 4, Emmons 2
Black Hills: Glenn 20, Bauer 9, Walker 9, Ainsworth 5, Armin 3
Photo Gallery