2/1/18
Toledo 62, Kalama 18
(Toledo, WA) It was senior night for the Toledo Indians and coach Brian Layton started his 5 seniors to begin a game that had very little riding on it. Kalama came in with a 7-8 league mark and in 7th place and had no chance of moving up or moving down. Toledo was tied with Mossyrock for 3rd and a win gave them a chance to keep that placing for a better seed into the District Tournament.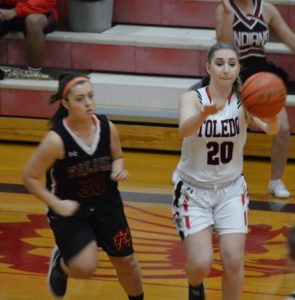 The Indians got off to a slow start scoring just 6 points in the 1st 4 and a half minutes but held a 6-3 lead. The regular starters were then put in the game and the Indians were off and running scoring 12 points in the final 3 minutes taking an 18-4 lead after the 1st quarter.
Toledo extended the lead to 35-8 at the half and pushed it to a running clock early in the 4th quarter for the run-away win. Anna Tauscher had a big night on her senior night leading all-scorers with 16 with multiple rebounds and assists. Kal Schaplow was strong off the bench with 15 and Emily Tyner also hit double figures with 11. Rainier's Natalie Wilson led the Nooks with 7.
Our Pacific Sports Spa Players of the game went to Toledo's Anna Tauscher and Kalama's Ryann Bailey both for their overall efforts. The District Tournament begins next Tuesday, Kalama will travel to Raymond in a loser out, play-in game and Toledo will play a 1st round game next Thursday.
Scoring
Toledo: Tauscher 16, Schaplow 15, Tyner 11, H Holmes 6, K Holmes 4, Richardson 4, Ewers 4, Bacon 2
Kalama: Wilson 7, Tabor 4, Bailey 2, Tinoco 2, Weden 2, Settles 1
Photo Gallery