4/28/18
Black Hills 2, Tumwater 1
(Tumwater, WA) The Black Hills Wolves were playing short handed in this Saturday afternoon game and they really had nothing to play for with the Evergreen 2A League Championship wrapped up after Tumwater lost twice to Centralia and then a stunning loss to WF West. Those 2 teams will battle for the 4th and final play-off spot on Monday, WF West must win by 3 to take the 4th spot. Back to the Wolves who had nothing to gain in any way with a win and you figured they'd play a defensive minded game reducing the chance of a late season injury just prior to the play-offs. But this is where a crosstown rivalry checks the norms in sports and there was no way the Wolves wanted to finish as league Champs and get swept by Tumwater.
Meantime, Tumwater has been without one of their best players all year in Austin Mikesh and just lost a leader for all-league keeper in Britton Fine o an injury and also generally banged up. But the T-Birds had plenty on the line their only chance to take 2nd and keep a home date for the opening round of the district tournament was to beat the Wolves. They would then have to hope Rochester could upset Aberdeen on Tuesday but after Saturday's match they don't even have that hope.
Black Hills came out with fired up and put the pressure on 1st half Shane Winkler immediately. Forward Armin Avery, Bekele Dowty and Benmet Lester gave the T-Bird defense lots of action through out the entire 1st half. It would be the 13th minute when Armin side-stepped a defender and fired a shot at Winkler. Winkler initially knocked it down but it got away from him and rolled just over the goal line before he could stop it to give the Wolves a 1-0 lead. (See the picture strip below.)

Both teams would actually have some great chances at scoring as both took advantage of some nice runs but all that resulted were close misses including a shot from the T-Birds that clanged off the crossbar. Black Hills would break through with what turned out to be the winning goal in the 31st minute when Bekele Dowty crossed a perfect pass to Lester who broke free and got into a 1 on 1 with Winkler and connected on a low far post shot that just caught the corner of the goal and the Wolves took a 2-0 lead to the half.
In the 2nd half Black Hills did take a little bit more of a defensive posture and liberally subbed their only sub Matt Jones who got a ton of playing time and earned our Thorbeckes Sportsmanship Award for his efforts in this contest. It looked like long possessions and limiting the Tumwater offensive opportunities might just run the clock out and the return of the Pioneer Cup to the Wolves.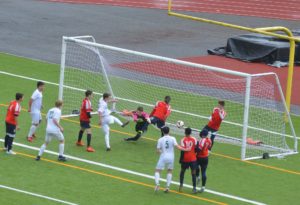 But Tumwater had another run in them and in the 64th minute Nathan Seaman lobbed up a nice corner kick that ping-ponged around in front of the goal when Kai Bentley put his foot on it and punched it past BH keeper Trevor Fourtner and several other Wolves back on defense and it was now just a 1-goal game. The T-Birds did not take their foot off the gas also sensing the Wolves may be getting gassed and they took it right to the heart of the defense with a few more excellent chances but the Wolves defense held-up and denied the T-Birds.
The Wolves finished with a 9-1 league mark and will play the opening round of the District Tournament next Saturday and will likely be Washougal. Tumwater finished 6-4 and on a 3-game losing streak and 4 of their last 5 will travel south. Right now 2nd, 3rd and 4th places are up in the air in the GSHL but as of this writing they would be in Woodland. Our Pacific Sports Spa Players of the Game went to Avery Armin for Black Hills and Tumwater's Nathan Seaman.
Photo Gallery