2/2/18
The Black Hills Wolves finished the regular season with a sweep of their crosstown rival Tumwater and both the girls and boys game stories are below with a combined photo gallery at the bottom.
Girls Game
Black Hills 60, Tumwater 21
When these 2 teams play they want to win period even when there is very little riding on the outcome. This was the case as Black Hills knew they were going to finish 2nd to WF West and Tumwater knew they were going to be 4th and have to win a play-in game to qualify for the district tournament next week.
Tumwater, the clear underdog, took a 6-5 lead with 3:05 to play after a pretty sloppy 1st 5 minutes and held that lead until the 1:10 mark. After that it was all Wolves who scored an amazing 12 points in the final 70 seconds led by Alexa Bovencamp's 8 points and Black Hills took a 17-6 lead after the 1st.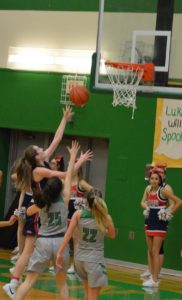 Black Hills then clamped down defensively nearly blanking Tumwater in the 2nd quarter giving up just 2 points and went to the half with a 34-8 lead. The T-Birds would never score in double digits with 8, all by Sophia Koelsch in the 3rd and just 5 in the 4th and Black Hills finished on a 55-15 run after trailing 6-5 late in the 1st quarter.
The Wolves really put in a team effort with all 10 players scoring with Bovencamp and Maisy Williams leading it with 10 each and Jordyn Bender and Lindsey Nurmi each with 8. In an oddity, Koelsch from Tumwater led all scorers with 11 and that was good enough to earn our Pacific Sports Spa Player of the Game for the T-Birds. Alexa Bovencamp got it for the Wolves based on her 8-point surge in just 70 seconds to kick start the Wolfpack run.
Black Hills will host either Mark Morris or Hockinson next Friday and Tumwater will host Columbia River on Wednesday in a loser out play-in game with the winner having to go to Washougal in the opening round of the District Tournament.
Scoring
Black Hills: Williams 10, Bovencamp 10, Bender 8, Nurmi 8, River 5, M Lee 5, Greenfield 5, S Lee 3, Sayhod 3, Serhan 3
Tumwater: Koelsch 11, Cunningham 5, Fields 4, Seaton 1
_______________________________________________________________________________
Boys Game
Black Hills 53, Tumwater 36
The 2nd half of our double-header did have something on the line and something significant. The winner would get the 3rd seed into the District Tournament and the loser would be 4th and forced to play a loser out play-in game against the GSHL's 5th seed and then would get the GSHL's 1st seed in the opening round. Tumwater was 5-4 and Black Hills 4-5 but although a Wolf win would tie them for 3rd BH gets the tie-breaker with the season sweep over the Birds.
This game started with the intensity of a crosstown rivalry game with something on the line that was physical, chippy and low scoring. Black Hills took a 6-5 lead with 5:32 to go in the quarter just like Tumwater did in the girls game which fueled a huge Wolves run. T-Bird fans were hoping for a similar response from the their team but BH simply did not let it happen using surprising quickness and stiff defense to frustrate the T-Bird offense. Meantime, Black Hills spread the scoring around and pulled away to a 14-7 lead with Jackson Bauer hitting for 6 and Kae Walker draining one at the buzzer.
Tumwater cut into the lead by halftime and trailed just 24-20 as the slugfest continued. Jack Keolsch scored the 1st 5 points for Tumwater and CJ Geathers settled in dumping in 11 of his 15 including 2 3-pointers. The Wolves Bauer led with 8 of his 10 points in the 1st half and Garrett Glenn was steady with 6.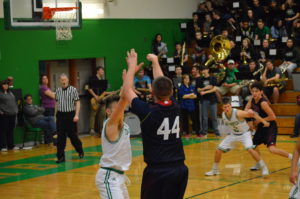 Any momentum Tumwater had built was cooled off quickly with an aggressive Wolves offense in the 3rd quarter and more stifling defense holding Tumwater to just 8 in the quarter. Tumwater did cut the lead to 4 and foul trouble allowed BH's Casey Olson to get into the game. Olson surprises people as he built like an offensive line-man or power forward but handles the ball well and has a pretty awesome 3-point shot as he came in and drained 2 long-balls to lead the Wolves surge to a 35-24 lead. He would hit a final 3 with just 12-seconds to go pushing the double digit lead to 14 entering the 4th quarter.
Black Hills closed out strong especially on defense and again holding Tumwater to just 8 points and doing enough on offense including an ok 7-12 at the line to close out the win. Garrett Glenn finished with 14 while CJ Geathers had 15 for Tumwater. But our Pacific Sports Spa Players of the Game went to Black Hills' Jackson Bauer who hit key shots thwarting several early Tumwater runs and played tough defense on Geathers a huge offensive threat holding him to just 4 2nd half points. We also HAD to give a co-award to Casey Olson for his energy boost off the bench with 3 3-point shots off the bench. For Tumwater we went with Jack Koelsch who finished with 9 but kept his intensity from start to finish and played exceptionally hard never giving up.
Both Black Hills and Tumwater finish 5-5 in league and tied for 3rd but the Wolves will travel to either Columbia River or Mark Morris in the opening round of the District Tournament. Tumwater will host a play-in game to a yet to be determined opponent next Thursday in a loser out contest.
Scoring
Black Hills: Glenn  14, Bauer 10, Walker 10, Olson 9, Inman 4, Crumley 2
Tumwater:  Geathers 15, Koelsch 9, Peterson 4, Williams 3, Jones 2, Gilliland 2, Murphy 1
Photo Gallery