1/31/18
WF West 59, Tumwater 50
(Tumwater, WA) There was plenty on the line in this game the visiting Chehalis Bearcats just 3 years ago finished with one of the worst records in state history in any classification at 0-21. Chris White took over the program and believed he could turn it around with a long term plan in mind. He also happened to have 2 sons now 6'8 and 6'5 Brandon and Colby to help make their vision a reality.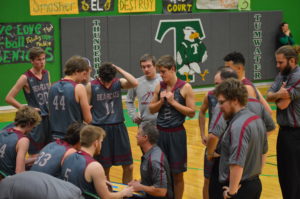 All the Bearcats needed was a win over Tumwater or Centralia on Friday to clinch sole possession and the #1 seed to districts. White was very concerned with the T-Birds who have put together a pretty healthy win streak under new coach Josh Wilson. ESN analyst Tony Davila provided plenty of reasons for the Bearcats to be concerned with the T-Birds who are jelling and understanding the new system.
Davila pointed out Tumwater was averaging 60 points for the season and giving up 63 and the 9-9 record says those numbers make sense. But in the last 4 games Tumwater was scoring 75 per game and giving up just 54 and on a 4 game win streak. He predicted a defensive battle in this game and certainly the 1st half was as he predicted.

WF West led 23-20 after a 12-8 1st quarter lead. Colby White stood out in the 1st half with several rebounds and 6 points. Bailey Cooper led the Cats with 8 and Brandon White had 6. Tumwater's biggest offensive threat CJ Geathers did not disappoint and kept the T-Birds close with 9 of his game high 22. Ty Gilliland scored 4 off the bench and provided great work on defense and in the paint.
Early in the 3rd it looked like the Bearcats might blow this open as they hit 3 3-point shots and a pair of free throws to take a 34-26 lead to go up by 8 and threatened to get to double digits when Tumwater roared back. The T-Birds went on a 12-2 run to surge past WF West and take as much as a 5 point lead. Geathers and Jalani Jones did the damage scoring all 12, 7 for Jones and 4 for Geathers and ended up leading 41-39 after 3.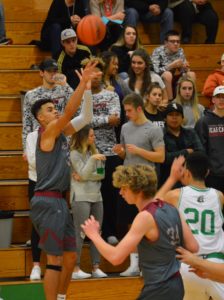 In the 4th quarter the T-Birds could not get the ball to drop through hoop but did get to the foul 8 times and hit 6. Their 1st field goal was a 3-ball from Geathers at the 1:51 mark to pull within 4 but did not score another point while the Bearcats added to their lead and when Jordan Thomas capped his huge quarter with a free-throw to make it a 3 possession game it pretty much sealed the win.
Thomas finished with 13 and scored 9 of those points in the 4th quarter when they needed it most. That earned Thomas our Pacific Sports Spa Player of the Game for the Bearcats. Ty Gilliland got it for the T-Birds for his strong off the bench play.
The Bearcats are now 9-0 in league and 17-2 overall while Tumwater drops to 5-4 and 9-10. The T-Birds are currently in 3rd place and host Black Hills on Friday with 3rd place up for grabs as Centralia secured 2nd place Wednesday night with a win over Aberdeen. Black Hills is 4-5 and if they beat Tumwater will tie them for 3rd but the Wolves will get the 3rd seed in the district tourney because they would have swept Tumwater.
It is a big deal because 4th place has to play the GSHL 5th place team in a play-in game just to get in the tournament and then would get the GSHL #1 seed (Mark Morris or Columbia River) in the opening round. Right now the 5th place team in the GSHL is a battle between Washougal, Hockinson and Woodland with one them finishing 4th, one 5th and the other out. The GSHL still has 2 games left to play while the EVCO 2A is done on Friday night.
Scoring
WF West: B White 14, Thomas 13, Cooper 13, C White 8, Wollan 5, Dobyns 3, Speck 3
Tumwater: Geathers 22, Jones 11, Gaither 7, Gilliland 6, Murphy 3, Williams 1
Photo Gallery