1/30/18
(Montesano, WA) The Bulldogs swept the Spartans on Senior night at Bo Griffith Memorial Gymnasium in Montesano on Tuesday and clinched their post-season seeds. Both game stories are below with a combined photo gallery at the bottom.
Girls
Montesano 55, Forks 28
The Bulldogs were favored in this match-up but Forks was a team still recovering from several injuries to starters over the season and was beginning to put things together. Early in it looked like the Spartans might just hang in there with the Bulldogs trailing just 9-8 after the 1st quarter and still within reach at the half down by 10, 29-19.
But a total of 9 2nd half points doomed any thoughts of an upset while Monte kept pace with their 1st half production nearly matching it. Forks showed even more life with 4-seconds to go in the half when Iesha Johnson hit a 3 pulling them within 7 but a late foul with 1.7 seconds to go resulted in a free throw from Haylee Perkinson on the 2nd shot and then an errant throw-in from Forks was intercepted and put in by Matti Ekerson at the buzzer to push the lead back to 10.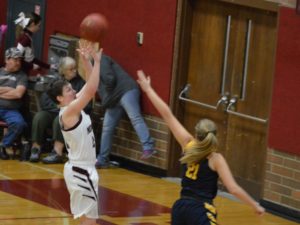 The Spartans scored 1st in the 3rd quarter within seconds but then shut out until the 4:11 mark and could only muster 5 total points. The Bulldogs finished the game on a 26-9 run. Only Zoee Lisherness finished in double figures for both teams with 12 but the Bulldogs spread around the scoring with Zoe Hutchings adding 9, Perkinson with 8 and Glory Grubb with 8 and a total of 9 putting points on the board.
Forks was led by the 9 of Rian Peters and that was enough to earn our Pacific Sports Spa Player of the Game for the Spartans while Sr Haylee Perkinson got it for Montesano. The Bulldogs improved to 6-1 in league play and 13-6 overall while Forks fell to 1-6 and 9-10. Montesano is a win away from finishing in a tie for 1st with Elma. The 2 teams split the regular season but Elma has already clinched the #1 District Tournament seed by virtue of their 10-point win over the Bulldogs which was 2 points better than Monte's 8-point win over the Eagles. Forks will not advance to post-season.
Scoring
Montesano: Lisherness 12, Hutchings 9, Perkinson 8, Grubb 8, Lovell 7, Ekerson 4, Stanfield 4, Granstrom 2, Mittleider 1
Forks: Peters 9, Johnson 7, Rowley 6, Leverington 4, Kilmer 2
Boys
Montesano 70, Forks 36
This was the match-up that grabbed all the attention with 1st place and likely the league title and #1 District seed on the line and it began like a title match is supposed to start but after the first 5 minutes it was all Bulldogs. The 2 teams traded hoops early on with both teams hitting a pair of free throws to get on the board. Braton Armas doing it for Forks and then hitting a field goal for the 1st 4 points. Little did Armas know that would be it for him. Cort Prose would step up and hit a pair of 3's his 2nd one with 3-minutes to play to give the Spartans a 3-point lead.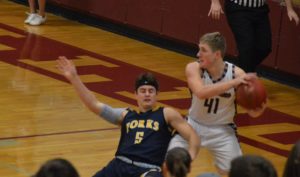 Montesano countered with a traditional 3-point play when Trevor Ridgeway hit a shot and was fouled sending him to the line which he made. Seth Dierkop would hit a jumper at the 2:12 mark for the Dogs and they would never give that lead up again as they stretched the 1st quarter lead to 8, 20-12.
The Spartans then would simply go ice cold not for 1 but 2 quarters and scored a combined 12 points. Montesano, meantime kept up the pressure scoring 19 for a 39-20 halftime lead. They slowed down in the 3rd scoring only 11 but held Forks to just 4 further extending their lead.
Entering the 4th the game had been decided and Monte Coach Doug Galloway emptied his bench cruising to the blowout win. The Bulldogs now must beat Hoquiam for sole possession of the league Championship but have secured the #1 district tournament seed. Forks can still share the league title with a win over Tenino but will have the #2 seed regardless due to the point differential tie-breaker if they end up tied after the final game.
Montesano is now 6-1 and 15-4 overall while Forks falls to 5-2 and 13-4. Our Pacific Sports Spa Players of the Game went to Trevor Ridgeway and Seth Dierkop for Montesano and Cole Baysinger for the Spartans.
Scoring
Montesano: Ridgeway 15, Farmer 11, Dierkop 11, Valley 9, Winter 8, Nicklas 6, Albert 4, Bates 3, Iverson 3
Forks: Prose 10, C Baysinger 7, Morton 6, Jacoby 5, Armas 4, Johnson 2, Reaume 2
Photo Gallery