1/29/18
(Tenino, WA) Tenino Beavers Athletic Director Joe Chirhart reports the WIAA turned down the Beavers request to drop from their current 1A classification to the 2B ranks. Chirhart says more than anything they wanted to know the process of classification and what considerations go into classifications.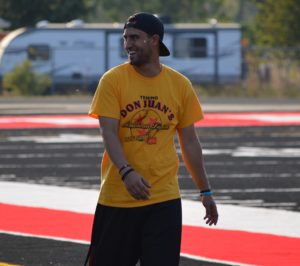 Tenino currently plays in the 1A classification which includes schools with the population a high of 461 for Connell down to 214 for Columbia-Burbank plus 8 schools with smaller populations that opted up to the 1A classification. Tenino is well above the cut line with 253.
Tenino plays in the 1A Evergreen Conference with Montesano, Elma, Hoquiam and Forks. Chirhart says this is really the only 1A league they can play in and requires a large amount of travel with the closest to Elma which is about a 2-hour round trip up to the 8-hour round trip visit up to Forks.
Chirhart also cited losing many students who live in the Tenino school district to outlying districts like Tumwater, Rochester and Centralia. Chirhart says 84 students that should be attending Tenino are at other outside district and that 35 of those students participate in Varsity and JV sport programs. Chirhart says that has hurt the progress of Tenino sports.
Chirhart was hoping to be allowed to drop down to the 2B level and compete with schools much closer to home and would allow the Beavers to be more competitive. Tenino would have likely joined the Central 2B league with nearby rivals Rainier and all Lewis County schools except 2A Centralia and WF West.
Unfortunately Chirhart and the Beaver's hopes ran into a pretty hard and fast rule with the WIAA and that is classifications are done only by population. The top 65 schools in population make up the 4A classification, the following 65 the 3A classification and so on with the only caveat being schools the ability to opt up. So if a school that would fall into the 3A classification wanted to play in the 4A they can simply opt up and they are placed at the top of the list and so the bottom 4A school would drop to 3A.
The WIAA just a year and half ago changed from a 2-year classification cycle to a 4-year but with that change was the chance for schools to appeal their classification after 2 years. To win the appeal a school would have to show their population has dropped into the lower classification level and that those numbers are trending that way or will be that way. The WIAA counts Sophomores thru Seniors for the official count. A school could then present class counts for 9th graders on down to show the lower count will continue into the next classification cycle.
Tenino could not show those type of numbers and future class sizes continue to hold Tenino securely in the 1A ranks. Chirhart was disappointed but understood the process. He says they simply have to dig in harder and work to improve their athletic teams across the board to better compete. Chirhart says he is committed to staying in Tenino and turn things around. They just got a brand new football turf field and re-vamped the weight room. He says there is great pubic support and he is ready for the challenge.
There were 7 other schools requesting a change in classification and 4 schools were successful. The other 3 with Tenino who were denied included Darrington and Tekoa-Rosalia who were trying to drop to the 1B classification and Coupeville trying to drop to 2B. Coupeville was closer to the cut line than Tenino with 227.
2 schools were successful in dropping from 1A to 2B and they were the two bottom schools Columbia-Burbank and Chewelah both with 214 students. Granite Falls was allowed to drop from 2A to 1A and Redmond was approved to move up from 3A to 4A.