Here is the complete coverage of the District 4 2A Girls Basketball Tournament. The latest game results, stories and pics will appear at the top of the page and be updated after every round through the run of the tournament.
FRIDAY, FEB 16  DISTRICT CHAMPIONSHIP
Game #12 Mark Morris 50, Columbia River 49
There really was no other way this game could play-out than the way it did between these 2 hotly contested league rivals meeting for the 3rd time after splitting their season series. No question Chieftain fans will feel cheated with the no call from officials as time ran out when CR's Jack Armstrong wheeled around the key and drove to the hoop while colliding with defenders. Officials chose not to call a last second foul that would have sent Armstrong to the line with about 2 seconds play and Armstrong was 6-6 from the line in this game so it sure seems like going at least 1 for 2 was highly likely.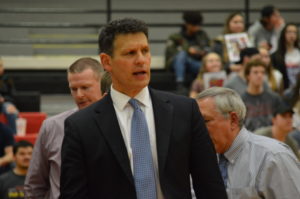 And so that's how the game ended, Mark Morris playing in their 17th District Title game in the last 18 years all under Coach Bill Bakamus as they charged the floor and celebrated the victory while a stunned and angry Columbia River fan base didn't even get the opportunity to yell at the officials as they quickly exited the floor and were left stunned as to how this game ended.
The fact these 2 teams were even playing each other was a bit of luck to begin with as they tied for the GSHL 2A league title both averted major upsets in the opening round of this tournament. Mark Morris hit a last 2nd shot to beat the play-in team Tumwater 55-53. Meantime, CR also needed a 3-point shot with just 6-seconds to go to come from behind to beat Black Hills 41-40 surviving their 1st round showdown. Both teams then cruised in the 2nd round forcing a 3rd showdown and it did not disappoint.
The 2 teams started slowly slogging their way to a 12-12 tie after 1 and CR edging out to a 27-23 halftime lead. During our broadcast we felt if either team could go on a run and take an 8-10 point lead it would likely be too much for the other to overcome. That run never came as both teams would at one point extend their leads to 5 but no more.
With about 6 minutes left to the Monarchs would push their lead to that 5 point margin 46-41 and yes that means they would only score 4 more points with their final and winning points going in at the 2:32 mark on a Tyler Berger field goal. CR trailed by 3 50-47 and would get 2 of the 3 points needed on a Naseen Gutierrez put back with 57-seconds to play.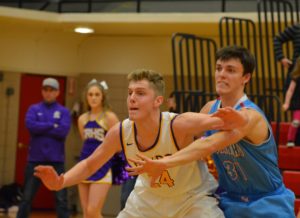 After getting the ball back with 33-seconds left to play in the game and 31-seconds on the shot clock the Chieftains decided to let the clock run down with Nate Snook handling the ball. The Monarchs were fully aware of the presence of CR's leading scorer Jacob Hjort who got the ball from Snook and circled to his left. Armstrong cut toward the hoop and Hjort passed it when the final play came to its conclusion and time ran out on the Chieftains.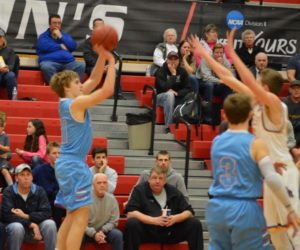 Garrett Berger had a huge game for the Monarchs dumping in 20 to lead all scorers while brother Tyler had 14. Tanner Vaillencourt finished with 11 and Dawson Fritz scored 5 as only 4 Monarchs found the scorebook. Hjort led CR with 13 while Gutierrez added 12. Jack Armstrong finished with 10 and no doubt would have wanted the chance to push that to 12 while Caden DeZort had 8 and Snook and Evan Dirksen also scored.
Mark Morris and Columbia River are both headed for Regionals next week but regardless both will also go to the Yakima Sun Dome as the Monarchs are now up to #4 in the RPI and CR is #6. The top 8 automatically advance to Yakima. Our Pacific Sports Spa Players of the Game went to MM's Tanner Vaillencourt and CR's Jack Armstrong. Our Thorebeckes Sportsmanship Award went to the Monarch's Garrett Berger.
Photo Gallery
SATURDAY, FEB 17  Consolation Games (Loser Out)
Game #11 WF West 57, Black Hills 56
The Bearcats Brandon White hit a shot with .08 seconds left on the clock to save the day after blowing a 21 point 2nd half lead. The Bearcats built a significant 19-2 lead after the 1st quarter but even building that lead the Cats were again for the 3rd straight game having trouble at the free throw line and finished the game a woeful 9-22.
The Wolves were stung by the slow start and trailed 36-17 at the break and fell further behind by 21 early on in the 3rd quarter. But the Cats began to play as if not to lose and WF West Coach Chris White admitted that is not a good way to play. The Wolves dug into that lead and trailed b y just 12 after 3 quarters and then actually took the lead with 15-seconds to play when Joe Crumley hit a pair of free throws to make it 57-56.
The Cats quickly got the ball in and White then made the split second decision to let it play out and not take a time-out. Bailey Cooper got the ball down deep into the key and spun kike he had several times already in this game but instead of going to the hoop he kicked it right to Brandon White who then banked in the winning shot.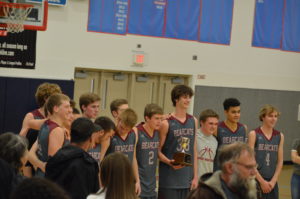 The loss ended the Wolves season and showed they more than belonged in this tournament losing 2 games in the final seconds, this one and the tournament opener against Columbia River who ended up 2nd. WF West now heads to regionals as the 8th seed which means they also will go to Yakima regardless of a win or loss against 1 seed Lynden. The Cats travel to Mt Vernon on Saturday to face the Lions at 6pm. If they beat the Lions they advance to the top 8 and double elimination portion of the tourney and if they lose they will have to play Wednesday in the Sun Dome in a loser out.
Our Pacific Sports Spa Players of the Game went to Chehalis's Brandon White and the Wolves Kae Walker and our Thorebeckes Sportsmanship Award went to the Bearcats Nole Wollan.
Photo Gallery
THURSDAY, FEB 15  Consolation Games (Loser Out)
Game #9 WF West 69, Tumwater 46
The Bearcats Head Coach Chris White knew his team if they were going to be successful had to return to what got them to where they were and that was a strong inside game and an attack mode mentality. The Cats were coming off a disappointing loss to Columbia River in the Semi-Finals that would have put them in Friday's District Championship and guaranteed trip to Yakima. With that loss they dropped into the consolation bracket with 3 other Evco 2A teams and had to win 2 to get to State. After Thursday night, 1 down, 1 to go.
It was a tight contest through the 1st half and White used his entire bench due to foul concerns. White said he wasn't very familiar with the officials and it looked like they were going to call it tighter than others have in recent games and in fact they did. White says he wanted to protect his starters from getting 3 fouls in the 1st half and decided even if they had to trail by a few points he would sacrifice that to make sure his players were in good standing heading into the 3rd quarter.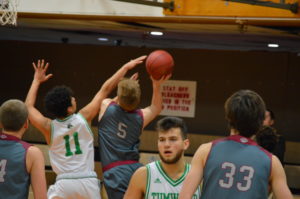 We saw several players get in the game we havn't seen much of this season for WF West especially in the 1st half. Troy Yarter, Kaden Kelly, Colton Baker and Brock Jones all got playing time after Bailey Cooper, Colby White and Brandon White all picked up 2 fouls in the 1st half. Cooper fairly early and the team's leading scorer was held tp no points in the 1st half. Meantime, 7 players would score in the 1st half led by Jordan Thomas's 7 points.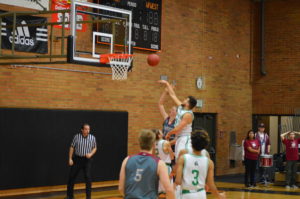 Tumwater was also using a deep bench to keep pace with the Bearcats as 6 scored led by league MVP CJ Geathers with 8. Jelani Jones tabbed in with 7 and Jack Koelsch scored 4. But Koelsch and Jones would also find themselves in foul trouble with 3 each and both would eventually foul out of the game in the 2nd half. But at the break it was anyone's game tied at 34.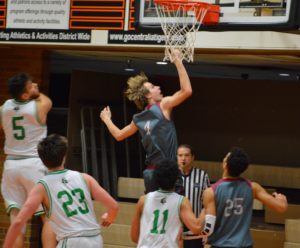 Chehalis came out with their starters and came out firing but Cooper picked up a quick 3rd foul and he again would sit while Bryce Dobyns stepped in. Dobyns more than capably picked up the pace with 5 in the 1st half and 7 in the 2nd to finish with 12 and was the 2nd high scorer in the game. Dobyns and the Bearcats would go on a 20-6 run in the 3rd quarter to put distance between them and the T-Birds that they would never recover from and cruised to the 23 point win.
Tumwater was eliminated and looked very much like a tired team by the end of the game. The T-Birds slugged their way to get to this point having to win a play-in game 70-65 over Hockinson and then got Mark Morris and nearly pulled off the upset of the tournament. They battled Ridgefield just the other night in a highly physical game and had to turn around and play a WF West team that was re-focused after losing their semi-final. Jelani Jones led the T-Birds with 12 while Cj Geathers and Luke Murphy each had 10.
The Bearcats now play Black Hills on Saturday at 5pm at Mark Morris in a winner to state, loser out contest. I the Bearcats win they currently are the #8 RPI team in the state and very likely will hold on to that ranking meaning they would qualify win or lose at Regionals to go to Yakima.
Brandon White led the Cats with 14, Dobyns had 12 and Jordan Thomas hit for 11 and a total of 10 Bearcats scored in this game. Our Pacific Sports Spa Players of the Game went to Bryce Dobyns for WF West and Luke Murphy for the T-Birds. Our Thorebeckes Sportsmanship Award went to the Bearcats' Troy Yarter.
Game #10 Black Hills 77, Centralia 56
The Wolves jumped on the Tigers and never stopped advancing to another loser out game on Saturday against WF West. Black Hills led by 11 at the break and just kept extending their lead. If they can beat the Bearcats on Saturday they will advance to next weekend's Regional round of the State Tournament with a chance to earn a trip to the Yakima Sundome.
Photo Gallery (WF West/Tumwater)
TUESDAY, FEB 13  Semi-Finals and Consolation Games
At Mark Morris High School
Game #5: Tumwater 43, Ridgefield 39 (loser out)
Game #8: Columbia River 61, WF West 45 (Winner to State)
At RA Long High School
Game #7: Mark Morris 76, Centralia 49 (Winner to State)
Game #6: Black Hills 62, Washougal 48 (loser out)
Two teams had their season's come to an end on this Valentine's Eve and 2 teams are very likely headed to the Sun Dome for at least 1 game. The remaining 4 will battle it out for 1 remaining birth to State.
Let's begin with the loser out games and the one on ESN saw Tumwater and Ridgefield get down and dirty and slug out a defense laden contest with the T-Birds edging the Spudders to end their season.
Tumwater was coming off a close loss to Mark Morris, only a last second bank shot 3-ball saved the heavily favored Monarchs. Tumwater coach Josh Wilson knew bouncing back could be tough after losing a game you felt you had won and it showed in the 1st half. The T-birds did grind out a 12-5 lead in the 1st quarter but stumbled in the 2nd quarter scoring only 4 points while Ridgefield heated up and took an 18-16 halftime lead.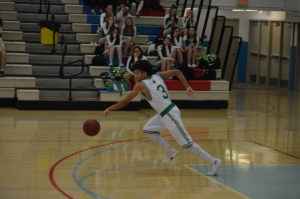 Tumwater re-gained the lead in the 3rd going up 27-25 but in the 4th quarter had a hard time shaking loose and just when they did the Spudders made another run. With 5:02 to play in the game the score was 30-29 Tumwater when the T-Birds leading scorer and league MVP CJ Geathers hit his first bucket of the game to push the lead to 3. Geathers would then hit the next 9 points for Tumwater while holding the Spudders to just 2 points for a 12-2 Geathers vs Ridgefield run giving Tumwater a 42-31 lead.
The T-Birds did not help themselves down the stretch going just 3-10 at the line as Ridgefield began to foul. Ridgefield would get a pair of 3's in the final 1:17 and a 2-point bucket and pulled within 4 before they simply ran out of time.
Tumwater got big efforts from Jelani Jones who seemed like he had about 100 rebounds in the game to go with his 8 points. Patrick Williams came off the bench with a spark scoring 8 himself and Jack Koelsch finished with 7. For Ridgefield Kellen Bringhurst led the way off the bench with 14 while Matt Gama had 11. Kade Ramey finished with 8 and Tim Radosevich held Geathers to zero points for 26 minutes of the game until he found a groove for the strong finish. Jones and Bringhurst earned our Pacific Sports Spa Players of the Game and Geathers got the Thorebeckes Sportsmanship Award. Ridgefield had their season come to an end.  Tumwater will face WF West in a loser out game on Thursday at 6pm at Centralia.
The loser of another 1st round game that thought they should have won was the Black Hills Wolves. BH was leading Columbia River 40-38 when Jacob Hjort hit a 3 with 6-seconds to play and hung on for the win. So the Wolves faced elimination when they laced them up against Washougal on Tuesday night. Black Hills pulled away for a convincing win in the end to set up a match-up with Centralia in a loser out contest on Thursday 6p at WF West.
Mark Morris rolled in their Semi-Final over the Centralia Tigers to be the 1st team to advance to the District Championship game and will play in this game for the 17th time in the last 18 years. Centralia falls into the consolation bracket and takes on Black Hills Thursday in a loser out. For more on the Monarchs and Tigers game read Jackson Hogan's story in the Daily News. 
Columbia River completes an all GSHL District Championship game. The Chieftains came out draining 3's and the WF West Bearcats fell behind quickly and never would make up the ground they lost in the first few minutes of the game.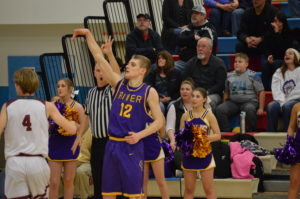 In the 1st half the Chieftains hit 7 3-point shots and added 3 more in the 2nd half led by Jacob Hjort who hit half of them on his way to a game high 21. Hjort came out firing sinking 2 of those long balls in the 1st 90-seconds. Hjort had 11 1st half points and was helped by Nasseen Gutierrez with 10 1st half points but Gutierrez picked up a 3rd personal foul and saw his action limited in the 2nd quarter. River led 13-9 after the 1st but stretched it to double digits, 29-19 at the break.
WF West came out in the 3rd and tried to chip away at the deficit beginning with a 6-1 run to cut it to 5. The Bearcats also were hurting themselves at the free-throw line going 0-7 to start the game and finished with a lowly 4-13 for the game. The usual high powered offense simply sputtered the entire night with just Bailey Cooper finishing with more than 10 with 13. Colby White stood out in this game with 8 points and playing tough inside against a very effective paint game by CR.
The Chieftains put the game away late when the Bearcats began to foul hoping for missed free throws instead CR hit 11 of 16 in the 4th quarter alone, more than enough to close out the game. Nate Snook was most effective during this stretch sinking 5 of 6 and finishing with 15 points off the bench.
Columbia River now meets Mark Morris for the District Title it will be the 3rd time these 2 teams face off with them splitting during the season and tying for the GSHL league Championship. CR moved up to #5, trading places with WF West in the RPI from #7 and Mark Morris remains #6. So the Chieftains and Monarchs are going to the Sun Dome no matter what they do at Regionals.
WF West is in an interesting spot they dropped to #7 in the RPI still a strong position but they will need to beat Tumwater Thursday night and then the winner of the Black Hills/Centralia game on Saturday to get to Regionals and if they do it will be tough to drop them out of the top 8 and they too would go to the Sun Dome.
Photo Gallery from Tumwater/Ridgefield and Col River/WF West
SATURDAY, FEB 10  1ST ROUND
Game 1: Centralia 50, Ridgefield 33
(Centralia, WA) The Tigers and Spudders got off to a true UN-spectacular start as Centralia led 8-4 which included a buzzer beating jump shot by the Tigers' Tyler Ashmore. Both offenses picked up the pace in the 2nd quarter as Centralia put up 18 and the Spudders 15 and the Tigers led 26-19 at the break.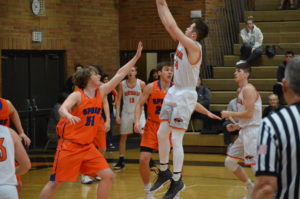 They would pretty much  stalemate in the 3rd with Centralia up 35-27 and finally in the 4th quarter one team would make a final surge as Centralia pulled away for the comfortable win. Coach Kyle Donahue was pleased with his defense with 2 huge quarters on the bookends holding Ridgefield to just 4 in the 1st and 6 in the 4th.
Centralia was led by Ashmore with 14 points and Connor Wasson added 12. Donahue also had high praise for his senior guard saying it was his best game of the season, in fact the best game he has ever seen Wasson play and we agreed which made it easy to select Connor as our Pacific Sports Spa Player of the Game for Centralia. Ashmore earned our Thorebeckes Sportsmanship Award.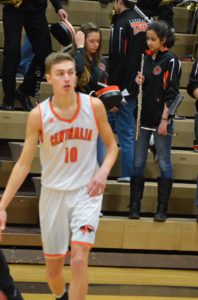 Other Tigers with solid games included Ben Janssan and Jackson Grimm. Grimm had 7 and was big in the paint while Janssan's smothering defense, rebounds and assists were part of his usual overall game.
For Ridgefield they just never got into a true rhythm and only Kade Ramey hit double digits with 12 all from behind the arc. Tim Radosevich played well handling the ball and scoring 5. "Rado"  was our pick for the PSS Player of the Game for Ridgefield. Matthew Armstrong also gave coach Jason Buffum some good minutes off the bench and scored 5 points. Ridgefield now plays Tumwater on Tuesday at Mark Morris 6pm in a loser out game. Centralia moves on to the District Semi-Finals against Mark Morris on Tuesday at 6p at RA Long in a winner to the District Championship and State Regionals match-up.
Photo Gallery
Game 2: Mark Morris 55, Tumwater 53
The T-Birds nearly stunned the top seeded Monarchs from the GSHL 2A but a last second 3-ball ended up being the difference and MM moves on to the District Semi-Finals against Centralia on Tuesday at 6p at RA Long. Tumwater will play Ridgefield in a loser out game Tuesday at 6 at Mark Morris. For more on the Mark Morris win over the T-Birds read it here in a story in the Daily News by Jason Leskiw.
Game 3: Columbia River  41, Black Hills 40
The Chieftains needed a late 3-point shot to stay in the Winner's Bracket. Jacob Hjort hit his only 3 of the game with 6-seconds to play and Columbia River survived the upset minded Wolves. CR moves on to the District Semi-Finals on Tuesday at Mark Morris against WF West with a 7:45 tip. Black Hills will have to bounce back with a win on Tuesday to extend their season when they play Washougal at RA Long in a loser out at 7:45. For more on the CR/B Hills game read it here in a story in the Columbian.
Game 4: WF West 61, Washougal 44
The Bearcats won their 1st district game since 2013 and their 1st since Chris White took over as Head Coach following an 0-21 season in 2014. The Bearcats jumped on the Panthers in the 1st quarter putting in 17 while holding them to just 8. Washougal's defense then tightened and although only scored 8 gained a point limiting the Bearcats to 7 and it was 24-17 at the break.
The Bearcats put it altogether in the 3rd and ran up a huge lead putting the game away for all intents and purposes with a 24-8 run leading 48-25 and cruised to the opening round win.
Bailey Cooper led the potent Bearcat offeense with 18 and Brandon White knocked down 17. Our Pacific Sports Spa Players of the Game were Brandon White for the Bearcats and Moses McEwen for the Panthers. Our Thorebeckes Sportsmanship Award went to WF Wests' Bailey Cooper.
The Bearcats now play for a chance to go to State and to get in the District Championship game when they play Columbia River on Tuesday at Mark Morris, 7:45p tip-off. Washougal now has their season on the line when they face Black Hills Tuesday at 7:45 at RA Long.
THURSDAY, FEB 8  PLAY-IN GAME, LOSER OUT
Game #A: Tumwater 70, Hockinson 65
(Tumwater, WA) The T-Birds extended their season by at least 2 games holding off Hockinson last night in the loser out play-in game. Tumwater will open District play with a game at Mark Morris on Saturday at 7pm.