2/15/18
The Centralia College Blazers played a Women's/Men's doubleheader Wednesday night hosting SPSCC. Both game stories are below with a combined picture gallery at the bottom of the page.
Women's
Centralia 60, SPSCC 40
(Centralia, WA) Blazer Head Coach Caleb Sells had plenty to say at halftime about his team's 1st half performance on the defensive side of the ball. Sells was more than comfortable with the 34 points his squad posted but it was the 34 they gave up by letting the Clippers get several uncontested shots and not challenging them defensively.
The Blazers came into the game in a 4-way tie for 3rd and the top 4 move on to the play-offs. Additionally, the Blazers, although played really well last week lost both games to the top 2 which also means they don't have to play them again while the teams they were tied with likely still have at least one of them on their schedule. Sells says there isn't any reason this team can't run the table and not only get into the post season but finish 3rd in their conference.
Sells says the message at the half was simple, what do you want to do? You have your own destiny in your hands so do you want to play like you want 3rd place and a trip to the play-offs or not?
His team answered that question with one of the most dominating defensive performances ever recorded at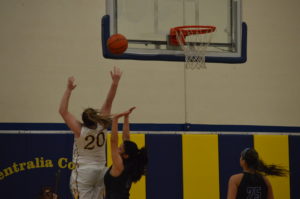 Centralia College as they shut down the Clippers to just 4 points for 19 minutes and 46 seconds. SPSCC scored only their 3rd basket of the 20 minute second half with 14-seconds to play and the Blazers cruised to a 20 point victory.
Devanie Kleemeyer led the Blazers with 16 but rolled her ankle and was out for a good portion of the 2nd half but her offense is what led to Centralia being tied at the half. Kayla Howard had another solid outing with 11 points and a pair of rebounds and 2 steals. Joni Lancaster ran the point as usual dished out 4 assists, grabbed 6 rebounds and scored 7.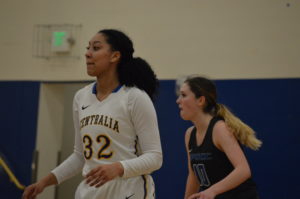 Courtney Kemble played hard all game and was a presence in the paint with 9 boards and also had 7 points, Bella Elwood off the bench contributed 7 points, 3 rebounds and a blocked shot and Majesty Claybrooks filled out her stat line with 9 points, 4 rebounds, an assist, blocked shot and a steal. Jamie Connally and Isabelle Montalvan also played off the bench and did not score but contributed to the shut down defense the team played. Majesty earned our Awards West Printwares Blazer of the Game although it could have gone to any of them in this true team effort of a win.
Centralia is now 5-5 in conference play with 4 games to play and 12-11 overall. Their next game is Saturday when they host Tacoma on Hall of Fame night. Tip-Off is 5pm.
Men's
SPSCC 87, Centralia 69
(Centralia, WA) Blazer Coach Jason Moir has said all year if we can ever put together 40 minutes of solid basketball we can not compete with the next level we can beat them. Wednesday night the Conference undefeated SPSCC Clippers came to town and Moir was excited that he might get that 40 minutes until the last 10 minutes when their shots went ice cold and the Clippers pulled away for the win.
The Blazers did everything right for most of the game beginning with limiting Hunter Sipe who lit them up for 30 in the 1st go around and held him to 15. DeMonte Malloy had 20 in their 1st meeting the Blazers held him to 7. This time is was AJ Hodges who got away from them who finished with 25 and Kaleb Poquette who did not play in the 1st match-up finished with 14.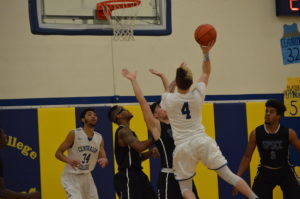 Centralia, led by Austin Curry and Marqus Gilson each with 20 hung right in there with the Clippers and trailed by just 3 at the half before Hodges threw up a prayer as time expired and hit a 3 to take a 6-point lead at the break. But it was still 10 points better than the 1st game where they trailed by 16 and never recovered.
In the 2nd half the Blazers not only made up the 6 points they took a lead. But the experience and power of the Clippers would be too much especially when the Blazers could not make a bucket in the last 10 minutes. Shots from the paint rolled off, 3-pointers rimmed in and out and nothing would fall while the Clippers added to their lead and sealed the win.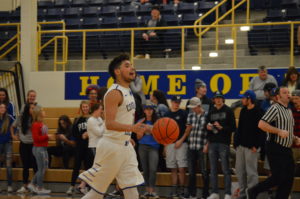 The Blazers got some other strong performances including Collin Prangley who can leap from the free throw line between defenders and get a shot to go in he finished with 11 and Jaxon Clark knocked down 10 including 2 long balls. Clark also had a steal, 2 rebounds and 4 assists. He closed out on the 3-point shooters time and again as the Clippers went 11-31 from behind the arc. Clark earned our Awards West Printwares Blazer of the Game.
Centralia drops to 5-5 but remain solidly in control of 4th place and like the ladies have now played the top 2 teams twice and can seal a play-off birth by winning the games they should win. They play Tacoma at Centralia on Saturday at 7pm.
Photo Gallery