3/10/18
Walla 84, Centralia 80
(Everett, WA) The Centralia College Men's Basketball team had their season come to an abrupt end on Saturday in the opening round of the NWAC Tournament. The Walla Walla Warriors jetted to an 8 point lead at halftime and made it stand up although the Blazers did not give in and made a run to fall short by 4 points.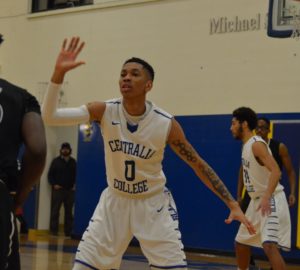 The Blazers all year had moments in each game where Head Coach Jason Moir would say we couldn't get out of our own way. Some games they could overcome those lapses and other games they fell short and is well depicted in their 11-20 overall record. Most times such a record would not lead to a post season birth but they did finish 6-8 in league play and slipped in as the 4th seed.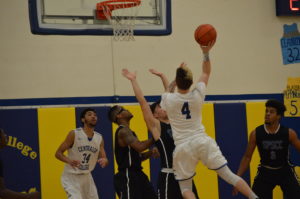 The team made up of all freshmen except for the lone sophomore Austin Curry were also a team that others did not want to play as throughout the year this team began to jell and come together more and more each and every time they hit the court. There were many "close calls" for teams with much better records including #1 seed Walla Walla with a 23-7 overall record.
The Warriors would take the early lead but the Blazers kept within striking range and actually took a 10-9 lead with about 14-minutes to play in the 1st on a Collin Prangley lay-up. Walla Walla re-took the lead and stretched it to 10 with 7:29 to go in the half. The Blazers did not let the game get away and trailed by just 8 at the break and were led by freshman sensation from Utah Marquis Gilson with 12 points. Gilson was the only one in double digits but 5 other Blazers were in the scorebook including Curry and Donovan Eiman each with 6.
In the 2nd half the Blazers again took the lead stunning one of the #1 seeds with a 61-60 lead following a lay-up from Tyler Meadows with 11 minutes to play. Centralia would get to a 3-point lead on a rebound put-back by Prangley but the Warriors answered with a 7-0 run to go up 67-63, Gilson hit a shot to bring the Blazers back within 2 with 7:44 to play.
Walla Walla again responded with a 9-0 run for an 11 point lead with 4:43 to play and probably thought they finally put the upset minded Blazers away. But despite to the frustration of Coach Moir this team that would suddenly hit these inexplicable skids always had a huge heart and the heart came through again as the Blazers made yet another run at the elite 8.
The Blazers would pull within 6 but then the Warriors again finally put them in their place with 1:44 to play and again led by 11 83-72. Little did they know the Blazers did not know "their" place and went on an 8-0 run to make it a one possession game 83-80 with 21-seconds to play. They sent Walla Walla's Damen Thacker to the line with 16-seconds to play and he missed with Gilson grabbing the rebound. The Blazers did get a shot at it but the 3-point shot of Tyler Meadows missed and a late foul added to the final 84-80 score.
Gilson finished with 33 points and was simply unstoppable in the 2nd half with 21. He finished with a double-double  with 13 rebounds. Curry had 10 while Prangley and Meadows each had 9. Jaxson Clark finished with 7, Michael Brown and Eiman each had 6 to finish  the scoring.
Despite an up and down season the Blazers proved to be more than worthy opponents losing 20 games by just an average of 10 points. Additionally, Walla Walla beat them earlier this season 91-67 and survived with their literal season lives in the re-match. Next year with a solid recruiting class the Blazers just may be ready to take the next step and a deep run into the NWACS.