3/8/18
(Centralia, WA) Centralia College ladies basketball Coach Caleb Sells scored an early victory in the recruiting wars when he got a verbal commitment from Lindsey Nurmi from Black Hills High School. Nurmi is a 4-year starter for the Wolves and coming off another strong year. Nurmi was part of the two best girls basketball team ever at Black Hills.
Last year the Wolves finished 5th at State with several seniors on the team. This year Nurmi returned as the only senior and there was a question of whether or not the Wolves were still a year away from a significant run at state. It was further complicated with the loss of 1st team all-league Maisy Williams for most of the regular season due to a broken jaw.
But the Nurmi led Wolves didn't miss a beat and she turned into the clear leader of this team and no doubt had advanced far from her days of launching shots from all over the court when she started as a freshman. Nurmi distributed the ball, rebounded, shot from both the perimeter and drove the lane and could play lock down defense for an all-around season long effort. Nurmi was named 1st team all-league and she was 1st team on the ESN All State Tournament team this past weekend.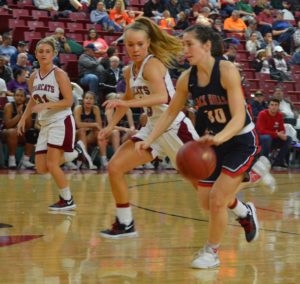 Nurmi led this year's Wolves to a 2nd place league finish, 2nd at district and a 4th place finish with wins over Liberty (Issaquah) in a loser out in Regionals and then over White River and Wapato in loser out games in Yakima and then beat Lynden on Saturday to claim 4th place the best finish in Wolves girls basketball history. The lone team the Wolves could not get by was WF West who were league champs, District Champs and handed the Wolves their lone loss in Yakima in the Quarterfinals. WF West went on to be State Champions.

Sells says Nurmi will be a point guard at Centralia and expects her to get a ton of playing time and won't be surprised if she is a starter. Sells is hopeful Nurmi is the first of several local area players he can talk into staying close by but also has his eyes on recruits from around the state and is reviewing tape of the recent state basketball tournaments. Sells says he is excited at the talent he has been talking with and says Lindsey commiting will be a huge help in getting more top level talent to join the Blazers.