3/8/18
Columbia Basin 61, Centralia 46
(Everett, WA) The Centralia Lady Blazer basketball team had their season come to an end in the opening round of the NWAC Tournament. This is the 7th straight year the Trailblazers advanced to the play-offs and 2nd straight year for 2nd year coach Caleb Sells. Both years Centralia lost in the opening round.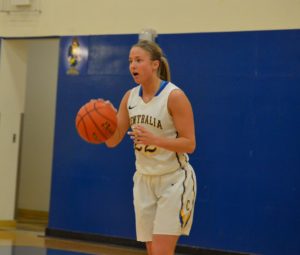 The Blazers held a 27-18 lead over the Hawks at halftime and Sells said they were able to do it with a slow down offense and took time off the clock. Joni Lancaster led the way from her point guard position with 10 points. The Blazers also curbed their long ball shooting where they went 1-8 in the 1st quarter to 2-2 in the 2nd quarter. Sells says 5 different players found the scorebook.

As the 3rd quarter began the Hawks came out with a new game plan and that was to turn up the pressure both on offense and defense. CB racked up 22 points while holding the Blazers to just 6 and led 40-33. The Blazers stepped up in the 4th scoring 13, 9 by Majesty Claybrooks but the Hawks added another 21 for the final 15 point difference.
Sells had nothing but great things to say about this year's Blazer team. Sells says it seemed like every other week we had a completely different team to coach and for the players to play with as early on 3 point guards began and all were gone for various reasons within the 1st month dumping the responsibility on Lancaster. Sells says he is going to miss his sophomores Kayla Howard, Kylie Smith, Majesty Claybrooks and Courtney Kemble.
Sells is already looking to fill those roles for next year and recently secured Black Hills point guard Lindsey Nurmi to come to Centralia next year. Sells says its an on-going process and despite the early exit he believes this year's experience will go a long way in helping the Blazers for the play-off run next year.
The Blazers finished with an 8-6 conference record and 15-15 overall.