3/7/18
The Chronicle and Alderson's Awards West Printwares sponsored the SWW Basketball Senior All-Star games played at Centralia College on Tuesday night. The games featured players from Lacey to Ilwaco and Morton-White Pass to Willapa Valley and everywhere in between.
In the girls game the teams are divided into the blue and white teams and wore the centralia College uniforms additionally coaches could not coach any of their own players. So the white team was comprised of Julia Johnson and Kiara Steen of WF West, Stephanie Fried and Paoge Moorcroft from Mossyrock, Rachel Wilkerson, Centralia, Keshara Romain, Timberline, Lindsey Nurmi, Black Hills, Kayla Gairns, Shelton and Madeline Jacobson of Ilwaco and coached by Napavine's Jeremy Landram.
The Blue team was coached by WF West Head Coach Tom Kelly and included Mollie Olson, Becca Snaza and Melissa Lee all of Napavine, Eliza Bannister and MacKenzie Keach of Ilwaco, Nakayla Erhorn, Castle Rock, Anna Tauscher, Toledo, Ellie Corwin, Centralia and Quinlan Christian from North Thurston.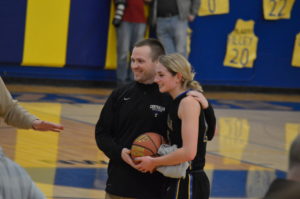 Kelly's Blue team won the game which played 10-minute quarter, the college rules 88-81. Mollie Olson was named the Pacific Sports Spa Player of the Game with 25 points and 11 rebounds for a double-double. Olson got help from MacKenzie Keach with 22 and Melissa Lee who dumped in 18 and led the team with 13 boards for her own double-double.
Leading the White team had 4 players in double figures led by Eliza Bannister with 18 and 12 boards while Madeline Jacobson pumped in 15 points and grabbed 10 rebounds had double-doubles. Kiara Steen finished with 17 and Lindsey Nurmi added 12 but it wasn't enough to hold off the Blue team for the win.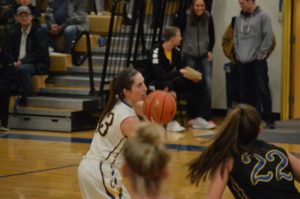 The MVP was earned by Napavine's Molly Olson and Lindsey Nurmi of Black Hills won the halftime 3-point shooting contest.
In the boys game they divided the players into a team of 2A players and 2B players. WF West Coach Chris White had the white team of 2B players which consisted of Cody Young and Connor Weed from Adna, Peyton Stanley and Jordan Purvis from Napavine, Nathan Hoff and Cam Swanson from Toutle Lake, Reece Wallace and Junior Arroyo from Toledo, Ryan Ashley, Willapa Valley and Matthew Poquett from Morton-White Pass.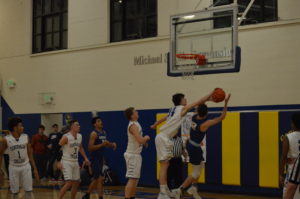 Onalaska's Dennis Bower and M-WP's Tony Gillispie and their roster included Brandon White and Jordan Thomas from WF West, Joe Crumley, Garrett Glenn and Kae Walker from Black Hills, Ben Janssan and Tyler Ashmore from Centralia, CJ Geathers, Tumwater and Rocheter's Stephen Robinson.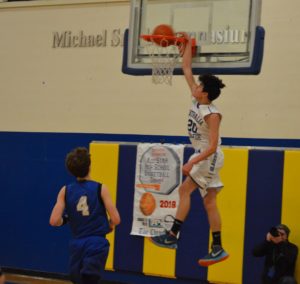 On paper the 2A's against the 2B's most thought it would be a run-away for the 2A's but the 2B's in the Blue uni's gave them all they wanted and actually led after the 20-minute 1st half 42-41. But the 2nd half they could not resist the winner as the white team kicked it into gear and just missed putting up 100 points with a 97-83 win. All 10 players scored for the winning white team with Kae Walker leading it all with 17. Brandon White hit double digits with 10 points and 11 rebounds for a double-double. CJ Geathers and Tyler Ashmore both had 12.
For the Blue team Nathan Hoff and Matthew Poquette each finished with 16 while Cody Young added 14 and Jordan Purvis knocked in 12. The big stat of the game was the white team out-rebounding the blue team 62 to 43. Kae Walker was chosen as the MVP and Reece Wallace won the halftime 3-point shooting contest.
Link to our YouTube full game video broadcast of the Girls Game
Link to our YouTube full game video broadcast of the Boys Game
Photo Gallery