3/20/18
Centralia 4, Montesano 1
(Centralia, WA) The Centralia Tigers have now strung 2 wins in a row together and Head Coach Phil Strodemier is pleased with how his team is jelling together. Strodemier says he's still working different combinations as players get eligible and others are dealing with minor injuries.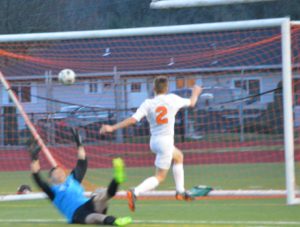 The Tigers came out firing and put tons of pressure on the Bulldog defense but led by keeper Waymn Thoemmes and defenders Yemi Idowu and Samuel Borcherding kept the Tigers scoreless for more than 20 minutes but finally the Tigers popped one in off the foot of Senior William Brown in the 26th.
Centralia added a 2nd goal late in the 1st half in stoppage time when Alex Alvarenga took an assist from Mario Silva and blasted it home for the 2-0 lead. The Tigers led 2-0 at the break and had Montesano somewhat on their heels.

In the 2nd half the Tigers came out seeking that 3rd goal in a hurry and they got this time Silva knocked it in in the 42nd minute just 2 minutes into the 2nd half. Centralia then took more of a preventive stand and quickly ran into trouble when they fouled in the box setting up a penalty kick for the Bulldogs. Tigers keeper Jesse Vazquez dug in and blocked Luis Muro's PK but could not secure it and Connor Parkinson got the the loose ball first and chipped it in for Montesano's 1st goal making it 3-1 in the 47th minute.
Montesano kept attacking and Centralia countered as both teams stalemated until the 59th when Centralia's Mauricio Mosqueda-Zuniga fired a beautiful shot into the upper 90 and no chance for Thoemmes to react for the 4th and final goal of the match and Centralia picked up their 2nd win in a row improving to 2-1 while Montesano fell to 0-3-1.
Our Pacific Sports Spa Players of the Game went to Centralia's Maurcio Mosqueda-Zuniga and Montesano's Yemi Idowu and our Thorebeckes Sportsmanship Award of the Game went to the Tiger's William Brown.
Photo Gallery