3/23/18
Aberdeen 1, Hoquiam 0
(Aberdeen, WA) The weather would even make the mailman cringe with a steady wind, plenty of rain and throw in a little sleet, hail and a few snowflakes but nothing would deter the annual clash between long time rivals Aberdeen and Hoquiam.  The Grizzlies came in with an unblemished 4-0 record and had outscored their opponent 23-6 while the Bobcats were 1-1 and were up 6-4 in the scoring column so on paper it looked like Hoquiam would be the team to slow down.
Aberdeen not only slowed down their rivals but blanked them with a steady offensive attack and then a stiff backline and a couple of beautiful saves from Luis Soto. Trevor Dawkins, Enrique Cuevas and the rest of the backline were big in protecting Soto and slowed down the Hoquiam attack.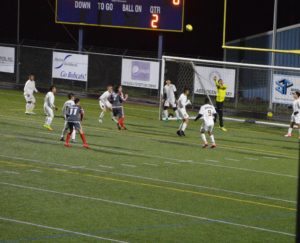 On the flip side the Grizzlies were clearly more interested in stopping the Aberdeen offense which attacked from the get go and field possession time certainly went to the Bobcats. Aberdeen would pop one by Grizzly keeper Jonny Smith in the 1st half but the offside flag went up and the goal was waived off.

The defenses held firm and Smith was busy in the box for the Grizzlies and it looked like we might be headed for extra time with a 0-0 score was still on the board in the 70th minute. But the 71st would be the game changer when the Grizzlies just missed taking the lead on a dead on shot saved by Soto and the Bobcats worked up a head of steam led by Tony Oropeza. Oropeza got the ball to Hulizes Chaves who then finally slipped one past Smith for the games only goal.
The final 9 minutes were a number of runs from each team but the Bobcat defense held up. Other Bobcats who had strong performances included Romeo Sanchez, Luis Martinez and off the bench AJ Sanchez. For the Grizzlies, Andy Garcia, Jose Juarez and Franky Rivera all played well.
Our Pacific Sports Spa Players of the Game went to Aberdeen's Hulizes Chaves and Hoquiam's Jonny Smith while the Thorebeckes Sportsmanship Award went to the Bobcats Luis Soto.
Photo Gallery