9/5/18
Lane 9, Centralia College 0
(Centralia, WA) It was not a great start for the Centralia Lady Blazer Soccer team as they were blown out with a huge 2nd half by the Titans. The two teams battled hard for the first 32 minutes with the only dent in the armor a shot in the 9th minute by Yuuyu Suzuki off a nice lead in pass from Danielle VanOrd to give Lane a 1-0 lead. The Titans were not satisfied with that and continued to attack the defense of the Blazers and finally broke through again in the 33rd with a laser shot by VanOrd into the upper left of the goal and Blazer keeper Haylee Perkinson had no chance of knocking it down to make it 2-0.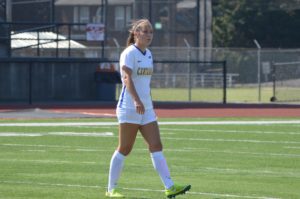 Centralia was hoping to keep it 2-0 and re-group at halftime to make a run but instead Linsey Garcia off the bench for Lane broke free and got into a 1 on 1 situation and was able to knock past the keeper to the right side of the net and Lane had a 3-0 lead at the half.
That 3rd goal seemed to really put a damper on the Blazers who came out flat in the 2nd half and watch the Titans pop in 6 more goals for the run-away 9-0 win. Lane improves to 4-0-1 while the Blazers dropped to 1-4-1. The good news is none of these matches counted, all were non-conference, the bad news is the Blazers have 2 days to get things in order as they will open conference play saturday night at tiger Stadium hosting Tacoma. Note this is a change in the schedule and was originally supposed to be an away game but due to scheduling conflicts the change was made. If the Blazers can get on a roll their first foour conference matches are all home matches and all of them will be broadcast live on the Eli Sports Network. Gabbi Nowodworski was named the Awards West Blazer of the Game for her continued effort through the entire 90-minutes.

Photo Gallery