9/8/18
Stadium 48, Kent Meridian 27
(Kent, WA) 1,065. That was the total offense the Stadium Tigers and Kent Meridian Royals put up Saturday night at French field. This total would have been a lot more had the officials not littered the field with penalty flags all night. Leading the Tigers was QB Corry Sanders who threw the ball 43 times and completed 25 of them for 387 yards, 3 touhdowns and 1 interception. Sanders also ran a TD in for the Tigers. Sanders hit Xavier Mason with his 1st pass of the game for a 14-yard touchdown. They faked the extra point and Sanders as the holder flipped it to Mason for an 8-0 lead.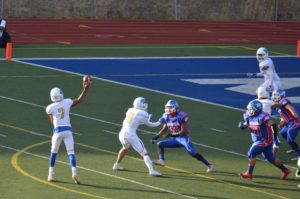 Sanders spread the wealth hitting Nazje Briscoe, Tristan Miller, Joziah Nixon and Peanut Harris. Harris was spectacular as he finished with 8 catches for 96 yards and an incredible touchdown catch along the back of the endzone. Harris also ran the ball 3 times for 35 yards, played defense and all special teams. His all around effort earned our ESN Player of the game for Stadium.
It was not easy separating efforts from the Tigers with Sanders' numbers, Mason caught 10 balls for 148 yards and 2 TD's and Briscoe went off at running back carrying the ball 20 times for 239 and 2 TD's. Any of these performances could easily have been justified for the POG award but Peanut also brings an emotional spirit and leadership that stuck out to us to get it with a slight advantage.
Stadium could not have done this without the tremendous effort from the big fellas up front on the offensive line including Tre Davis, Jeremiah Beach, Owen Johnson, Isaac Howard and Bailey Elder. Elder also avoided getting flagged for holding which was an accomplishment in this game, we lost count of holding calls made after 15.
Kent Meridian was looking to bounce back but took a while to get their offense cranked up and they quickly fell behind 14-0. Isaac Cordova had a big day at QB too and also would have been even more but the Royals again had a hard time catching the ball dropping several right in their hands and tipping one up for an easy pick-off. Once they got settled and began to move the ball it was virtually all through the air.
Cordova was 20-38 for 336 yards 4 TD's and 2 interceptions. He also ran for 26 yards and had an interception on defense. His favorite target on this night was Nate Jones who hauled in 6 catches for 175 yards and 2 touchdowns. Cordova also found his tight end Jeziel Dewitte for 3 catches for 45 yards and 2 TD's.
As the game unfolded the Tigers took a 20-7 lead into halftime when Cordova found Dewitte for the 1st time on a 28-yard hook-up to make it 20-14. Stadium answered  to make it 27-14. jones had already scored on a 38 yard catch and run so the speedy Jones thought well let's kick this up a notch and grabbed another pass from Cordova then hit the sideline and outran everyone for a 68 yard scoring play to make it 27-20.
That would be as close as they would get as the Tigers offense never slowed down and rolled up 48. The final score for KM was agian to DeWitte  on a little 1-yard flick. It was also tough to call for a player of the game for the Royals and Cordova could have easily been named along with DeWitte but we went with Nate Jones who also played on the defense and rarely left the field. Kent Meridian drops to 0-2 and plays Auburn next Friday. Stadium is now 1-1 and travels to Bonney Lake next week.
Stats:
Kent Meridian
Total Offense: 405; Passing 336; Rushing 69
Passing: Cordova 20/38 336 4 Tds 2 ints
Receiving: Jones 6/175 2 tds, Dewitte 3/45 2tds, Tulloch 3/57, Kaloga 1/12, Korman 3/20, Wilson 1/11, Fox 1/5, Daigbe 2/11
Rushing: Cordova 12/26, Thompson 6/30, Daigbe 2/25, Jones 2/2, Tui 7/14
Stadium
Total Offense: 660; Passing 387; Rushing 273
Passing: 25/43 387 3 TDs 1 Int
Receiving: Mason 10/148 2 TDs, Briscoe 3/72, Harris 8/96 TD, Miller 3/59 TD, Nixon 1/12
Rushing: Briscoe 20/239 2 TD, Harris 3/35, Gaines 3/2, Sanders 9/2 TD
Photo Gallery