10/20/18
(Centralia, WA)  The Centralia College Baseball team wrapped up the 1st ever A1 World Series in Centralia yesterday and half the team earned steak dinners with at their Fall banquet while the other half of the team will get to feast on peanut butter and jelly sandwiches.
The teams were coached by 2 of the CC assistant coaches and they drafted their players early last week and the series began on Wednesday. Team Emsley-Pai coached by assistant Kawika Emsley-Pai but they decided to change their name to "Lost in the Sauce". They took on on Team Margaris coached by assistant Cam Margaris. Head Coach Cody Atkinson was the umpire.
Lost in the Sauce took the 1st game on Wednesday, Team Margaris battled back from behind on Thursday to even the series and Lost in the Sauce led start to finish on Friday setting up at least 1 Saturday game. Team Margaris need to win the 1st game to force a deciding game 5.
Lost in the Sauce took the lead in the top of the 3rd as Ethan Hori walked stole 2nd and got to 3rd on an over throw and then scored on a wild pitch to make it 1-0. Team Margaris answered with a run from Festus Gilligan who also walked to get on. Gilligan would score on a bad throw to 2nd base trying to get Drew Forgione and after the 3 it was even at 1-1.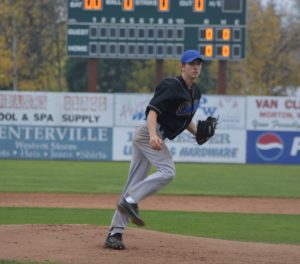 In the 4th Lost in the Sauce tallied 3 runs getting to starting pitcher Griffin Noice who did a solid job of eating up some much needed innings but Sauce finally got to him with Kyle Combs getting on by an error, Robbie Wall wiht a base hit, Combs scored on a sac fly RBI by Josh Krause and then Josh Parks would double driving in Wall and then scored on a James Hook blooper to lead 4-1.
Team Margaris answered with 2 of their own with Colton Titus walking followed by a single from Nole Wollan and both would cross the plate making it 4-3. Sauce scored when Rory Escuardo scored to make it 5-3 and it looked like Sauce might wrap up the series in 4 but Team Margaris had other ideas.
In the 6th inning Team Margaris exploded for 9 runs quieting what had been a very chatty dugout on the Sauce side of the field. Coach Emsley-Pai, known for "cough, cough" gentle approach to competition…"cough, cough" was letting his team know what he thought of their performance while team Margaris' players were saying win or lose how happy they are to be on Team Margaris.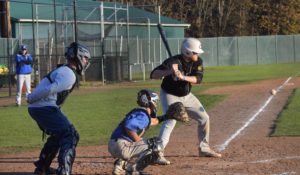 Gilligan got things started with a walk which was followed by another walk to Forgione. Titus RBI doubled followed by an RBI double by Wollan and Team Margaris had some momentum and it was growing quickly. Jake Roten singled, Blake Marker gets on by an error, Tyson Paul walked then Levi Meyer RBI singled. River Liepa walked, Gilligan in his 2nd at bat got on by an error, Forgione sac bunted and Titus got on by error that knocked in the 9th run of the inning. Team Margaris not only came back but nearly 8-runned Sauce. In college baseball if you have an 8-run lead after 5 the game is over. The score was now 12-5 and that would hold as the final.
This set up a deciding game 5 with all the momentum seemingly shifted to team Margaris and only 20 minutes to get ready for game 5 of the new Fall Classic.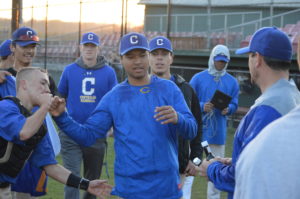 Rory Escuardo would get the start on the hill for team Sauce, Escuardo is a position player who had mentined to the coaches that he had pitched some in high school back in Hawii but had never thrown from the hill for the Blazers. When Escuardo was done, Coach Atkinson says they will have to seriously take a look at Escuardo as a pitcher.
Escuardo shut Team Margaris down quickly and turned the momentum back to Team Lost in the Sauce. Escuardo got plenty of offensive support as well in the bottom of the 1st inning. Combs singled, followed by an RBI hit from Wall. Josh Parks singled, James Hook singled with an RBI and then Gavin O'Donnell slapped a shot driving in 2 more runs and it was a quick 4-0 lead.
Sauce would add to their lead in the 2nd inning when Escuardo walked to lead off the inning and scored on a Kyle Combs RBI double. Combs would score in the 4th after getting hit and came in on a Parks RBI double to make it 6-0. Combs would score the final run for Sauce in the 6th inning after walking to get aboard to make it 7-0.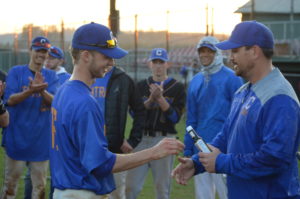 Team Margaris had one last chance and had their hopes hanging on a big inning after all they had put up a 9 spot on Sauce in Game 4, this time they would have to come up with at least 7. They got off to a good start with Nole Wollan singling and scoring, Blake Marker singled and scored on a Paul RBI but that would be where the rally stopped and Team in the Sauce were crowned the 1st ever Centralia College A1 World Series Champions. The pitching MVP went to Rory Escuardo and the hitting and defense MVP was James Hook.
The Blazers are playing the final games Sunday at Lane College and then they are done for the winter. Atkinson says they will have workouts all winter long and plenty of time in the batting cages getting ready for the Spring.
Photo Gallery