4/19/19
Columbia River 2, Woodland 0
(Woodland, WA) The Woodland Beavers came into the match having given up only 5 goals for the entire season, however, 4 of them were to Columbia River from their firt meeting a 4-0 win by the Chieftains. CR came rolling into the match without experiencing what it's like to lose since May 16, 2017. Since that 1st round play-off loss CR rolled to a 2018 State Championship sporting a perfect 23-0 record and are now off to another undefeated streak but with a slight blemish. The Chieftains were 10-0-1 with the tie against 4A Skyview in their 5th match of the year. CR had outscored their opponents 44-7 overall and 34-2 in 7 league matches.
Woodland came in looking for redemption and felt the 4-0 score was not as close as the match should have been with the Beavers missing a pair of early golden opportunities to score and then falling behind 2-0 at the half. In the 2nd half as the time clicked down Woodland then took more chances to try and get back in the match and opened the door for CR to add to their lead. This time with a wet and windy night at Beaver Stadium they hoped to keep the Chieftains in check and hoped to finally penetrate their defense. The Beaver defense is pretty good as well with a 31-5 overall goals scored to goals against ratio.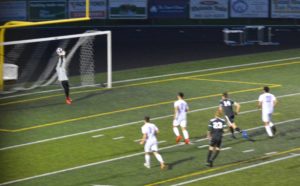 The match began very cautiously with CR taking their normal deliberate approach and then counter attacked when they saw an opening which resulted in a drastic mistake for Woodland a penalty in the box. Maks Yurichko took the shot for CR and pushed it past Beaver Keeper Treyson Thrall for an early 1-0 lead just 11 minutes into the match. Yurichko then shortly after had a free kick and looked like it went in from the Press Box but just skimmed over the top of the crossbar.
The 1-0 score would hold up to halftime and Woodland came out pushing their attack with the wind to their back. Aiden Thrall just back from injury along with Jackson Finn and Gaige Pilot had a couple of shots but the CR backline led by Jackson Kleier and Alex Ashmore with keeper Miles Miranda denied the Beavers attempts. CR would get an insurance goal late in the match in the 70th minute when Jake Connop connected off an assist from Kleier to make it 2-0.
Columbia River is now 8-0 in GSHL 2A league play and now have run their unbeaten string to 34-0-1 while Woodland remains in 2nd place at 6-2. The Pacific Sports Spa Players of the Game went to CR's Jake Connop and Woodland's Aiden Thrall.