4/24/19
Forks 2, Montesano 0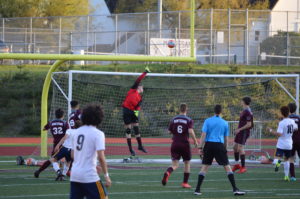 (Montesano, WA) The Forks Spartans came in with a half game lead over the Montesano Bulldogs with a 7-1 record while Bulldogs were at 7-2. But the lone loss for Forks was at home to Monte so it was a critical match for both, if the Bulldogs won that would give them a huge advantage and would only need to tie Forks for the league Championship to take the #1 seed into districts. If Forks could get the revenge game it would give them a 2 game lead in the loss column and with only a few games left to play in the season it would make it difficult for the Bulldogs to close that gap.
Forks jumped on the dogs in just the 7th minute when Hugo Sandoval slipped one past Monte keeper Max Urbanski on an assist from Tony Hernandez-Florez. Hernandez-Florez would then come close to going up 2-0 but the shot was deflected over the cross bar by a nifty play from Urbanski. The teams would go to the half with the Spartans up 1-0.
In the 2nd half the Bulldogs picked up the attacks and were led by Veli Ambrocio, Joel Pine and Yemi Idowu from the midfield but could not punch in a score including this incredible series from Ambrocio who collided with Spartan Keeper Gabriel Terrones but still got the ball past but then saved by Colton Duncan.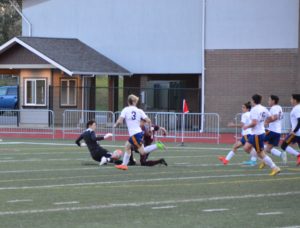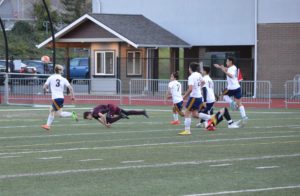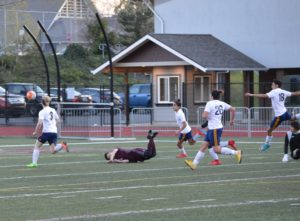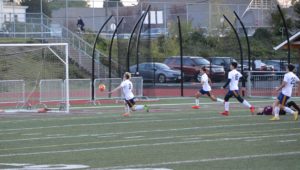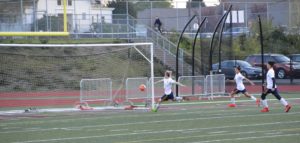 Forks would get an insurance goal from Hernandez-Flores in the 61st minute on an assist from Luis Torres to go up 2-0. That would be the final score, the same score they lost to Montesano back on March 27 in Forks. The win was huge for the Spartans, Coach Joe Morton was ecstatic with the win knowing it will take a complete collapse for them not to clinch the League title. He syas just 2 years ago they were last and last year just fell short of the league title so this year was all about finishing. Our play-by-play man Tony Davila asked Morton prior to the game what they needed to do to get the win and he had a 1-word answer, finish! Finish they did and now improve to 8-1 but still have 3 league games left against Raymond, Ilwaco and Elma. Raymond and Ilwaco are a combined 2-15 with 1 win each and Elma is in 3rd with a 6-3 record. Morton says if they win the next 2 against Raymond and Ilwaco that will clinch the title and #1 seed regardless of the outcome with Elma.
Elma was fresh off a 2-0 win over the Bulldogs on Monday and rolled over Raymond on Wednesday to pull into a tie with Montesano at 7-3. The Eagles now have the tie-breaker for 2nd place with that 2-0 win over the Bulldogs. The Eagles can secure 2nd and the #2 seed with wins against Ilwaco and Forks. Montesano now in 3rd will have to win their final 2 matches against Hoquiam and Tenino to hold onto 3rd and could move into 2nd if Elma drops a match. The Bulldogs could also fall to 4th place with a loss to Hoquiam who is sitting just behind in 4th place with a 6-3 record. Hoquiam could end up tied with Elma for 2nd but would end up with teh #3 district seed do to goal differential. The top 2 seeds will host the #3 and #4 seeds from the Trico while the 3 and 4 seeds will travel to the Trico's 1 and 2.
United (Toledo and Winlock) currently are on top in the Trico standings with an 8-0 record. Following United is Seaton Catholic at 7-1 and then a tie for 3rd with Columbia-White Salmon and LaCenter at 5-4.
Our Players of the Game for Forks went to Tony Hernandez-Flores and for Montesano Yemi Idowu.
Photo Gallery