5/3/19
United 3, La Center 0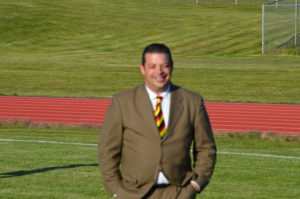 (Winlock, WA) It was a bittersweet night for team United and their 12 graduating Seniors and Head Coach Horst Malunat. For all 13 this would be the final league match in their High School careers and final league match for Coach Malunat who is retiring at the end of the season. Prior to the match it was the traditional senior recognition ceremony and normally schools take 5-10 minutes to do the announcements but with 12 PA announcer Rick Shepherd started 30-minutes prior to kick-off. They wanted to have time to warm up again after all the hoopla.
The emotion and realization of the moment along with the ceremony looked like it knocked the 11-0-4 United squad off their game as the La Center Wildcats were not giving an inch and in fact making some significant runs. United keeper Allen Contreras had his hands full with striker Alex Munoz and mid-fielder Sean Fox putting tons of pressure on the United back line of Eucario Contreras, Brian Wood, Ivan Cibarian and Brandon Cruz but the defenders and keeper Contreras held their ground.
La Center's defense was just as stiff and led by keeper Shawn Child. Child was under attack and Child with help from Cody Taylor, Ian Crocker and Adam Denney held United scoreless for 34 minutes. In the 35th Andreas Maunat would strike knocking one in from a pack of players in front of the goal. Malunat settled the ball that had been ping-ponging back and forth and knocked it in to take a 1-0 lead. Malunat would then add a second goal just 3 minutes later off a free kick. Gustavo Barragan controlled the ball but was taken down right in front of the goal about 25 yards out. Malunat lined it up and fired it to the right of Child and snuck it in just inside the left post to make it 2-0 which is what the halftime score would be.
In the 2nd half it was played out much like the first half, a stalemate between the two teams for most of the 2nd half but as each minute ticked off the more it favored United sitting on that 2-0 lead. United penetrated the La Center defense and got Child to commit and a shot was taken but went wide right. The Wildcats kept the ball alive and popped it out front where Isaac Garibay took it from about 25 yards out and fired it to the left post and into the back of the net. This goal came in the 73rd so once again the Wildcats gave up a late goal for the final 3-0 score.
Our Thorbeckes Players of the Game went to La Center's Sean Fox for United there was a bunch to consider including United's all-time goal leader Gustavo Barragan with 101 goals but he was denied in this one, Allen Contreras in goal, of course Andreas Malunat with 2 goals, Isaac Garibay with 1 goal, great defensive play from Brandon Cruz and Brian Wood, Thomas Ethridge with strong offensive play, any of these would be a legitimate choice. But instead we went with Isaac Cruz. Cruz played a super strong game at the mid-field position, playing defense and lobbing down field offensive passes and all this coming off an injury in his first match back.
United now heads to the District Tournament and will host Montesano on Monday night in Winlock. We believe La Center will have to travel to Forks on Monday but at the time of this writing the bracket was not completed.
Gustavo Barragan the all-time team goal leader
Coach Horst Malunat and his son Andreas
Photo Gallery