6/21/19
I am hoping this segment is an on-going column and hoping I can get some folks who know of some really cool and weird stories, in fact the weirder the better to pass them on to me. My plan is to add new stories we come across to the top of this page as we put them up. If you have a story or heard of something I can then look up the information and include it to this column. Please write me at paulbelisportsnetwork@gmail.com,
Okay here we go this first one is where I got the idea for this column:
Muhammad Ali Fights in Washington State…almost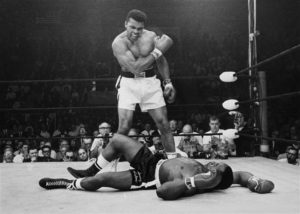 Most sports fans know immediately who Muhammad Ali is and his story. For a quick review Ali, formerly Cassius Clay claimed a religious exemption to avoid fighting in the Vietnam War. He was arrested for draft dodging but ultimately won in the Supreme Court. He was banned from boxing and stripped of his titles while his appeal worked its way through the courts and was re-instated in 1970. Apparently he was looking for places that would host him and likely may be a soft spot to land trying to minimize the potential protesting of his legal issues and had apparently looked at fighting in Washington State.
It appears that his handlers looked at several locations and likely what we found was simply doing their due diligence and a "just in case scenario" as we found a completed application for a Washington State Boxing license in June of 1970. Ali interestingly filled out and signed the application as Cassius Clay but listed his ring name as Muhammad Ali. Ultimately Ali would fight twice in 1970 on October 26 against Jerry Quarry in Atlanta. Ali won when the referee stopped the fight in the 3rd due to a deep cut over Quarry's left eye. The win pushed Ali to a 30-0 record and would get win 31 in December of 1970 at Madison Square Garden with a win over Oscar Bonavena. Bonavena was no walk in the park and nearly got Ali knocked out in the round he predicted he would knock out Bonavena, the 9th.
Ali would eventually grind out a TKO in the 15th round over the stubborn Bonavena for his 31st win. Following the fight Ali could be heared screaming "give me Joe Frazier" and the rivalry was born. The two would meet in March of 1971 again at the Garden. The fight featured the largest purse in boxing history at that time of 5 million dollars. Ali also created a stir calling Frazier an "Uncle Tom" and a traitor to his race. This motivated Frazier to a unanimous 15 round decision handing Ali his first career loss.
Below is a copy of Ali/Clay's Washington State Boxing License application to the Washington State Athletic Commission. There are some interesting things of note on the application. On the first page the first thing that caught my eye was the cost of the license was $3 but don't send cash! It had to be in the form of a cashiers or certified check or money order. The application also showed it was under the administration of Governor Dan Evans and W. B. Reece was the Chairman of the Athletic Commission.
The application asked for the applicant's current occupation and listed for Ali was his vice-presidency of Champburger Corporation as a Lecturer. His former occupation was listed as Heavyweight Champion of the World. He was required to list 5 personal references and two names popped off the screen, Robert Arum the well known boxing promoter  and also the one and only Howard Cossell! He was also asked if he had ever been convicted of a felony or misdemeanor and he answered yes and explained his violation of the selective service act (draft) and that the case was currently being appealed in the US 5th circuit.
On the second page of the application there was a section called "Conditions Qualifying for a Boxing License". Under these conditions, and these are the exact wording from the state license application, the applicant should not present himself (no female boxing at this time) if they have a physical deformity or any disease of the vital organs. Deformities included missing fingers and recent fractures. Diseases included Bright's disease (a kidney ailment), typhoid and venereal disease to name a few. And under any other condition or disease the listed example was "deaf and dumb" or anything that would detrimental to the boxer, the arena or boxing in general. Ali answered yes that he was free from all of the above listed.
He was granted the license and it was valid through March of 1971 but the closest Ali ever got to fighting in Washington State was a match in Vancouver, BC on May 1, 1972 against George Chuvalo. Ali dominated Chuvalo but couldn't knock him out and won the 12-round decision to push his record to 36-1.
Ali's Washington State Boxing License Application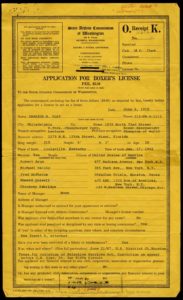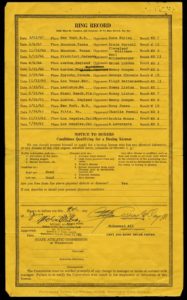 How the Seattle Pilots led to the Seattle Mariners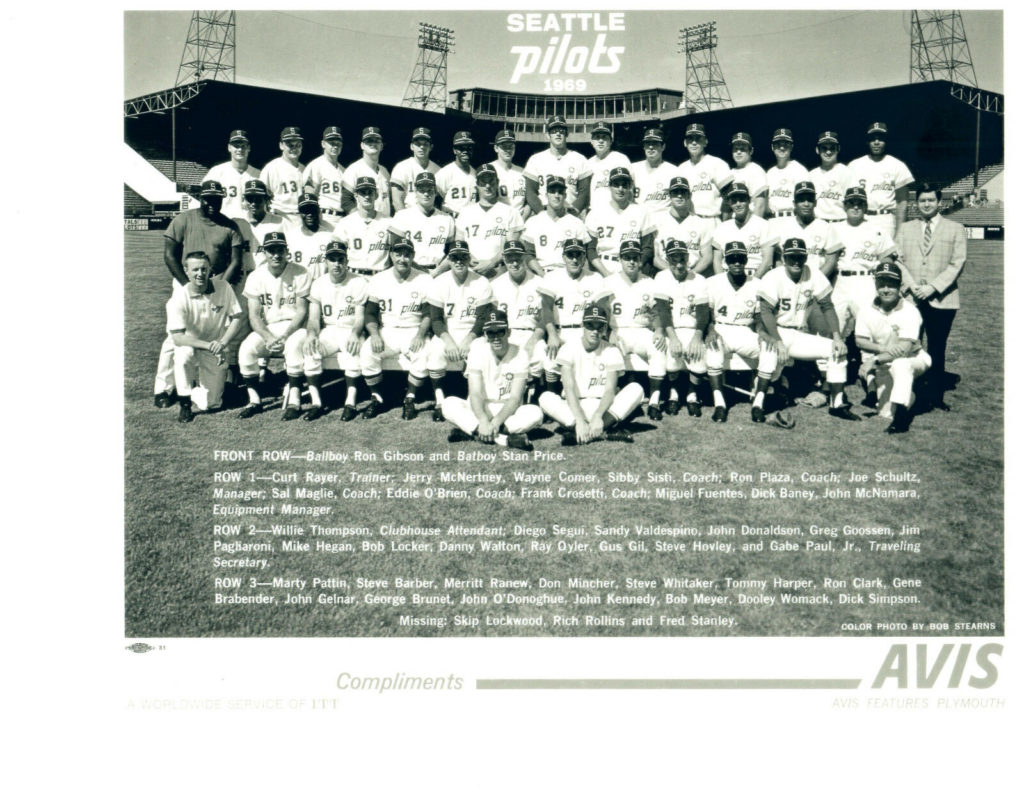 Many know this story already but I believe many of our younger fans have no idea there was a Major League baseball team in Seattle prior to the Mariners and how their departure after just 1 year in Seattle led to the Mariners coming to town. The Seattle Rainiers had long been a very successful triple A franchise in the Pacific Coast League. There had been a push to bring a major league team to Seattle led by former Rainier's pitcher and General Manager Dewey Soriano, Seattle nearly got their team in 1964 when the Cleveland Indians tinkered with moving and then again in 1967 when the Athletics were looking to leave Kansas City but ultimately settled on Oakland.
Soriano would go back to the Cleveland area for help in financing the Pilots and approached former Cleveland Indians owner William Daley who ended up investing and taking the lions share of the stock owning 47% of the team. Daley was Chairman of the board and Soriano the President.  Seattle was awarded an expansion franchise with Kansas City, Montreal and San Diego in 1967. They were required to have a domed major league facility by the time they began play in 1971. A bond issue that awarded 12 different public development projects was partially passed in early 1969 called the "Forward Thrust" Initiative. Major league ballplayers came to town to encourage voters to approve the ballpark portion of the measure including Mickey Mantle, Joe DiMaggio and Carl Yazstremski. The plans for the "Kingdome" were born but there would be several issues that were not totally foreseen such as where to locate the new stadium with the first intended location near the Seattle Center where the newly founded Seattle Sonics played.
The timeline was also moved up when a powerful Missouri Senator pressured MLB to allow their new team the Royals to start playing in 1969. MLB folded and this forced the Pilots to have to play in the former minor league Rainier's home field Sick's Stadium. Sick's Stadium, now a Lowe's Hardware Superstore was located at Rainier Ave and McClellan Street, near Franklin High School was torn down in 1979. When the Pilots opened play in April of 1969 it was reported not ready for prime-time so to speak and had only 11,000 seats. Soriano told MLB they would expand the seating to 30,000 but a winter of heavy snow prevented much of the work to be done in time for the 1st pitch on opening day. In fact, many ticket holders were reduced to standing room only on opening night while their seats were literally being installed during the game. It was reported that most everyone had their seat by the 3rd inning.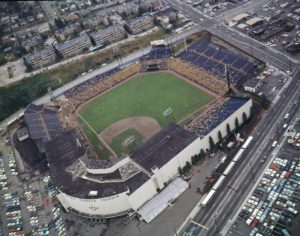 The Pilots didn't do a lot of winning in their one and only season but they ran away with the worst stadium in the league honors. It was reported most visiting team players would have to shower back in their hotel rooms because there wasn't enough water pressure and the public toilets routinely backed up by the later innings especially if there were crowds larger than 8,000. Other issues were parking built for for a 11,000 seat stadium, limited concessions and a press box where broadcasters could not see the entire field.
The Pilots quickly fell into economic woes led by a multitude of issues starting with poor play. They won their 1st game which was on the road and their home opener but would go on to finish 64-98. They finished with a little more than 675,000 in total paid attendance, 20th out of 24 teams finishing last in the American League West, 33 games behind Division winner Minnesota. They never did sell out a game coming the closest on August 3rd when the hated Yankees came to town and a crowd of 23,657 showed up. Their smallest crowd was a game against the California Angels on April 17th with less than 2,000 in the stands.
Pressure mounted on Soriano and he went back to Daly for more money but Daly declined. This led Soriano to try and seek out new investors and he made contact with a guy named Bud Selig from Milwaukee. Selig made his money in the car sales business and was looking for a team not to buy into but to move to Milwaukee. (Unlike some other out of town owner who moved a more established franchise who lied about his intent to a naive at best Seattle businessman and after running the franchise into the ground in Seattle moved to to po-dunk OKC where they will never win an NBA title. Oops! Did I type this or did I say this in my head?) Anyway, Selig was at least honest in his motive.
This led to other Seattle business leaders to step up and try to save the club but time was short and a proposed deal fell through leaving MLB in an awkward position of letting a nearly and soon-to-be bankrupt club playing in a terrible Stadium to play again in 1970 or to allow the sale to Selig to go through and the club move to Milwaukee. MLB decided to approve the sale and the Pilots would become the Brewers. But this was not the end of this weird story because Washington State had a couple of powerful Senators themselves in Scoop Jackson and Warren Magnuson and State Attorney General who strangely would unseat Magnuson in 1980 during the Reagan revolution.
This unlikely trio of 2 democrats and a republican joined forces and lawsuits were filed against MLB including an injunction order to keep the move from happening. The legal process was working itself through the courts when the Pilots headed for Spring Training in 1970. The team still didn't know where they were headed as late as March 31, 1970. It was reported the team's gear and offices were all packed up in semi-trucks sitting in Provo, Utah waiting to hear if they were headed Northwest or Northeast when the ruling came down on April 1st and officially the Milwaukee Brewers were founded. The ruling was so late the Brewers had to settle on the colors of the Pilots and in fact simply took off the logo's on the uniforms and replaced them with Brewers logo's until they could have uniforms made. This is why the Brewers colors were royal blue and gold and now they have gone to a darker blue.
The legal fight was not over and AG Gorton filed a 32-million dollar lawsuit against MLB for damages (32-million in 1976 is the equivalent of 153 million today).  The State was joined in the lawsuit by the City of Seattle and King County. Future Federal Judge attorney William Dwyer joined Gorton in arguing MLB encouraged the voters, the city, county and state to invest in a large domed stadium to host an MLB team. They argued despite the delays in getting the Kingdome built on the site of the current Century Link Field, they likely would have not gone down this road of development without the assurances and support of MLB.
MLB owners had two thoughts at this time as the lawsuit worked itself through the process and that was they were likely going to lose all or a major portion of this suit and the legal bills were building and they still wanted a franchise built. They could see the NFL heading to Seattle and the Kingdome was nearing completion when they offered a new expansion franchise to begin play in 1977 in exchange for the lawsuit being dropped. So in 1976 the Seattle Mariners were announced and once again joined the American League West. Entertainer Danny Kaye was one of the lead investors in the new club.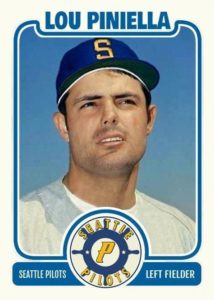 A couple of final notes on the Seattle Pilots, the Pilots most notable player never played an inning for Seattle. Lou Piniella was traded to Kansas City by General Manager Marvin Milkes and was almost fired by Soriano for the move. Piniella went on to be the American League Rookie of the Year for 1969. Joe Schultz was the team manager and had come from the highly successful St Louis Cardinals organization. President Nixon sent the Pilots organization a congratulatory telegram after their season opening win over the Angels 4-3. On a personal note, I was 5 during the year of the Pilots and my Dad and Mom took me and my two brothers to watch the Pilots I believe only once and it very well may have been that August 3rd game against the Yankees. It may have been the Friday night game, August 2nd, but I know it was the Yankees and it was warm and at night. The only thing I remember is literally sitting at the top of the bleachers and my Dad yelling at the umpires and the Yankees. He was joined by several other fathers I assume, and seriously all I remember is them yelling at the Yankee pitcher who I don't know who it was but he was a G#d D&mn Hippee! He had long hair and the shorter haired men in the stands were not amused.
One last thing below are a couple of video from You Tube and one is what appears to be a snippet of a promotional video for 1970 including the new manager  Dave Bristol who was hired to manage the Pilots after Schultz was let go. Bristol did get to keep his job under the new ownership and was the Brewers manager until 1972. The other one is a picture slide show of the demise of Sicks Stadium over the years. Both video feature the Pilots theme song, "Go Go You Pilots" by Rod Belcher.
1970 Promotional Pilots Video
Slide Show on History of Sicks Stadium