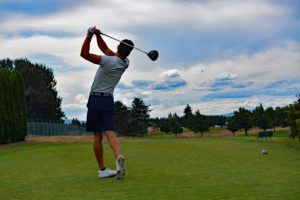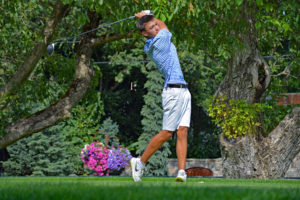 Brothers led Ridgefield High School to state golf championship
Story and photos by Dan Trujillo
Every time Ridgefield brothers Cade and Kellen Bringhurst strike a 1.68-inch golf ball with a club, the possibilities are endless.
They are thrilled when that little white ball sails down the center of the fairway, lands on the green or drops in the hole. They have also seen it trail off into the rough, land in the sand or water plenty of times, but that's all part of the game they love.
"Every round is different. Every shot is different. Nothing's the same," Kellen said.
"Anyone can go out on any given day and shoot a low number," Cade added. "So that's kind of cool and kind of exciting."
Three months ago, the Bringhursts helped the Ridgefield High School boys golf team win its first state title on the Liberty Lake course in Spokane.
"Growing up, every kid has this dream of being a state champion. The fact that we actually are is really cool," Kellen said. "Since it doesn't happen very often, there's only one state champion a year, I'm going to cherish that moment for a while. Probably for the rest of my life."
Kellen Bringhurst tied for fourth place at the tournament and Cade took 13th place. Teammates Eli Saenz, Nick Radosevich, Cade Whitsitt and Kale Suomi finished four strokes apart, in 19th through 29th place. The Spudders captured the Class 2A state championship with 128 points. Sequim was 44.5 points behind in second place.
"Six people from the same team in the top 30 is pretty incredible," Kellen said. "That was the outcome we wanted. We wanted to win state, and I think it was by a pretty good margin."
Cade and Kellen are the sons of Trace and Zenia Bringhurst.
On Aug. 26, Kellen leaves Ridgefield for Provo, Utah, to attend Brigham Young University. On that same day, Cade reunites with his teammates on the golf course to begin their quest for another state title.
"Winning state was the dream," Cade said. "We want to do it again. We got a little taste of it and we want some more."
Kellen Bringhurst had a special senior year at Ridgefield High School. He helped the Spudders win district titles in golf and baseball. He played in the state baseball tournament in Centralia the weekend before heading to Spokane and helping Ridgefield clinch the state golf championship.
"Winning state for golf is team oriented. If I won state, individually, and my teammates didn't play well and missed the cut, we wouldn't have won state as a team," Kellen said. "Everybody on our team had to play well in order for us to win state. We really had to focus in. Same as baseball. Everything is a team sport."
Golf has always been a great way for Kellen to pass the time after baseball.
"I really didn't start consistently playing golf until my freshman year of high school," he said. "I would go out in the winter, sometimes, and play a few rounds. Go out in the spring and play a few rounds. And then summer, once baseball was over, I would just play golf."
Cade followed in his brother's footsteps on the golf course.
"Kellen would go out with a couple of his buddies every day in the summer," Cade said. "I hung around with them, played with them and I fell in love with it."
With two more years of high school to get better, Cade Bringhurst dreams of playing golf in college. Kellen hopes for an opportunity to walk on to the golf team at BYU. Whether or not that happens, he continues to play the game for fun.
"Every round, you might hit a really good tee shot down right down the middle or sink a long, 25-foot putt," Kellen said. "Any of those types of shots that don't happen often, it's an awesome feeling."
Cade chipped in a 30-foot birdie during a recent round. Although he beat his brother by one stroke that day, he knows Kellen will be looking for revenge the next time they play.
"If you get out of focus, your round can go from good to bad like that," Cade said, as he snapped his fingers. "The most important shot in golf is the next one."