9/22/19
(Auburn, WA) Gray skies, soggy conditions and a wet fast track was not the usual Indian Summer day track officials were hoping for to wrap-up the 24th season at the Auburn oval. Track President Phil Ziegler says "it was a solid year and we are excited with our continued success and work to become an entertainment center. The racing was great all year and the promotions shined once again attracting thousands of fans to Emerald Downs." Ziegler says the promotions that featured everything from wiener dog and corgi races to fireworks, live music, family days activities combined with the new casino on the 5th floor and the weekly live concert series has made us a true entertainment location and we plan on growing that for 2020."
Before we get to that benchmark 25th season there was plenty to talk about and wrap-up with the 24th. Below is our coverage of the final 3 stakes races including the 50k Gottstein Futurity. That is followed by the 2019 season awards and notes.
Pete Pedersen Overnight Stakes 25k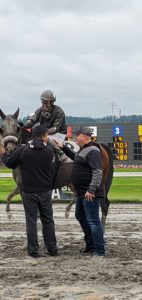 The plan for Oh Marvelous Me was for jockey Kevin Orozco to get to the lead but instead "Marv" got caught a little flat footed at the break and Orozco decided to sit on him and let Owner's Prestige and Hit the Beach do battle on the front end. When he hit the turn Orozco veered out to the 4 path of the sloppy (alleged wet-fast) track and found his lane. Marv exploded past a pack of front speed that were spent and drew off to win by 2 3/4 lengths. A pair of other deep closers rallied for 2nd and 3rd in Driller and Vincente's Shadow.
Oh Marvelous Me covered the 6 and half furlongs in 1:15.07 and ended up the 2-1 favorite. It was Orozco's 7th Stakes win on the year and trainer Blaine Wright's 10th. Marv is owned by Todd and Shawn Hansen from Tenino and is a Kentucky bred by Bluegrass Cat and out of Morakami.
Oh Marvelous Me combined with Driller at 8-1 for an $18.80 exacta. 64-1 bomb Vicente's Shadow completed the 50-cent trifecta and returned a healthy $164.75. The 10-cent Superfecta with 4th place finisher Hit the Beach was good for $97.95.
We talked with Marv's ownewrs Todd and Shawn Hansen who were excited about the win but also ploeased with the season.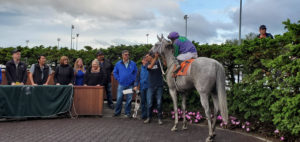 Horsemen Appreciation Overnight Stakes 25k
Jockey Kevin Orozco picked up his 8th Stakes win of the year with virtually the same game plan as the race prior. The muddy faced top Stakes jock told us he had planned on keeping Paddy's Secret well off the early pace of the flat Mile race. He dropped back to 8th of 10 and settled into stride all down the backstretch. Once again as he headed into the far turn, Orozco eased out to the 4-5 path and swooped past all the front runners and held off Brilliant Bird and Northwest Factor who both had the same idea. All thjree were sitting 7-8-9 early in the race and made their moves on the turn.
Paddy won by a length and Bird nosed out NW Factor for 3rd. Paddy is trained by the leading Frank Lucarelli who record an amazing 81 wins over the 66-day meet. Paddy was also the 2-1 favorite over 9-1 and 9-1. The $1 exacta was good for $25.30 and the 50-cent trifecta returned $101.75. Front speed 13-1 shot Little Dancer held on for 4th and the 10-cent super paid $147.59.
Paddy's Secret covered the mile in 1:36.05 and is a Kentucky bred by Paddy O'Prado and out of Secret Humor and owned by the Donnybrook Stable.
Gottstein Futurity 100k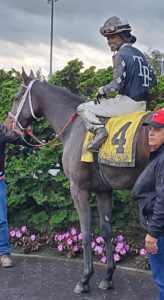 Race Home did exactly that when he blew away the other 11 entries in the prestigious $100,000 Gottstein Futurity. Kevin Krigger toiled near the back of the pack for more than half the race and then unleashed the beast as Race Home roared past everyone in the Mile and sixteenth race for a clear 4-length victory. Krigger told Director of Publicity Joe Withee in the Winner's Circle after the race that he was confident with how much horse he had and just waited for the right time. Krigger said it was most important to get him in the right path, the inside had become deeper with all the rain and he found it, maybe looked at the prior 2 races and where the winner came from and found the same good footing.
Unmachable, the 2nd favorite also came from the clouds following Race Home and passed front runner Turntheclocktozero at the line. "Zero" and stablemate Lolo Paniolo both ran legitimate races for Trainer Kay Cooper and Love the Vino closed well to be 4th.
Race Home covered the 1 and 1/16 in 1:44.18. Race Home is a Kentucky Bred by Race Day and out of Head for Home. Tim Bankers is the owner and Manny Ortiz the trainer. Race Home picked up $51,150 for the win. Race Home was let go at nearly 6-1 and paid $13.80. The $1 exacta returned $33.90, 50-cent trifecta $$143.70 and the 10-cent super $$219.50.
(For more on this race click here for Emerald Downs' Vince Bruun's story.)
2019 Season Awards
Top Washington-bred: No Talking Back (5/WA)
Top Older Horse: Anyportinastorm (5/FLA)
Top Sprinter: Anyportinastorm (5/FLA)
Top Older Filly or Mare: No Talking Back (5/WA)
Top 3-Year-Old Male: Baja Sur (WA)
Top 3-Year-Old Filly: Alittlelesstalk (WA)
Top Juvenile Male: Race Home (KY)
Top Juvenile Filly: Windy Point (WA)
Top Claimer: Brahms Forest (5/CA)
Race of the Meeting: Longacres Mile
Leading Jockey Wins: Gary Wales (99)
Leading Jockey Stakes Wins: Kevin Orozco (8)
Leading Trainer: Frank Lucarelli (81)
Leading Trainer Stakes Wins: Blaine Wright (10)
Leading Owner: Chad Christensen (32)
Leading Horse Wins: Brahms Forest (5), Das Bear (5), General Mach Four (5), Rosso's Gatto (5)
Leading Horse Stakes Wins: No Talking Back (3)
Leading QH Jockey Wins: Javier Matias (3)
Leading QH Trainer Wins: Nick Lowe (3)
Top Riding Achievement: Gary Wales
Top Training Achievement: Frank Lucarelli
Leading Apprentice: Jose Leon (7)
Durkan Award: Ken Elison and Sharon Ross
Lindy Award: Alex Anaya
Leading Sire Wins: Harbor the Gold (21)
Wrap-up News and Notes: Frank Lucarelli wrapped up his incredible run as leading trainer picking up his 80th and 81st win on closing day. Both were special in their own way with #80 being a Stakes win in the Horseman's Appreciation Stakes when Paddy's Secret roared over the top of the field to win going away. The 81st win was in the final race of the 2019 season and ended Lucarelli's season like he started, with a win. Lucarelli's first start of the year was the 3rd race on opening day, Hejustkeepsgiving with Franklin Cebellos aboard and came home to win by a neck as the 3rd favorite. Little did Lucarelli know that he would get his picture taken 80 more times in 2019 at Emerald Downs and wrap-up the 2019 season as the winner of the final race of the season, oddly, enough also the 3rd favorite. Brahms Forest won for the 5th time with Javier Matias aboard and tied for the most wins on the season and was named claimer of the meet. We caught up with Lucarelli to talk about his incredible season which was prior to his winning the final race of the season.
The Northwest used to be known for developing apprentice jockey's going back to the Longacres days with the Baze's, Gibson's, Vickey Aragon (Baze), Vann Belvoir to the early days of Emerald Downs with Chelsea Zupan, Nathan Chaves and then a few years ago Kevin Orozco. It was a quiet year for apprentices in 2019 with the leading apprentice being Jose Leon with 7 wins. But maybe the story is being written for next year as on closing day Jayden Christopherson took her first ride as a jockey. She was aboard longshot Excess Amore in the 1st race and although well beaten she showed some spunkiness moving her horse on the backstretch along the inside of a sloppy track and was within striking distance behind horses when Excess Amore threw in the towel.
Leading jockey Gary Wales finished the season with 99 wins and fell short of hitting triple digits on closing day. He had his chances as he road the card but ended with 3 2nd's and 3 3rd's from his 11 starts. Wales finished the year with a stat line of 99-68-65 from 460 rides. That's a 22% win percent and in the money 50%. He also led total purse earnings with $914,000. Kevin Orozco was 2nd both in wins and money. He was well behind in wins with 66 but with 8 Stakes wins his earnings were nearly $850,000. His in the money percent from 354 starts was 58% that is the highest of all riders with 24 or more mounts. The top visiting jockey went to Scott Stevens who rode 24 times at Emerald in 2019 and bankrolled 178k with 6 wins, 3 places and 3 shows. Usually the visiting jockey with the highest money won would be the rider who took the Longacres Mile, that was not the case in this season, Abel Cedillo won the Mile on Law Abidin Citizen but finished with $130,000 in purse earnings from 6 starts. Stevens showed up more regularly and ended up with 4 Stakes win to overcome the big purse of the celebrated Mile.
ESN talked with Kevin Orozco after his 2nd of 2 straight Stakes wins on closing day, oddly the leading Stakes winner did not get a ride in the Gottstein Futurity and did not have a chance to sweep all 3.
The leading owner for the year has burst onto the horse racing scene claiming his first horse just last year. The horse racing bug caught Chad Christensen early in life and remembers fondly times he was running bets to Longacres for his Dad when he couldn't get to the track. Christensen talked with us despite not liking to do interviews and shared with us where his love of racing came from and how excited he is to be part of the sport which not only led him to the owner title this year but setting the record for number of wins with 32. We talked with Christensen just after he was given his award for top owner.
It was a great season at Emerald Downs and even though the racing industry faces challenges, when haven't they? It is almost impossible to believe that season #25 is next Spring. Many of us have grand and great memories of Longacres and it seemed like Longacres had been there for well more than 100 years but in reality it was 59 years. Emerald Downs is now almost half as old as Longacres was when the "thunder ended". Thanks to the grit and heart of the Washington horsemen and the leadership of Ron Crockett and now Phil Ziegler and the original investors and the Muckleshoot Tribe we are so lucky to have a great track and facility to continue the tradition of the longest running professional sport in Washington State. See you in 2020!