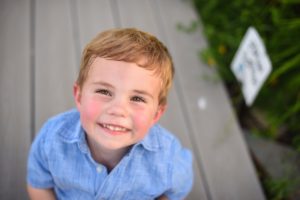 By Dan Trujillo
Southwest Washington content director
When Hockinson High School head soccer coach Joe Chicks made his lineup for Thursday's match against Camas, all 11 positions on the field were filled by one name. Camden Linton.
The 5-year-old from Camas was diagnosed with an inoperable brain tumor known as Diffuse Intrinsic Pontine Glioma in June. Doctors told the Linton's there is no timeline for this disease, but the average prognosis is nine months to live.
The Hockinson girls soccer team is dedicating its 2019 season to Linton. He came out to practice with his parents and got to kick the soccer ball around with the Hawks and score a goal. The Hawks took Linton under their wing and gave him an opportunity to be a kid again instead of a cancer patient. Coach Chicks and Erin and Jeff Linton just stepped back and smiled.

"I've been doing this for 15 years or so and it was probably the best day of soccer I've had as a coach," Chicks said. "These girls don't take this stuff for granted. They really try to enjoy each day they get to play soccer together and I just think it makes them a better team and better people."
Last season, the Hawks played soccer for Wyatt Draper, a 5-year-old from Ridgefield who also had a brain tumor. He died on March 15. When these girls face adversity during a game or in life and they need inspiration, they draw upon Draper and now Linton.
"It just pushes us harder because seeing him out here and his smile and his laugh and just him playing soccer brought such a good energy to the team," said junior defensive wing Kati Waggoner. "It makes me feel really thankful that I have the ability to play soccer and it makes me want to get the word out to more people that there needs to be more awareness for kids like Camden."
When senior Brooke Grosz, one of the team captains, is asked to describe Linton, the same sentence comes up. "He is just a ray of sunshine," she said.
"When he first came out to our practice, he was very nervous and he was scared just like any other kid. But just like any other kid, he was fun, he was loving, he was caring and running around," Grosz added. "It kind of puts it all in perspective. It doesn't matter who you are. It doesn't matter what you're going through. We should all enjoy the time that we have together."
Camas is also showing love for the Linton family. Kristen Moya Gardiner started a gofundme page for Camden Linton. A total of $26,758 has been raised by 236 donations.
The Camas and Hockinson soccer teams faced each other Thursday at Doc Harris Stadium in Camas. Jeff Linton brought Camden down to the field before the game to see the girls.
"It's amazing to see kids this young take care and think about someone else," Jeff Linton said.
Camden only had one thing to say. "Go Hawks!"
The game was entertaining. Camas took the victory by the final score of 3-2. But both teams were winners because they played the game for that little boy in the bleachers named Camden.
"Coach asked us what do we want out of this season. The first thing everyone said was just win. Let's win league. Let's win districts. Let's win state. Let's win everything," Grosz said. "One of my first thoughts was to leave a legacy. Winning would definitely leave a legacy, but doing this for Camden will also define who we are as a group.
"There's a lot more to life than what you're focused on," she added. "Playing for Camden brings us together for a better purpose."