5/6/20
(Correction: Nick Mullin is still teaching at Timberline, we apologize for our mistake.)
The Spring time is known for baseball, track, better weather and Seniors gearing up for graduation. This is also the time traditionally teachers, coaches and administrators announce retirements or decide it's time to step down or look for opportunities to advance. This year is no different but now with our current situation and schools shut down it has become an issue for those trying to hire positions even more difficult.
North Thurston School District Athletic Director Kevin Reimer is getting the chance to fill two positions, one just prior to the shut down and now a current opening. Timberline's long time Athletic Director Nick Mullin was also the Blazer Head Football Coach and he decided to take the opportunity to be the Head Coach at Olympia. He also decided it was time to step away from Athletic Director duties and will teach at full-time at Timberline.
This was prior to schools getting shut down so Reimer says the Timberline administration moved quickly to fill the position. Reimer says he does not hire the Athletic Directors for the schools each school administration does but he is an advisor and helps the Principals if they have questions and sometimes is part of the interview committee that is assembled.
Timberline did not have to go far to find their new Athletic Director and promoted from on-staff Michael Tafoya. Tafoya has been a coach and teaches in the building so it was a very easy transition. In the North Thurston School District Athletic Directors at each school is a part time position and they are required to teach a few classes as well. Each district has their own policy with some having full time AD's and others either a Teacher/AD or many times, especially in smaller schools its a Vice Principal/AD.
This is the situation that has cost them a well liked AD at River Ridge, Gary Larson. Larson has accepted the Athletic Director position at Lakes after long time AD Scott Nordi announced this was his last year and he is retiring. Larson said it was a chance to move to an  established program but most of all it is a full time AD position.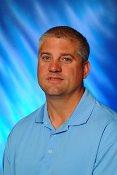 Larson says he was really hesitant to even apply with the thought of how he actually felt about leaving a position he liked and felt had made great progress. Larson says he is excited to working full time at Lakes and have the opportunity to work with several entrenched programs like the football team under long time Coach Dave Miller and the Wrestling team under coach Poncho Schrader to name a few. Larson says he is also looking forward to working more with District 3 and State Boards that he simply did not have time for being a part time AD.
Nordi steps down after 30 years of service and is retiring. Nordi says his wife, a teacher of 30 years this year is also retiring. They are ready to take the next step in their lives and enjoy more time together. Nordi began teaching at Foss and Wilson prior to coming to Clover Park High School where he taught and also was the AD. He had the opportunity to transfer across the district to Lakes when his long-time friend Joe Keller stepped down. Keller is now the District 3 Director. Lakes' AD position was also a full-time position.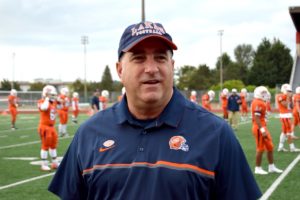 Nordi says some of his highlights over the years included convincing the Clover Park administration to allow C-P to drop down from 3A to 2A where they would be more competitive. Nordi says there was such a drive to keep both Clover Park and Lakes in the same league and classification that it clouded the vision of what was happening to the Warrior teams.
His reasoning was quickly proven in their 1st year at the 2A level winning the State boys Basketball Championship in 2010. Interestingly, Lakes won the 3A boys Basketball Title the same year. It is the only time 2 schools from the same school district won the Championship in the same sport in the same year.
Nordi says the other shining moment that caught him off guard was when his Dance/Drill team Coach nominated him for administrator of the year for Dance and Drill and he won. Nordi says it was a great honor and a great surprise and he really appreciated the support from his own staff.
Nordi says he was not involved in selecting Larson as his replacement but knew Larson and wholeheartedly agreed with the selection. Nordi says transitioning Larson into the new job is also a challenge because of the current situation but they have had many phone conversations and e-mails. Nordi says regardless of when they can meet face-to-face that he will be available to help Larson. All schools and school districts have their own way of doing everything from submitting bills, to paying staff for extra-curricular activities, bus policies, facility rules the nuances of the physical building to working with the school board and parents so there is a lot to take in.
There have been several other Athletic Director changes in the State and no doubt more than what we were able to run down. But here is a list of some of the moves:
Kennedy Catholic and Seattle Prep both have new AD's. It began with Kennedy AD Sam Reed stepping down and taking the Seattle Prep opening. Kennedy did not go far when they hired Don Hoffman who has been the boys basketball coach for the Lancers for the past 12 years and girls coach for the 13 years prior to that. Hoffman is retiring from basketball so one of his first duties will be to find his own replacement.
Todd Beamer High school has an opening as of April 9 for their AD. Wilson's long time AD John Portenier is retiring this year but has not been posted on the WIAA website job opening section much like River Ridge's newly opened position. That is not unusual in fact there were only 2 AD job listings on the site. Reimer says there is no point in posting the opening outside of the District if you believe there is a candidate already on staff.
Reimer says it only makes sense to hire from within the District especially if they are in the same school. The candidate will no doubt already know many if not all of the kids, coaches and staff. They know how everything works and it's just an easier transition. Reimer again pointed to Timberline hiring Tafoya who is a teacher at Timberline. The transition is minimal compared to bringing someone in from the outside.
Reimer did say though sometimes you have to bring someone in from the outside maybe there just isn't anyone on board who could or more importantly wants the job. He says the other reasons a district may want to bring someone in from the outside or have to is those that have an AD/Vice Principal position only then the candidates must have their administration credentials. Or in some cases you simply need someone new with a fresh start and fresh perspective.
We know there are more AD's that are changing but these are the ones we are aware of and would love to have other news of new and retiring AD's. We appreciate the work of the Athletic Directors many people may not understand all of their duties but from scheduling games, buses and workers for each game to overseeing every coach and program where in some cases they have up to 30 sports teams to supervise.
AD's set up all home games, make sure they have officials, make sure the visiting team is taken care of then there is monitoring each student athlete. Grades, physicals, equipment, fee payments and when students can't afford to participate the AD's figure out other ways they can get each student eligible to have the opportunity to play.
You talk with AD's and they will tell you they love doing what they are doing making sure kids get their one chance at High School sports and believe that sports and extra curricular activities lead to better grades and higher attendance. There are plenty of studies that back up that claim and we have linked those at the bottom of this page.
Athletic Directors are the easy to find usually sweeping a gym floor or putting out the yard markers on the football and without them there simply wouldn't be high school sports.
Link to Kansas University Study
Data Study on Correlation between Sports, GPA and Days Absent
www.elisportsnetwork.com