6/7/2020
Go-Fund-Me Link to help Tyrenn's family
(Video clips of the Balloon Memorial, an interview with his Coach Michael Bush and a Remembrance Video are included as you scroll down)
(Kent, WA) 9 years ago JR Deleon rolled into an apartment complex in Kent, Washington. He was there to do some construction and renovation work on the building. He met the complex manager who seemed like a nice lady named Mindy Ross. As he and his crew began to work there were several kids running around outside playing with each other. An 8-year-old stuck out to him for some reason. This kid was always giggling, had the biggest smile and was always happy. He was shy but curious at the same time and he was intrigued by JR and his work crew.
JR asked Mindy about that kid, he said he is a character and Mindy said oh..hahaha…that's my son Tyrenn. These fateful moments turned into a 9 year friendship that really was more a father-son relationship. JR says during a lunch break Tyrenn was looking bored so he asked him if he want to earn some money and clean his truck. Tyrenn jumped at the chance. JR says he and his crew were staying during the week in 6 of the apartments and soon Tyrenn was cleaning their apartments during the day while they worked erning even more money.
JR says there was just something, there was an instant connection with him and Tyrenn. Tyrenn's Mom was a single mother with him and her daughter and older sister to Tyrenn, Savannah. Mindy had gotten to know JR and his family, wife Twayna, son Jesse and daughter Britany. JR and his family lived on a farm in rural Oregon about 10 miles south of Salem. They also owned a home in Kent where JR splits his time for his construction company.
They got to the point where Tyrenn would start coming over to JR's home and they have season tickets to the Seahawks and would take him to see the Hawks and go to Mariner games too. JR says he would by him things he needed to play sports, clothes and other necessities. He eventually stayed some weekends with the Deleone's at their farm in Oregon and loved riding quads and enjoyed the farm life.
JR says Tyrenn would work for him and earn money and he was there to do anything at anytime. JR laughed that Tyrenn would volunteer to simply ride around all day with him in his truck so he could use the fast lane on the freeways in the Seattle area. But Tyrenn wouldn't take any money. JR told Tyrenn that he would save what he earned and they would save it to buy a car or a truck for when he could drive. He said he had to force Tyrenn to take money at times that he knew he didn't have any so at least he had a few bucks in his pocket.
When JR first introduced Tyrenn to his family his daughter Britany says it was like he brought home a lost puppy. Britany says this wasn't surprising as she and her brother, Jesse were 18 and 17 years old at the time and her Dad was always one to be looking out for others and helping whenever he could. She and Tyrenn got especially close as she considered him immediately like a new little brother.
Britany says when she first met him as they were getting to know each other Tyrenn told her that he was half black and half white. She said she responded, "you're half black and half white…like a copcar?" She said that made Tyrenn laugh and from then on they called him copcar. Britany says that Tyrenn was dropped into her life from out of the blue and it was the best gift or surprise that has ever happened to her.
This friendship and family feeling didn't stop with Tyrenn as both families got closer and the Deleone's welcomed Mindy, Savannah and Savannah's daughter Zaylianha Mao and now Mindy's boyfriend Clemente. Zaylianha and Britany's young daughter Rosie were the center of Tyrenn's life. Britany says he loved those little girls and took time to play with them, spend time with them and look out for them. She said they were one big family and there was lots of love shared in this extended family.
The constant message from everyone we talked with was Tyrenn's love of sports especially football. Tyrenn went to Kentwood and played for the Conks. But he had big dreams and goals. He wanted to play at Arizona State University and play for the Sun Devils. He then wanted to play in the NFL and was laser focused on making it to the ultimate level. JR, Britany and Brenda Gammie all said Tyrenn simply wanted to take care of his Mom and family. He wanted to buy his Mom that dream house and take care of all of his loved ones.
Brenda Gammie is Mindy's boss and Brenda organized a Go Fund Me account to help with expenses of bringing Tyrenn home to Phoenix. At the time of this writing the fund has grown to more than $25,000 closing in on the $30,000 goal. Brenda says Mindy is a strong woman and loves her kids. She says Tyrenn was her world and even though they had to move for a positive career chang for Mindy she was sad to have to take Tyrenn away from his friends but was so excited he was coming to Phoenix.
Tyrenn had his ticket and was packed and ready to go back home to Phoenix to be with his Mom, Sister and Niece. He was set to leave on Wednesday, June 3. On Tuesday, June 2nd he was out with 2 of his friends one last time before he had to go. At 5:40 Tuesday evening Tyrenn was riding in a car when it was involved in an accident when the vehicle hit a light pole. His friends were injured and taken to the hospital where they suffered injuries but not life threatening but Tyrenn did not survive. Tyrenn flew to Arizona that night but on angel wings to be with his mother no doubt.
One of his close friends is Lole Tapasa. We got the chance to talk with Lole about his friend and teammate. Lole was in Oregon at his Dad's house where he was spending quite a bit of time as he split time in Oregon and Washington. He had gotten a summer job at McDonald's in Oregon and was at home on the night of the accident. Lole says he had gotten word that his friend was gone and he was crushed. He says he was up all night thinking, crying, grieving and was scheduled to work at 7am.
He went to work and during his shift he was informed of a balloon release memorial organized for that night at a church in Kent. Lole then during his break found a flight from Portland to Seattle, got off work at 2pm caught the plane and got in to Sea-Tac by 5:30 and drove straight to the event. He said it wasn't a choice, it wasn't a discussion it was what he had to do.
Balloon Release Remembering Tyrenn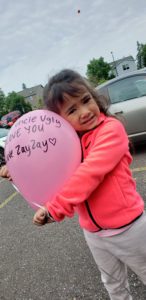 Tyrenn had a 2nd nickname that he went by at school, TyTy. Talking with Lole he was unaware of his other nickname copcar the family uses. Lole laughed when he was told and said that is just like Tyrenn he wanted everyone to feel special and if it meant him having multiple names that endeared him to his friends and family that doesn't surprise him. Lole said that TyTy was the most loyal friend ever, he was there at all hours of the day or night to support his friends and family.
Lole told us how he was welcomed to Kentwood High School after transferring after his freshman year. He was heading into his 4th period English class, his favorite class ever at KW, and he had known TyTy prior to coming to Kentwood but knew TyTy began at Kent-Meridian. Lole didn't realize that Tyrenn had also transferred to Kentwood. When he walked into the classroom not knowing many kids he heard his nickname "Uso" yelled out from the back of the room and saw TyTy. Lole said that cemented their friendship forever in fact his words that's where their bond exploded. Lole said there is something about Tyrenn that you just feel immediately welcomed that even if you don't know him that he is your friend. "That is the specialness that TyTy brought to world."
Tyrenn's Football Coach at Kentwood, Michael Bush was simply crushed at hearing the news. He said that TyTy was really buckling down and focused on getting to the next and although dreamed of being a Sun Devil getting a chance at any level in College would be a dream. Coach Bush says he could ask Tyrenn to do anything and in fact in the middle of a game due to an injury moved him to a position he had never played but he stepped in and did the job no questions asked. He said Tyrenn simply would say "I got you coach" and take on any challenge.
Bush says he knew that his Mom had received a chance at a better job and a better life for her family and she was moving to Phoenix. She left open the chance for Tyrenn to stay and finish his Senior year as a Conk. But Coach and Lole both said they and all his friends made sure he knew they supported whatever decision he made. They said it was exceptionally difficult but he simply felt to much of an obligation to make sure his Mom, Sister and Niece were going to be ok. Lole said Tyrenn had to do what he felt was right and assured him they would talk on the phone and text and had promised they would talk with each other before each of them played a game.
Coach Bush also was fully supportive of him moving and said filling his absence was going to be tough and they would miss his skills as a player but they would miss his leadership and presence. We talked with Coach Bush and he shared much more in this interview.
Coach Michael Bush remembering TyTy
JR said simply there was no one like Tyrenn. He said all the money that Tyrenn had earned had accumulated to the point of there is a truck in his driveway waiting for Tyrenn to get his driver's license. He said he had talked Tyrenn out of wanting a smaller, "fast" car fearing the worst could happen and wanted him to have something he deemed safer. He says hearing the news absolutely crushed him. He says Tyrenn was his son and the pain is unbearable. He says trying to understand why this happened that you think had I been there I could have made sure he had taken all the pre-cautions or maybe he would have stayed home that last night. JR was at his farm in Oregon and had been making plans to go to Phoenix when he began playing football to see him again. He says he will see him in heaven and be thankful he got to be part of this beautiful soul's life and that Tyrenn was in his life.
This part I am going to take some editorial freedom here and express my thoughts and feelings with the knowledge that I don't believe I ever met or talked with TyTy when we covered the Conks. Everything I know about him is from talking to those that know him.
First I asked why this, why now? Is there a bigger reason why Tyrenn was taken from us? Is there a bigger plan? Is it simply coincidence that he left us right in the middle of all the craziness now happening in the world? It would be easy to say that the timing is not an accident. It would be easy to say there is clear evidence that we all needed a Beam of Sunshine in this current storm. The case can be made by taking Tyrenn now it forces people to look for goodness, look for greatness, remember values such as caring, friendship, dignity and most of all love.
I have never felt so good and comfortable, happiness mixed with sadness and sorrow for someone I have never met. Tyrenn I watched on the field but did not know him until now. Tyrenn has the ability to touch your soul he did not even comprehend his own wisdom nor do I believe he understood of the power he had to spread happiness and love unconditionally. He did it with such ease it was second nature. Hate was not in his heart and the message of TyTy's life is needed more now than ever before. This would not surprise me as the answer the question of why Tyrenn? Why now?
I also believe that if we do not take his message that we all, no matter age, race or anything else, can learn from then it will be your wasted opportunity. Tyrenn has given us all the ultimate chance to re-evaluate, look inwards into our own hearts and souls and ask what we can do to be better? And then take action. Tyrenn woould not sit on the sidelines idly waiting he would initiate and do whatever was needed to achieve. He has the heart of a Champion.
I do not know what led me to really find out more about this young man or why I would take time to find out more about Tyrenn. Covering way too many of these types of stories I could have simply reported the tragedy and the details of what happened and said people were sad. This is fact reporting news and it is done without emotion. I did a lot of that type of reporting for more than 25 years. If you allowed yourself to get to know or feel the victims you would not be able to do your job and likely have a nervous breakdown. There is so much negativity and badness in our world today and it is easy to get overcome or ignore it to save your sanity.
This was different and I don't really know why. There was an instant need to know more is all I can tell you. My journey in getting to know TyTy began with a simple 2 sentence e-mail from Coach Bush. This led me to talk with Brenda Gammie who told me about Tyrenn, Mindy, Savannah and JR. This led me to JR and then Britany then to Lole and with Coach Bush. Their relationships, love and experience with this incredible human simply demanded that more people get to know Tyrenn. Just knowing Tyrenn was here gives me an opportunity to smile.
TyTy truly shines through the Storm clouds. His love and the message he shared with each of those who knew him and loved him also reaches those of us who wished we were as blessed but feel lucky to have been allowed to share in his precious and important life in any way. It is my belief that Tyrenn would be sad to see so many people hurting and wished he could be here to hug each and every one of you. I truly believe if you take some time for yourself to reflect and remember you will feel those strong arms of this young man with the gleaming smile wrap around you and let you know it's ok and to believe in yourself.  Rest in Peace TyTy although I doubt you will be able to and are already busy with your next challenge. But when the Autumn breeze blows and there is a chill in the air when the whistle blows and the kicker approaches the ball, hesitate for just a second and feel the warmth. Feel the love. That is TyTy.
There is a service set for Wednesday, June 10 but it is a private service for family and invited guests. The family would like to thank everyone for their good thoughts and love. For those who would like to mail a card or your thoughts you can send them to:
Britany Deleone
22830 135th Ave SE
Kent WA, 98042
There may be some additional events that get organized at a later date and we will keep you informed with any additional information.
This is our tribute to Remembering Tyrenn Smith "His Light will Forever Shine in all our Hearts"
www.elisportsnetwork.com