11/26/2020
Thanksgiving 2020. It doesn't take much to find all the negatives that can and will be associated with anything tagged 2020. Normally we would all be taking a quick breath with State Cross Country, Volleyball, Girls Soccer, and two rounds of State Football all in the books. We would be looking forward to Thanksgiving Dinner with family and friends, Black Friday and 3 NFL games with dollar bills in the hat picking numbers to keep our interest in games many times we don't care about.
This is just a start to this magical long weekend because we also have the Apple Cup, other big time college football match-ups then of course NFL Sunday, Sunday Night Football and cap it with Monday Night Football. I am sure I am missing some pro golf skins game, a Nascar race and a stop on the Pro Bowling Tour in Petaluma.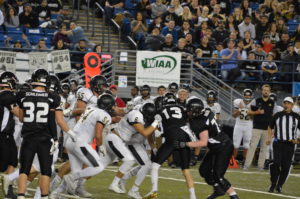 But most of all we are excited for the 12 Semi-Final High School football games set to be contested this weekend. Years ago Semi-Finals were actually played on Thanksgiving. I can remember Semi-final games played in the Tacoma Dome on Thanksgiving Day, November 27, 1986. 8-man started it at 10am it was Crescent and Manson and Crescent squeezed out a 42-40 win.
Up next was the Tenino Beavers facing Lynden Christian and the Lyncs knocked the Beavers out finishing Tenino's best ever season. Then came Tumwater's first ever appearance in a Dome and I remember talking with Coach Sid Otton about this experience when I wrote the 10-part series on Otton during his final year. The winningest coach in state history took 12 seasons to finally get to a semi-final and Coach remembers arriving early.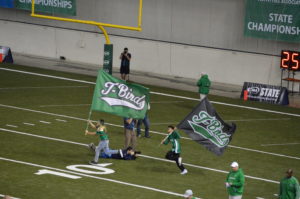 They had never experienced the pre-game and the facilities which are all timed out and giving you little time between games. This was not the usual 45-60 minute pre-game routine. The T-Birds arrived early and got a pre-game meal then sat and watched the rest of the 1B game then the 3-4 hours of the 1A game.
After several hours of sitting in the stands the T-Birds made their way down to get dressed and start stretching on the sidelines. They came out and lost to Burlington-Edison in a 6-2 defensive slugfest. Otton and the T-Birds would make amends the next year and return to the Tacoma Dome this time on Friday but again on November 27. Otton did not arrive early and they did not watch other games but right into their routine and came away with an 8-2 win and earning their first trip to the State Title game. They would win their first title a week later in the Kingdome where the Championships were played until 1994 then switching to the Tacoma Dome.
Last year at this time we were talking about the BIG controversy of not playing any post season football games in the Tacoma Dome after the Dome was re-constructed and it was just not a good place to view football anymore. The teams on the Eastside of the mountains were saying quit crying we've been playing our semi-finals in freezing weather even snow for decades, now it's all on an even playing field.
Last year the games were played on Saturday, November 30 and the 4A match-ups were Camas vs Mount Si at Evergreen High School in Vancouver and Bothell vs Woodinville at Pop Keeney. 3A's had O'Dea taking on Kennewick at Pop Keeney and Eastside Catholic playing Lincoln at Sammamish High School. The 2A battles were Steilacoom and Lynden at Mt Tahoma High School and Hockinson versus Tumwater at Tumwater. 1A Semi-Finals saw Royal battle Connell in Moses Lake and in Everett at Memorial Stadium it was Deer Park playing Lynden Christian. The 2B's were both in Centralia and Kalama played Napavine followed by Onalaska and Adna and in the 1B Almira-Coulee-Hartline took on Naselle at Tumwater and Odessa battling Entiat at Moses Lake.
The eventual State Champs were 4A Camas, 3A Eastside Catholic, 2A Tumwater, 1A Royal, 2B Onalaska and 1B Odessa. Those games were all played at Mount Tahoma, Harry Lang Stadium in Lakewood and Puyallup. There were discussions on changes to the format or locations but of course Covid has wiped out all that discussion while we focus on just trying to play some games this Spring.
These memories and events that have been wiped out by this virus are all reasons to be unhappy, sad, depressed and more but those are decisions we all make. We can also look for the positive and choose to focus on what we can do instead of what we can't.
With that I can tell you I am extremely thankful and grateful to the WIAA staff (of 12) who continue to work through this and much of it from their homes. Re-scheduling events, lobbying lawmakers, dealing with sponsors, coming up with ideas to help kids to keep focused and activities they are allowed to do. Remember the WIAA not only has the State Health Department to work with but 39 individual County Health Departments that can all have their own rules in addition to the State guidelines.
I am thankful to the WIAA Executive Board that normally meets 5 or 6 times a year and have now met nearly 40 times since late February, all on their own time. I am thankful for the 9 Districts and their Directors and every single Athletic Director that has re-vamped schedules probably 100 times being prepared for when they are allowed to resume.
I am thankful for the hundreds of coaches that continue to work with our kids, continue to maintain contact, continue to teach and coach kids in these unique and tough times. Reminding kids what they have been taught through sports to lead, to plan, to overcome and achieve all characteristics that are tough to learn in regular classrooms but are must learns in competitive environments.
I am thankful for those coaches being as creative as they can to keep kids engaged and checking on them to make sure they are staying on top of their class work and grades.
I am thankful for the parents who have stepped up keeping their complaints and opinions to themselves and figuring out how to juggle jobs, at-home learning and staying positive for their kids.
I am thankful to everyone who despite the hardships refuse to give in to negativity, refuse to allow the circumstances to dictate their happiness, their creativity, their actions to persevere.
And most of all I am thankful to the kids. The athletes that have shown great leadership and taking responsibility for what they can control. For handling the disappointment so much better than many adults. We have a large following on Twitter and hundreds of kids. There have been thousands of messages kids have posted and 90% or more have been about making plans to deal with their situation They have been talking with each other asking if they can help teammates or asking for help from friends and teammates. They have been doing on-line competitions, they have been practicing or working out in very small groups or by themselves.
We always seem to hear about how this generation of kids are lazy, don't do what they are told or other things that every generation has been accused of. I have always believed that most generations are not that different but when you consider how fast technology has changed during their short lifetimes, dealing with the pandemic and having long standing traditions and rights of passage stripped from them but yet they carry on is impressive.
This is a strange and different Thanksgiving but if you choose to, you will see there are still many, many blessings and reasons to be positive and thankful.
Happy Thanksgiving everyone, stay positive and stay safe and we believe we are going to see everyone back on the fields and courts this school year and we will keep working to be prepared for when that time comes.
www.elisportsnetwork.com