9/8/2021
There were 2 volleyball matches and a girls soccer match Tuesday on the Eli Sports Network streams. Our re-caps with highlights are below.
Tumwater 3, Capital 0 (25-18, 25-22, 25-18)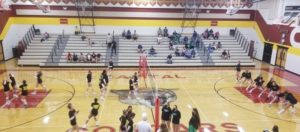 The T-Birds got the sweep over the always tough Capital Cougars to win their opening match of the season. The Pacific Sports Spa visiting MVP was Tumwater's Emily Robello and the Thorbeckes Home Team MVP went to Grace Williams. The 1-0 T-Birds will play again Wednesday at Olympic while the 0-1 Cougs will try to get their 1st win on Thursday in SSC action at North Thurston.
Below our ESN crew of Paul Strophy and Josh Kaiser have the complete wrap-up with the Post Game show from last Tuesday nights broadcast followed by some Highlight clips.
Paul Strophy with the Awards West Printwares Post-Game Show
Highlights
#1
#2
#3
#4
#5
White River 3, Clover Park 0 (25-15, 25-13, 25-5)
White River improved to 2-0 on the season with a straight sets win over Clover Park. The MVP for White River was close with Hannah Weymiller and Elle Thomas but Weymeyer fired off 15 straight points to clinch the match in the 3rd set but Thomas blistered a kill shot for the winning point but still we leaned to Weymiller as the MVP for the Hornets. Clover Park's Kamila Salanoa earned the MVP for the Warriors with solid play in the middle and at the net. White River is now 2-0 and will next play at home against Franklin Pierce and the Warriors will look to get their 1st win at Fife.
Below is our ESN crew Brandon Brown and Paul Beattie with the Awards West Post Game show re-capping the match followed by a few video highlights.
Awards West Printwares Post Game Show
Highlights
#1
#2
#3
Girls Soccer
Kalama 4, Woodland 0
In the season opener for both squads it was a close 1st half with Kalama easing out to a 1-0 lead over visiting Woodland. The Chinooks then caught fire putting the ball in the back of the net 3 more times in the 43rd, 51st and 69th minutes while shutting out the Beavers. The Pacific Sports Spa visitng team MVP was Elen Bebrova for the Beavers and the Thorbeckes Home Team MVP was the Chinooks' Josie Brandenburg with 2 goals. Kailey Shipley was right there in the discussion as well with 2 goals of her own. The 1-0 Kalama Chinooks will next play at King's Way Christian on Saturday at 11am. Woodland will look to rebound on Thursday when they host La Center.
Below ESN's Matthew King has the re-cap with the post game show from Tuesday night's broadcast followed by some highlight clips.
Awards West Post Game Show with Matt King
Highlights
#1
#2
www.elisportsnetwork.com